Our search for America's most outlandish attractions continues, as we cross the boarder from New Mexico into the great state of Arizona.
We skipped passed Phoenix, gave the Grand Canyon a pass, and headed straight for the states strangest sites:  

1. 10 Million Abandoned Tires: Estrella, Arizona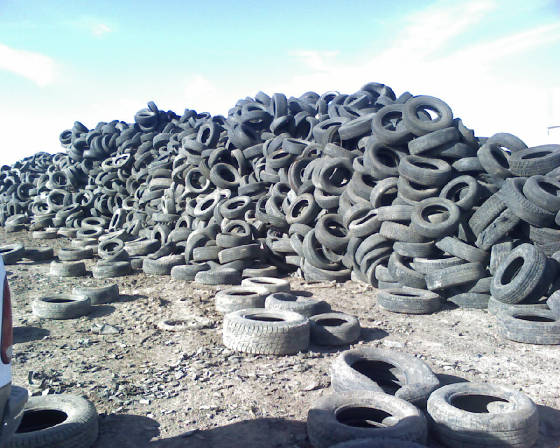 Make the drive to Estrella Arizona and discover where the rubber meets the road, 10 million times over. This daunting collection of retired Goodyears, Michelins, and Bridgestones is the failed energy venture of Steve Robinson whose vision of melting tires into fuel, failed to gain any traction.
Robinson's loss is your gain however, as the 10 million tire collection has been converted into a tourist attraction for you to tread freely for hours on end.
Just be careful not to smoke anywhere near the massive tire towers. The state predicts that a fire started here, would burn non stop for more than a decade.
2. Heart Attack Grill: Chandler, Arizona
Stop in at the Heart Attack Grill then make a quick b-line for the emergency room.
Make no mistake, the delicious artery clogging burgers served up here will eventually kill you, but they truly do live up to the company moniker, "taste worth dying for". If the 2 LBS of ground beef and 8 slices of cheese slapped onto your Quadruple Bypass burger don't make your heart stop, the scantily clad "nurses" serving up the meat definitely will.
Still got room from more? Scarf down an order of Heart Attack Grill's famous "Flat Liner Fries" then relax with a pack of unfiltered Lucky Strike cigarettes, sold right over the counter. Bring your deliberator. Clear!
3. Prison Outlet Store: Florence, Arizona
You'd be amazed how life between four walls can inspire human creativity.
This Florence, Arizona institution offers a plentiful selection of 100% inmate made wares, ranging from handcrafted woodwork, to jewellery, belts and furniture. Show up at the right time and you may be lucky enough to meet some of the incarcerated artists in person (they regularly staff the store).
Locals have proclaimed the Prison Outlet to be the "best store in all of Florence". Frankly, we agree with them. Once you step inside its walls, you'll find it very hard to escape.
4. Wigwam Village Motel 6: Holbrook, Arizona
Set smack along the old route 66, road trippers and nostalgia seekers have been camping out in Wigwam Village for more than half a century (its one of America's three remaining tepee motels). The concrete tepees, while small by today's hotel room standards, will provide ample room for any spiritual journey.
The air-conditioned, TV equipped rooms, may not be a true reflection of the true Native American experience, but you'll certainly appreciate having them amidst the intense Arizona heat.
Sure the Wigwam Village, may look different from other Motel 6s you've stayed, but you still can count on Tom Bodet to "leave the light on for you."
5. $100,000 Tumbleweed: Chandler, Arizona
Nothing quite typifies the Arizona desert experience, like the lone tumbleweed moving gently across its dry, desolate landscape. To honour this Arizona icon, Chandler's city council approved the allocation of more than $100,000 of public money to build this, the world's most expensive tumbleweed.
You'll be blown away as you take in the 10 foot tall concrete slab holding up a $100,000 ball of twisted metal, oft compared to a rat's nest or a hair ball.
If for some reason that's not doing it for you, just try whistling Frankie Lane's," Gunfight At The Ok Coral".  It'll make the experience, wholly more authentic and memorable. At least it did for us.
- Sam
Spotted strange activity in the Grand Canyon state yourself? Share your odd Arizona encounters with us in the comments below.
blog comments powered by

Disqus