Maryland is a unique state, offering a handful of attractions seemingly everywhere you turn. While many of they seem perfectly normal, a small collection of them are a little on the strange side.
Want to find out what one's we're talking about? Read on to find out more.
1. Geppi's Entertainment Museum: Baltimore, Maryland
Comic book fans will go nuts at Geppi's Entertainment Museum; a big kid's paradise.
The heart of the museum is the shrine of comic books "A Story in Four Colors", which showcases pristine copies of some of America's most loved comic books.
Other highlights include the showcased box of Mr. T Cereal and a battery powered Great Garloo.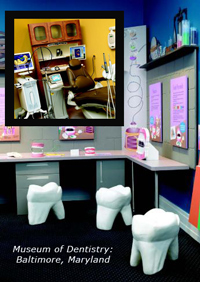 2. National Museum of Dentistry:  Baltimore, Maryland
A visit to the dentist generally isn't a pleasant experience however the National Museum of Dentistry in Baltimore may be the exception to this rule.
Learn about the development of drills and the evolution of extraction instruments, before inspecting the dentures of George Washington and the regal set of picks and tooth scrapers used by Queen Victoria.
It's sure to bring a toothy grin to your face!
3. National Great Blacks in Wax Museum: Baltimore, Maryland
This museum is practically overflowing with Great Blacks such as Frederick Douglass, Jackie Robinson and Martin Luther King, with many more planned for the future.
Each exhibit tells its own unique and individual story, providing visitors with a informative look into America's rich past.
4. Army Ordnance Museum: Aberdeen, Maryland
Calling all big kids! The Army Ordnance Museum is a playground for those who love rockets, tanks and bombs; and the great news is, is that there are a whole 25 acres full of them.
The entrance to the museum is guarded by 30-foot-tall bomb, which gives just a slight indication of what is to follow.
5. National Vigilance Park: Fort Meade, Maryland
Keeping with the theme of aircraft and bombs, the National Vigilance Park in Fort Meade is also guaranteed to be a hit with the big kids among us.
The centerpiece of the park if the C-130 aircraft, which encompasses everything this park is about.
- Chrissy
Visited Maryland lately and come across any other strange attractions? Tell us about them in the comments below.
America The Strange, Attractions, marlyland, museums, odd, strange, travel usa america
blog comments powered by

Disqus