TAG | Louisiana
This is a state that produced Britney Spears so it should come as no surprise that it is home to many other weird and wacky things. Home to jazz capital, New Orleans, and music culture other American states can only dream of, Louisiana is a state you have to really see to believe.
So come along for the Jurnii as we embark on an adventure across the state of Louisiana and discover its strangest attractions and sights.
1. Bonnie and Clyde Ambush Museum: Gibsland, Louisiana
America's most loved criminals, Bonnie and Clyde, had to eat just like the rest of us and their last meal was bought (we think) in the small town of Gibsland, Louisiana.
Ma Canfield's Café has been transformed into a living tribute of the famous couple, with the opportunity to purchase a patch if Clyde's death pants for $200 just too sweet to pass up.
2. Voodoo Mermen, Marie Leveau House of Voodoo: New Orleans, Louisiana
Somehow escaping wrath of Hurricane Katrina, Marie Leveau's House of Voodoo remains one of the creepiest things you will come across in New Orleans.
Delicately tip toe your way through the devil painted statues and potions and you will find a withered old woman, awaiting your arrival and keen to tell your fortune.
3.  Voodoo Museum: New Orleans, Louisiana
Voodoo is such an important part of the culture in New Orleans; so much so that they have gone as far to dedicate an entire museum to it.
Discover the history of voodoo, meanwhile being careful not to stir the sleeping spirits of the past and putting yourself into the danger of becoming a feature story of the museum.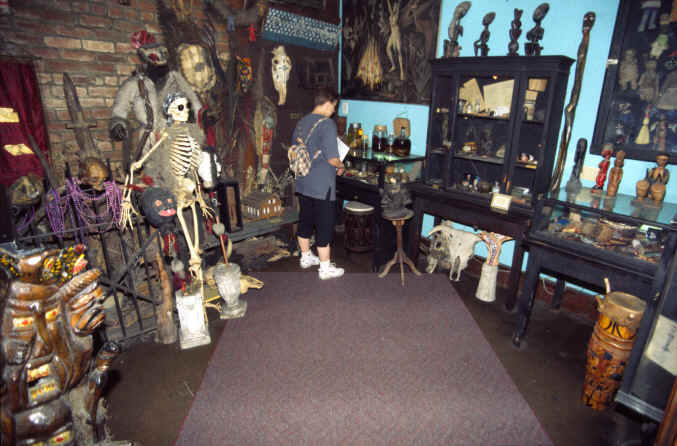 4.  Zam's Swamp Tours: Thibodaux, Louisiana
A swamp tour just wouldn't be as interesting, if you didn't have a weird and wacky tour guide pointing out the highlights.
"Wild Bill", will certainly point these out (and usually a lot more) before striking a pose with one of the turtles or alligators, purely for your photo taking needs.
5. World's Smallest Church – Chapel of the Madonna: Point Pleasant, Louisiana
Standing at a not-so-imposing 8 feet high and 8 feet wide, the Chapel of Madonna claims status as the world's smallest church.
Holding an impressive 5 seats, mass is held once a year and draws a not so mighty crowd.
- Chrissy
Visited any of these Louisiana attractions before? Tell us what you think of them in the comments below.
America The Strange, Attractions, Louisiana, odd, strange, travel usa america, weird