Utah and the Canyons - 10 days Itinerary (1,128 miles)
Don't want to get caught up in the crowds at the Grand Canyon? Are you the sort of person that would rather a visit to some of the most untouched canyons of North America?
If so, this RV itinerary is just right for you. Taking you to some of Utah's most remarkable canyons, including the incredible Canyonlands National Park, Arches National Park and Zion National Park, this trip will take you on the canyon adventure of a lifetime.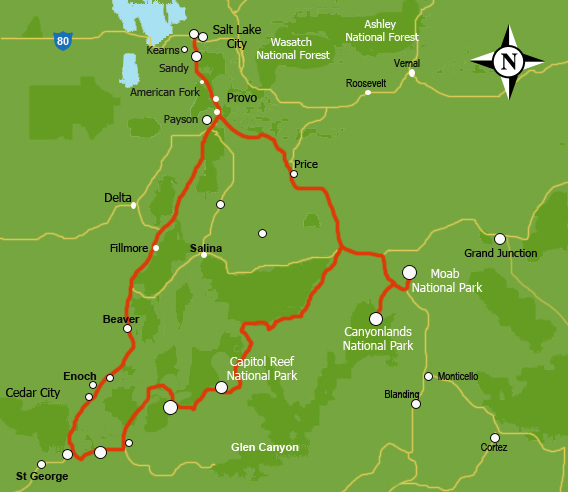 Day 1
Springville (44.5 miles)
Begin your RV adventure by picking up your RV rental in Salt Lake City and after some exploration of this fascinating city, start with a small drive to get used to the feel and drive of your RV.
Head just 41.5 miles south and you will come to Springville; a charming city nestled close to the majestic Rocky Mountains and just 10 minutes from the Brigham Young University.
Where to Stay:
East Bay RV Park
Regarded as Utah's finest year round RV Park, East Bay is nestled at the foot of the imposing Rocky Mountains and is in close proximity to an abundance of fantastic recreational opportunities. Facilities include large, pull-through sites, high-speed Wi-Fi, heated pool, pavilion and laundry facilities.
What to Do:
Timpanogos Cave National Monument
Sitting high on the Wasatch Mountains, the Timpanogos cave system consists of three spectacularly decorated caverns that are sure to inspire awe. Boasting stunning formations and a spectacular view over the American Fork Canyon, this is one natural wonder not to miss.
Don't Miss:
Seven Peaks Water Park
Easily Utah's largest water park, Seven Peaks boasts 16 waterslides, a 400,000 gallon Wave Pool, plenty of kids swimming areas and slides and terrifying 100-foot Free Fall drop slides.
Offering something for all ages, this is one aquatic playground you will not want to miss.
Day 2 & 3
Moab/Canyonlands National Park (277 miles)
On the second day of your RV vacation head south on Scenic Route 6, past the Uinta National Forest, where you will stumble upon two-million acres of ecologically diverse land that is one of the most frequently visited forest's in the nation.
Just before you reach Moab, take the turn towards Canyonlands National Park where an exploration of a different kind awaits. Head straight to the Islands in the Sky Visitor Centre and take in the spectacle of the sheer sandstone cliffs that rise an incredible 1,000 feet. This park truly is a magnificent feat of Mother Nature.
Where to Stay:
Moab KOA
As the closest KOA to the Canyonlands and Arches National Parks, this is easily the best choice of RV Park to base yourself while in the region. Facilities on site include a pool, bike rentals, snack bar, Wi-Fi, mini-golf and cable TV.
What to Do:
Green River
On the banks of the famous Green River lies the J.W. Powell Museum. This fascinating place showcases the trials and tribulations of the expeditions of Powell as he attempted to explore this unforgiving area.
While in town, also take some take to partake in some world-class rafting, explore the dinosaur fossils and marvel at the Native American Rock Art panels.
Don't Miss:
Adventure Park Moab
Home to a brand new Low and High Ropes Challenge Course, this adventure park combines fun, with skills and concentration. Suitable for kids and families, this is a great way to spend quality time together.
Day 4
Blanding/Arches National Park (72 miles)
The geological features of Arches National Park are truly fascinating and include spires, pinnacles, pedestals and balanced rocks. These are brilliantly contrasted against a background of glorious colors and spectacular landscapes.
The park is also home to the world-famous Delicate Arch. This freestanding natural arch measures 52 feet tall and is the park's most widely recognized icon. It can be reached via a short, though relatively strenuous hike, which is definitely well worth it.
Located just outside of Moab and covering a total area of 119 square miles, the park is open year round and can be enjoyed through various activities like hiking, biking, picnicking and camping.
Where to Stay:
Blue Mountain RV Park
Surrounded by some of the area's most spectacular scenery, Blue Mountain RV Park is the perfect base camp from which to explore the deep canyons and ancient ruins that can be found in this very special part of the world.
Set up camp surrounded by picturesque mountains, and take advantage of facilities including full hook-ups, free wireless internet and laundry facilities.
What to Do:
Hiking
Hiking within Arches National Park is the perfect way to experience the beautiful landscapes that are on offer here.
For those wishing to take some short and easy walks, trails like Balance Rock, Broken Arch, Double Arch, Sand Dune Arch and the Windows Trail will be perfect. Some of the more difficult walks include the Devils Garden, Double O Arch, Fiery Furnace, Primitive Loop, Skyline Arch and Tower Arch trails. These treks are the perfect way to discover the magnificent wonders of this unique and intriguing park.
Don't Miss:
The Wildlife
Over 200 species of vertebrates and hundreds of species of invertebrates call the Arches National Park home. Mammals you may encounter include squirrels, the mule deer and desert cottontails.
Many of the animals in the park tend to come out at night, including Kangaroo rats, wood rats, skunks, ringtails, foxes, bobcats, mountain lions, bats and owls. Other animals that inhabit the park include coyotes, porcupines and the tiny canyon mouse.
Many of the animals are also active at dawn and dusk, making these perfect times to spot the wildlife.
Day 5
Escalante State Park (190 miles)
The drive from Blue Mountain RV Park to Escalante State Park will take you across the might Colorado River on the Charles Hall Ferry, between Halls Crossing Marina and Bullfrog Marina.
From Bullfrog drive 100 miles, past Glen Canyon National Recreation Area where you can stop for a pleasant picnic lunch.
Continue on and you will eventually reach Escalante, where you will find colorful deposits of mineralized wood and dinosaur bones. The 130-acre Wide Hollow Reservoir on the park's boundary also makes it a great destination for water recreation and fishing.
Where to Stay:
Broken Bow RV Park
Located in the heart of the Grand Staircase-Escalante National Monument, this RV Park is in a fantastic position to explore the surrounding regions. Make use of facilities like full hook-ups, a Laundromat, the rock shop, free Wi-Fi and even on site jeep rentals.
What to Do:
Escalante Canyons
The Grand Staircase/Escalante National Monument includes land with a wide variety of topographical features. This multi-hued landscape can be divided into three regions: The Canyons of Escalante, The Grand Staircase and the Kaiparowits Plateau. Recreational opportunities abound within the vast area included in the monument and are perfect activities to pass your time here.
Don't Miss:
Grand Staircase-Escalante National Monument
The Grand Staircase is the undeniable highlight of this area. The deep, brilliant red Moenkopi sandstone of the Vermilion Cliffs, with their flared bases of Chinle badlands, contain many fossils of fish and early dinosaurs from the Triassic Period. A step north, the nearly unbroken line of the White Cliffs is composed of Jurassic sand dunes solidified into Navajo sandstone. All of these monolithic structures will undoubtedly take your breath away.
Day 6
Brice Canyon National Park
Bryce Canyon National Park is unlike any other place on earth and is home to some of the most astounding natural wonders the human eye could see in a lifetime.
Bryce Canyon reaches 2000 feet of elevation and is comprised of three distinct zones: spruce/fir forest, Ponderosa Pine forest and Pinyon Pine/juniper forest. These unique zones make the landscapes here so distinctive that it will be hard to tear your eyes away.
Not formed in the way canyons traditionally are, Bryce Canyon is comprised of distinctive geological structures called hoodoos. These were formed by wind, water and ice erosion and have taken on a dramatic red, orange and white coloring. These formations draw in tourists from across the world and truly are a sight to behold.
Where to Stay:
Ruby's Inn RV Park
Easily the best place to base yourself while exploring Bryce Canyon National Park, Ruby's Inn RV Park boasts over 200 shady RV sites, with facilities include full hook-ups with electricity and water, a pool and clean restrooms.
What to Do:
There are lots of great things to do within the Bryce Canyon National Park, and many of these activities occur in the outdoors. Snowshoe hikes are a popular activity and are best to do when the park has experienced a bit of snow. Take a guided walk through the park and learn about its winter ecology and the fascinating stories behind the formation of the hoodoos.
Don't Miss
The Rim Walk
The Rim Walk is another popular way to see the magnificent highlights of the park. Offering magnificent views of the canyon and changes to get up close to the fascinating plant and wildlife, this is one walk you cannot miss.
Day 7 & 8
(104 miles) Zion National Park
Known as Utah's first National Park, Zion is home to massive canyon walls and dramatic sandstone cliffs. Often referred to as sand castles crowning desert canyons, the geological features of this park are remarkable to say the least and will simply take your breath away. Zion National Park is positioned near the small community of Springdale, an old agricultural town that has been transformed into an ideal base for travelers to the National Park. There are a total of nine known geologic formations within the park and these are collectively known as the Grand Staircase. These are also part of the sedimentary rock layers that form sections of the Bryce Canyon National Park and the Grand Canyon. These geological structures combine to make a park that inspires awe and may make you never wish to leave.
Where to Stay:
There are two campgrounds within the Zion National Park: the South Campground and the Watchground Campground. Both of these sites offer close to 200 sites, offer dump stations and are 1 mile from the closest groceries, showers and service stations.
What to Do:
The Zion Canyon Scenic Drive provides access to the beautiful Zion Canyon and is the perfect way to discover the immense beauty of the park. Along the way you will come across the wonders of the Weeping Rock, Emerald Pools, Angels Landing and The Narrows. Biking and horseback riding are also popular ways to explore the park. The Pa'rus trail spans for 3.5 miles and is perfect for cycling along the beautiful Virgin River.
Horseback riding can be arranged for one-hour and half day rides and bookings are recommended.
Don't Miss:
Hiking Zion National Park offers some truly fantastic hiking opportunities, with unbelievable scenery almost guaranteed. Some of the walks you simply must attempt while in the park include the Angels Landing Hike, which will take you around the West Rim, and the East Rim, Weeping Rock, Emerald Pools and Hidden Canyon hikes, which will expose you to the incredible beauty of the park. However, the walk most people never pass up is The Narrows Trail. This 12.5 mile trek was carved by the waters of the Virgin River and really is the best way to capture a glance of the dramatic cliff faces that reach as far as the eye can see.
Day 9
Salt Lake City (310 miles)
When it comes to natural beauty with a city feel, no place in the US does it better than Salt Lake City, the capital of Utah. The city itself is positioned near the Jordan River and the Great Salt Lake, meaning that stunning natural water sources are not too far off from wherever you are in the city. To the northeast of the city lies the Great Salt Lake Valley and in the east and west you will come across the Sleep Wasatch and Oquirrh mountain ranges respectively.
The city is also nestled amongst glacial and volcanic canyons and is known as the "Crossroads of the West" because of its central geography in the western US. The city boasts a strong museum, arts and cultural scene and offers a multitude of fun, exciting and entertaining activities to take part in and stunning places to see.
Where to Stay:
Salt Lake City KOA
This KOA campground is one of the best places to stay in Salt Lake City and offers full hook-ups, cable TV, a tour shuttle, pool, hot tub, sauna and a Kamping Kitchen.
What to Do:
Great Salt Lake
While visiting Salt Lake City, it is a necessity that you visit the landmark that it was named after, the conveniently named, Great Salt Lake. This lake and its many islands provide outstanding scenery and a vast array of recreational opportunities.
However, the best time of day would have to be at the end of the day, where you will be able to experience a sunset of amazing red, orange, lavender and magenta hues. This is a sight you will want to remember forever so be sure to bring your camera along.
Don't Miss:
Utah Museum of Natural History
For all those lovers of nature and anything natural out there, this is just the place for you. The Utah Museum of Natural History illuminates the natural world and the place of humans within it, making it an ideal outing to take the kids on.
Day 10
Return your RV to the respective RV depot and start reminiscing on the amazing 10 days you have just had.