Campervan Hire and Liability Information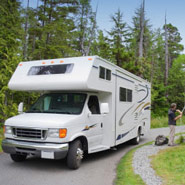 As a standard policy across most US camper van hire companies, a basic insurance policy is included in the daily rental rate for any camper van hire. However, this is very basic cover and mostly covers the camper van hire company, and not the actual driver.
Select companies include Supplemental Liability Insurance, Public Liability Insurance and a Collision Damage Waiver in the daily rate.
Supplemental liability insurance provides the customer with an increased limit of liability protection. This coverage protects the renter and any authorized driver of the campervan rental, for up to US$1,000,000 towards third party damage claims.
Some companies offer a complete protection package, which includes public liability insurance in the daily rate, along with an additional Supplemental Liability Insurance and third party insurance.
If extensive insurance is not included in the standard daily rate, most companies allow you to pre-pay or pay for your camper van hire insurance at the counter.
In other cases the customer will have to present their automobile license certificate, which should indicate third party liability insurance, as well as comprehensive and collision coverage, which should extend to the campervan rental vehicle. If the customer is unable to present this certificate, they will need to purchase some form of Rental Liability Insurance and Vehicle Incident Protection. The cost of this cover depends on the type of camper van hire.
All companies strongly recommend that clients take out the highest level of travel insurance before they embark on their RV rental holiday. Regardless of which insurance option you choose to take out, travel insurance is an important addition to your safe travel and will come in handy at many points throughout the duration of your campervan hire travel.
Insurance is an important necessity for camper van hire. While it is an expensive investment, and a non-refundable one at that, the costs it covers in the case of an accident will far outweigh the costs you will incur if you are not covered.