Monument Valley - Highlight of the Colorado Plateau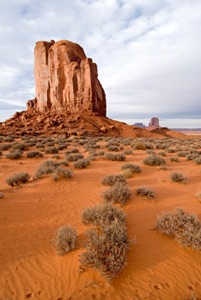 Translating into "Valley of the Rocks", Monument Valley is a region of clusters of large sandstone buttes that rise majestically from the valley floor. Monument Valley can be found within the Colorado Plateau, right on the border of the state of Utah, close to the northern region of Arizona.
Monument Valley includes much of the area surrounding Monument Valley Navajo Tribal Park, and is somewhat of a national icon. The valley is also part of the Grand Circle, which includes such natural attractions as the Grand Canyon, Mesa Verde and the Natural Bridges National Monument.
Monument Valley provides an image that encompasses everything the American West is all about and is the perfect destination for an RV rental vacation.
Geology
Monument Valley is characterized by the isolated red mesas and buttes that rise from the valley floor. These incredible natural monuments are surrounded by remarkable, empty, sandy desert landscapes making them stand out and allow visitors to absorb the true depth of their beauty.
The Navajo Tribal Park
A whole new perspective of Monument Valley can be gained from the Navajo Tribal Park and the entrance fee is just a mere $5. Be sure to check out the Visitor Center at Lookout Point, where you will find spectacular views of the valley's three most photographed peaks.
Hiking
The Wildcat Trail is the only hiking track within Monument Valley and is a fairly level track that spans just 3.2 miles. The track loops around West Mitten Butte and is ideal for a quiet, solo appreciation of the scenery.
How to Get Here
Essentially, there is only one main road that allows access to the park. US 163 links Kayenta, AZ with US 191 in Utah, and the drive offers some of the most unsurpassed views of the valley imaginable.