One Way RV Rental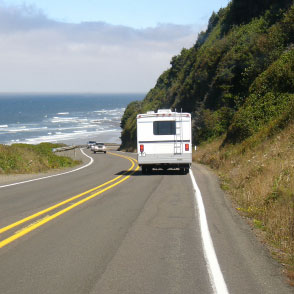 Ever wanted to road trip across the states, taking in all the amazing sights and attractions from the comfort of your own vehicle? An RV rental is a great way to do this as it will allow you to pick and choose where you want to go and stay.
An RV truly is the best way to see the countryside, but while you are traveling (and before you rent) you must keep in mind that you will have to return the RV to its original location, unless you are willing to cough up the hefty one-way fee.
It is really not that all surprising that some travellers want to rent an RV in only one direction. The cost of flying or training it home may actually work out cheaper. Besides, does anyone really want to drive a campervan rental on a round trip? Especially if you are with the kids.
One-way rentals are extremely popular with RVers choosing to travel short trips from San Francisco to Las Vegas, or longer trips from New York City to Los Angeles. Other popular road trips include the journey from Boston or Chicago to Miami in the fall, and from New York to Miami or Florida during the Christmas period.
An important thing to keep in mind if you are considering a one-way rental is to book early. This may involve booking your vehicle several months in advance, in order to find the best deal and the cheapest one-way fee. When thinking about this you should also take the time of year into account. Holiday periods are extremely busy and if you book too close to your time of travel you may miss out.
Another thing you can do to reduce the cost of your one-way rental is to wait for the specials. Each RV company advertises rental specials every now and then and if you find one that matches your needs, you could end up saving a fortune.
One-way rental is also a great idea if your time is limited. If you only have enough time to travel to your desired destination, a one-way rental will allow you to take your time to get there and then simply catch a plane or train home.
Traveling to and from the beautiful cities of the United States of America is a fantastic experience. Discovering them in your RV is an extremely enjoyable way to accomplish this, and a one-way motorhome rental gives you the freedom to take your time, forget about rushing and appreciate the things that really matter.