RV in Point Reyes National Seashore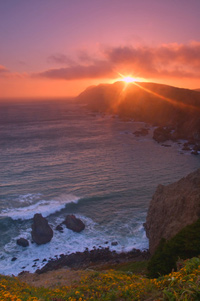 Point Reyes is a popular holiday destination located in California's Marin County. Its position just 30 kilometres from San Francisco makes it an ideal place to escape from the demands of city life, with an RV rental vacation the perfect excuse to do this.
Also commonly referred to as the Point Reyes Peninsula, this destination is regarded as a national treasure and is protected by the US National Park Service. The contrast in landscapes in this area is impressive to say the least. Point Reyes boasts rocky headlands and long sandy beaches that both meet lush, open grasslands, brushy hillsides and forested ridges. These stunning landscapes are essentially what make this region so appealing.
What to Do
Point Reyes is a popular recreational area for both locals and tourists alike. There are endless hiking opportunities available along the shores of Tomales Bay, with kayaking another popular option.
The seashore is also highly regarded as one of the finest bird watching areas in the United States. In fact, wildlife is abundant in these parts, with the Northern Elephant Seals also making regular appearances.
The Lighthouse is another important point of interest in the region. Situated atop a rocky cliff, the lighthouse provides unsurpassed views of the coastline, and simply cannot be missed.
Spend some time simply exploring the wondrous beauty of this incredible region and soaking up the raw and untouched splendor of this stunning part of the country.
Climate
The Point Reyes climate is characterized by warm dry summers and cool, rainy winters. This makes summer an ideal time to visit, however tourists should be prepared for some dense fog. Visitors should also expect strong winds pretty much all year round due to its peninsula position.
The moderating influence of the Pacific Ocean creates a climate with no extremes of hot and cold, but changes in weather should come as no surprise. Be sure to come prepared for sudden changes in all kinds of weather conditions.
Where to Stay
There are multiple campgrounds located within and close to the Point Reyes region. The most ideal one can be found at Kirby Cove, which is located 32 miles from the Bear Valley Visitor Center. It is located within the Golden Gate National Recreation Area on the Marin Headlands. Offering spectacular views of San Francisco and the Golden Gate Bridge, this campground only accepts reservations to be sure to book well in advance.