RV Luxury Features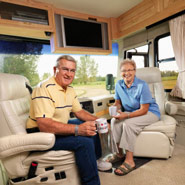 A campervan rental holiday is a great idea any time of the year. They offer you a freedom that no other holiday can, and can give a touch of luxury that you can't get from traditional camping.
The range of rental RVs on the market is expansive, with something to suit everyone's needs, wants and budgets. There is the option of hiring something with a touch of class, or simply something that is going to meet the needs of a large family.
While all
RV rentals
differ, there are some features in each that remain the same. However, most rental companies give you the option of adding those luxury features that are sure to make your holiday just that little bit more enjoyable. These include:
When booking your RV, ask for one that comes with a TV and DVD player. This will provide endless entertainment for the kids while you are driving and will be ideal for watching movies on at night.
Kitchen luxuries such as a coffee maker and microwave.
Side-by-side fridge and ice maker.
A GPS unit
Toilet and Shower. While most large RVs included these features, some do not, so if you want the luxury of having your own, be sure to ask for one with these.