RV Safety Tips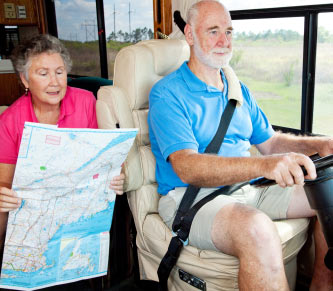 Driving an RV is a fun and exciting experience, but safety should be on your mind at all times. Traveling with the family can at times be a little distracting so keeping your eyes on the road is essential to your driving.
Ensuring your
RV rental
is equipped with all the necessary safety equipment should also be of primary concern, because you never know when these items may come in handy.
Safety is even more important while traveling with the family, so make sure you read and follow these few simple tips to ensure you have prepared yourself for every circumstance that may arise.
Smoke Alarm - When in the process of booking your campervan rental, make sure you enquire as to whether the vehicle is fitted with at least one smoke alarm. Make sure there is a working battery in it and perform a test before you take off.
Fire Extinguisher - This is another safety essential that you will need in your rental RV. At least two should be installed; one in the galley and one where the sleeping compartments are. All RV rentals come fitted with a fire extinguisher.
Take your mobile phone with you at all times. You never know when you could run into trouble to it is always a good idea to have some form of communication handy.
Personal Security - Always keep your motorhome rental locked up when you are not in it, including all doors and windows. However, the best way to stay safe is to never travel alone. Having someone with you will increase your personal security, while also giving you some companionship along the way.
Practice Maneuvering the RV - RVs are often much more difficult to drive than your ordinary car so make sure you take some time to get used to it before you head out on the open road. This includes practicing parking, reversing and maneuvering corners.
LP Gas System - Make sure you have this inspected before you take off to make sure you have the proper appliance operating pressure and to check the system for leaks.
The Generator - Never leave this on while you are sleeping. The carbon monoxide it releases can be extremely dangerous.
Weight Distribution - Make sure your luggage is distributed evenly throughout the RV as this will help with wind resistance and fuel economy.
Check all fluid levels including oil, transmission fluid, coolant and wiper fluid and check under the RV for any leaks.
Check the air pressure in all of the tires. Don't forget both tires on a dual wheeler and trailer tires as well. This is one of the most important RV safety precautions.
Check the lights to make sure that they are all working.
Make sure the tow bar, hitch, and any cables are securely fastened.
Drive only when you are alert, healthy and ready to drive.
---
Read more about Driving Safety Tips with Road Bear RV.