What You Didn't Know About RVs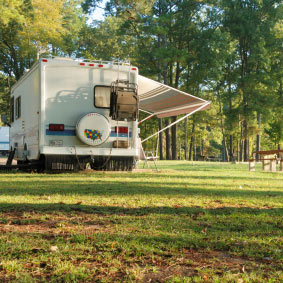 RVing is fast becoming one of the most popular ways to travel while on vacation in the US. The freedom an RV rental will give you to travel the country in comfort, style and at your own pace, will reward you in so many ways you may never want to travel any other way again.
Finding the right RV for you is a process you should approach with much careful thought and consideration. The facts will come flying at you and while you may feel overwhelmed at first, it is important to know what you are getting yourself into.
No matter how many websites you look at and no matter how many campervan rental companies you ring up, there is always going to be something you don't know about your RV before you pick it up. However, there are a few basic things that you should know before you hire an RV.
Size
There are a wide range of different sized RVs on the rental market. RVs can sleep from 2 to 8 people, depending on your needs, and this is specified in the details made available to you before you hire.
Models
RVs are categorized into classes; A, B and C. A Class A RV is top of the line and offers the luxuries and comforts of home, in a bus-like vehicle. Class B RVs are the smallest models of RV and are also referred to as van conversions. These vehicles are extremely versatile, economical and handle very well. Class C RVs are commonly referred to as mini-motorhomes, as they are basically scaled down versions of the Class A RVs. These are a great option if you are looking for a combination of both A and B, at a reasonable cost.
The other category of RVs on the market is the towable variety. These of course, must be towed behind a vehicle, and the models available include the travel trailer, folding camper trailers, fifth wheel trailers and truck campers. These are a great option if you are bringing along your own vehicle.
Driving Ease
The degree of difficulty you experience while driving your RV will depend on several factors, including the size of the RV and your experience with driving larger vehicles. The larger (Class A) vehicles will probably be more difficult to drive, as they are particularly larger and a little more difficult to park and maneuver. However, once you have been driving for a little while, it will become just like learning to ride a bike and you will be at ease in no time.
Amenities
Depending on the size and type of vehicle you chose to hire, the amenities it offers will vary. Most vehicles come equipped with bed/s, a table and chairs and some kitchen facilities. You can request to hire a vehicle with a toilet and shower, but keep in mind that these cost a little more.
As you can see, the basics about RVs are pretty simple and standard across the board. These are some general tips to get you started on your ideas for RV rentals, but keep in mind that they are just a starting point and there is still a lot more of information coming your way.