Discover Yellowstone National Park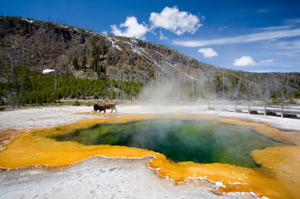 Yellowstone National Park was established in 1872, making it America's first National Park. Its entirety spans across the states of Wyoming, Montana and Idaho, making it easily accessible and a fantastic place to spend some time while visiting either of these states.
Highlights of the park include the famous Old Faithful Geyser, along with a stunning collection of the world's most extraordinary geysers and hot springs.
Another natural feature the park is known for is its Grand Canyon, which although not as impressive as its bigger sister in Arizona, is still a dramatic landscape that can't be missed.
The park is comprised of an unsurpassed array of lakes, canyons, rivers and mountain ranges, making it a scenic delight for the eyes.
However, it's the geothermal activity that occurs here that draws in the tourists. In fact, half of the world's geothermal features are in Yellowstone, with lava flows and rocks from volcanic eruptions covering a majority of the land area of the park.
Yellowstone is the ideal destination to take an RV vacation because with so much to see and do it is almost impossible to get bored here. There is also the fact that there is no better vacation then one surrounded by true natural beauty and picturesque settings.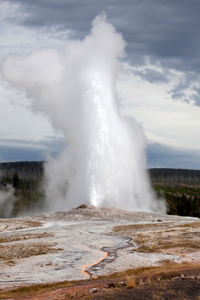 The Seasons
Summer
The days of summer are very pleasant in Yellowstone, but be aware that temperatures can drop below freezing during the night. Thunderstorms are also common in the afternoons.
Winter
Yellowstone is incredibly cold during the winter months, with temperatures well below 20F during the day. Sub-zero temperatures are common during the night so be sure to stay rugged up.
Spring and Fall
Spring and Fall in Yellowstone offers a combination between summer and winter temperatures. However, these do tend to be seasons that bring about sudden changes so be prepared and make sure to bring along a wide range of clothing options.
Things to Do
Yellowstone is overflowing with things for the avid adventurer to take part in. Hiking is by far one of the most popular past times, and wish so much so see and do you could spend days at a time doing this.
The Park is also deeply steeped in a rich history, with many historic viewing points on offer. The Old Faithful area is particularly interesting, with several historic sites to see.
Other fantastic natural highlights of the park include Mammoth, Norris, Madison, West Thumb and Grant Village, and of course, the canyon.
The Wildlife
If there is one thing Yellowstone is known for, besides the wonderful geothermal features, it's the wildlife. Yellowstone National Park is widely considered to be the finest mega fauna wildlife habitat in the lower 48 states. The park is home to 60 species of mammals and this includes the gray wolf, the threatened lynx, and of course the grizzly bears.
The grizzly bears are by far the most exciting animal in the park, but keep in mind that they are also the most dangerous. Always remember to cover your food at night and during the day to prevent the bears from wandering into your RV camp.
Camping
When it comes to places to camp in Yellowstone, visitors really are spoilt for choice. However, if you are after somewhere to stay that offers water and sewer facilities, your best bet is the Fishing Bridge RV Park.
Reservations will need to be made in advance as this is a popular place for RVers to camp.