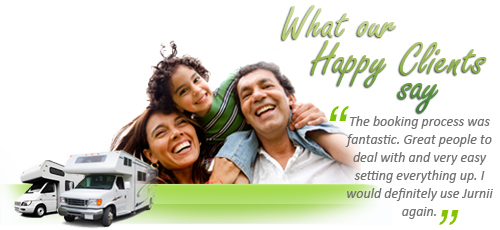 12/07/2021
Excellent. The communication was mostly via email for the most part. All questions asked and information explained in detail. No hidden or unexpected costs.
03/07/2021
Everything was super smooth from start to finish.
16/06/2019
Process went smoothly
15/06/2019
Very easy and staff are very friendly and help out a lot
08/12/2018
Very easy to book and very prompt service
13/10/2018
This went well, the downside is that the call center is in Australia and open on the hours that we are in bed.
08/10/2018
Reservation was quick and easy, this was our first RV holiday but will certainly be doing it again in the coming year.
01/10/2018
Process was ok, staff friendly and helpful.
15/09/2018
The reservation process was very easy and the staff at Jurnii were always available and helpful with any queries I had in the lead up to picking up the vehicle. Would definitely use Jurnii again!
02/08/2018
The whole process from making the initial booking with Jurnii to the pick up and drop off at Cruise America was done very professionally and straight forward.
30/06/2018
The reservation process was great, no problem.
30/06/2018
Reservation process was fast friendly and accurate. Very professional in all of our dealings online and on the phone.
19/05/2018
Smooth process. Friendly & helpful staff.
21/10/2017
Vehicle briefing quite complex and daunting- might be better to send briefing summary before vehicle collection. Team at Best Time friendly and helpful.
07/10/2017
The Jucy was far more better than what I expect. It has what ever is necessary for two persons to travel safely and happily. Jucy made my trip unforgettable. for sure I will rent the Jucy again next year to discover other parts of the great USA as well as Australia or New Zealand.
27/08/2017
No key for deadlock on door Overall fantastic 42 day adventure
15/07/2017
We really enjoyed our trip. It was fun and the RV was great. All the process was very good and the people at Las Vegas were very helpful.
26/06/2017
Great experience, and thanks so much for having it ready and in great condition when I arrived on time. Super easy to deal with the team on the ground (especially Charlie was really nice and friendly). We look forward to another holiday soon.
17/06/2017
We had a great time. The staff was very courteous and accommodating, which we appreciated. Thank you for a great vacation
17/06/2017
This was our first major RV holiday overseas. The experience has given us the confidence to say it wont be our last.
17/06/2017
The booking process was easy as was the pick up and return process. Everyone was friendly and helpful.
24/05/2017
You should put a coffee maker and toaster in the kitchen kit. More dish towels would be nice also. We ended up purchasing these items and leaving them with my son in San Francisco when we flew home.
20/05/2017
Wonderful holiday. First with my wife and no kids in 20 years. Beautiful countryside and an RV was the perfect choice
06/05/2017
It was perfect. I expect that we will rent again. Soon I hope!
26/04/2017
Easy and helpful staff.
11/03/2017
JURNII RV was a great company to book with, and Road Bear RV in the US was a great partnership. We are already looking forward to our next trip. Prices were great and being guaranteed a camper within a year old was what sold us. A thorough walk through and explanation/description of the camper made us comfortable with the rental. You will not regret going with JURNII and ROADBEAR.
28/01/2017
The staff at Best Time where we picked up and returned the vehicle were first rate. Very knowledgeable and provided friendly, helpful service. I would highly recommend them. Also our dealings with Jurnii were very satisfactory. Cheers.
19/11/2016
We got a 2016 model so we were happy with that.
12/11/2016
Your lady at San Francisco is a gem
29/10/2016
Leila was outstanding. great customer service, took care of all of our concerns. thanks..
14/10/2016
Easy to book with no fuss.
06/08/2016
Made it easy to book, very helpful
06/08/2016
Great service will use again
16/07/2016
Sarah from Jurnii, you really were tenacious in finding us a rental that we so desparately needed. Thank you so much. If I need to rent an RV in the future, I will definitely call Sarah.
19/06/2016
The staff at Best Time RV were very helpful and pleasant. If I plan on renting an RV in Las Vegas again, I will surely be a returning customer.
14/06/2016
would be better if petrol tank was full, last thing need to do is find petrol station first thing in unfamiliar place, makes it returning easier too rather than returning it on a 1/4 tank.
13/06/2016
We loved the Maverick. It was neat and clean when we picked it up. We have already made 2 referrals. The only recommendation I have is to speed up the pick up process.
13/06/2016
We had all supplies we needed in good working order. The only thing missing to help create more counter space would have been a " cutting board or cover" over the sink. Thank you for the good service. Heidi
11/05/2016
Four and 1/2 stars. The arrangements with BestTime RV were great! The company was most accommodating.
07/05/2016
I was very satisfied with Jurnii throughout the process - particularly your responsiveness both at booking through to the return of our vehicle which we had to do 2 days early but Cruise America did reimburse us the last two days which helped. Will certainly look to work with you again as we are headed to New Zealand early 2017.
23/04/2016
Service was great also. Staff were helpful and friendly.
23/04/2016
It was a great trip. The rv was very nice. Would definitely rent this rv again.
22/04/2016
Wow .... staff were fantastic and went well beyond the basics to make our trip a success. They were there with advice and tips that helped us save both time and money. Saw several other of the same units on our trip from Vegas through California and back. It was funny as we all honked and waved when we saw each other. 100% would rent again ... a memorable vacation!! Thanks again to all the girls at the cente!!!!
20/04/2016
Easy and transparent booking process. We rented through Jurnii, via Britz at Roadbear. Everything went smoothly - Overall great experience at a good price!
17/04/2016
Perfect for our needs
05/03/2016
The staff at Best Time RV were very friendly and helpful, although it did take quite awhile to get out of the office and on the road when we picked up the vehicle.
02/01/2016
Excellent vehicle, excellent booking systems and customer service
14/12/2015
Espacially your cooperation in finding a one way rental was very good. Well done - if we go again for a RV Holiday, we will contact you again.
10/11/2015
service was great
09/11/2015
Great experience, great customer service. I will definitely recommend to our family and friends.
17/10/2015
Great staff at check in and check out. Great experience with booking. Had a fun trip.
10/10/2015
Thank you we had an awesome time.
19/09/2015
Staff throguhout booking process were very helpful/firnedly and super efficient!
08/08/2015
Very nice pepople
04/08/2015
Great service from pick up at our hotel to our return to airport after our 9 week trip Would recommend Jurnii and Road Bear to anyone thinking of doing a RV trip
13/07/2015
Cruise America staff were friendly and efficient. would definitely recommend to others.
13/06/2015
Had a great trip travelling on the west coast of America for a month, mainly in California. We were travelling with our children who had a bigger trailer and car so if the weather was not good we could easily duck inside their van with them. The only thing I would like to see as an extra is perhaps a tent or awning that attaches to the back lift up roof of the vehicle or side so if the weather is inclement you can set up chairs and still eat under cover as most of the time we just left our bed made up in the vehicle. Thanks for a great trip!
06/06/2015
Great way to see the USA
06/06/2015
First Time renter so I did not know what to expect, however, it was so easy that I am considering selling my own unit and renting from now on. Steve Vancouver Canada
30/05/2015
The pick up and drop off at Road Bear quick easy and painless, the staff was very helpfully and very friendly. I will defiantly rent from them again.
23/05/2015
excellent all around service...
07/04/2015
The jurnii website and customer service was out standing.
07/03/2015
We had a wonderful time. What a great way to get around and see the country . The staff are so helpful. We are differently doing it again. Thank you.
30/11/2014
Booking process simple. Pick up well organised with good handover.
08/11/2014
Overall we had a great holiday thank you Road Bear.
26/10/2014
Cruise America was great to deal with,helpful and professional.
13/10/2014
El Monte were excellent to deal with from our hotel pick up to airport drop off we had no issues at all. The team at Los Angeles and the team in Orlando were great to deal with. Our 30 days in the RV was a memorable holiday that our family absolutely loved. Thanks to Junio for finding us an RV when no one else could.
21/09/2014
The staff at Carson LA branch were really helpful and kindly gave us an extra set of crockery. We had the RV for 3 weeks and had no mechanical issues what so ever. As first timers we all found it a fun experience and I would recommend RVing with Cruise America! Staff at Jurnii RV rentals were fantastic at the booking stage. A special thank you to Fiona for her help with the booking.
16/09/2014
Everything was perfect except for the young guy showing me around the van.
23/08/2014
We are very happy with our experience.
17/08/2014
Excellent customer service
11/08/2014
Britz RV rentals are absolutely excellent. Their vehicles are top notch and the staff are brilliant. Nothing is too much trouble. They explained fully on collection everything that you need to know if you are a novice - which we were. On return the staff, transported us to the nearest train station, for which we were very grateful as we struggle to get a taxi/cab. Finally, I would recommend this company to all who are novices and want to feel safer in newer vehicles that are immaculately kept and looked after by amazing staff.
28/07/2014
Great team you have guys!
28/07/2014
Would have no hesitation in recommending it to others. Jurnii RV were great to deal with.
15/07/2014
Booking process, and RV collection and delivery processes were quick and easy. Thank you!
13/07/2014
We were especially pleased with the agent service in Las Vegas. Thank you.
05/07/2014
Staff was friendly Booking process was easy.
12/05/2014
The vehicle was in great condition and the team at moturis in Tappan were fantastic and really made the whole experience easy and pleasent.
05/05/2014
Family had an awesome time
19/04/2014
Great service from your agent at Phoenix
05/04/2014
The entire 2 week vacation in your RV was perfect. I have been recommending this sort of trip to all of our friends. My husband and I will return to Jurnii for our future vacation needs.
22/03/2014
My family and I had a great time using your motor home!I would definitely do business with you again!
22/03/2014
Very pleased with Road Bear in Las Vegas. Very accommodating. Also thanks to Jurnii. I would recommend both again.
17/03/2014
Overall it was a fantastic experience and I would recommend it to anyone who is wanting a rv holiday. cheers for a wonderful time. Bert and Carole Vaneveld
08/03/2014
Our entire experience was super! Booking was smooth, check-in and check-out was easy, our entire holiday was fantastic! We loved the freedom the motorhome gave us. We recommend this kind of holiday absolutely!
06/03/2014
Holiday of a lifetime, great service from Jurnii everything was perfect.
01/02/2014
My only complaint is against Frontier Airlines. They caused me to arrive late and loose 1 days rental and broke down on the flight home making me 6 hrs late. The girls @ Jurni did a fantastic job and I thank them.
18/01/2014
Great holiday, was fun to be able to travel with the family this way. Would do it again!
18/01/2014
We arrived at the rental place (Moturis) with some aprehension as my experience is that there are always springing hidden charges on you, however nothing of the sort, it all happened exactly as Jurnii had explained it would. We will rent again thru Jurnii, they are really on to it.
31/12/2013
Thanks so very much for everything, I will recommend Jurni to my friends!
17/12/2013
The renting process was easy as soon as we figured out what vehicle we really needed for our trip. Jurnii gave us quotes and called us back in a 24 hr time frame. Every step of the process was seamless and the people we talked to along the way very helpful and professional. Thank you for renting it to us and we would not hesitate to rent again from Jurnii RV Rentals.
14/12/2013
Booking was easy and any questions I had were answered within 24 hours.
05/10/2013
Booking process through jurnii was easy, quick and thourogh.
12/09/2013
Excellent customer service, the rental agents were super nice and helpful despite the extremely busy time.
24/08/2013
10 out of 10. This was a difficult process, but the employees at Jurnii were extremely helpful and got me through it. The vehicle we ended up with was great and the vacation experience because of it was fantastic. We hope to do it again.
29/07/2013
All in all very smooth experience.Car was ready and even upgraded when we came.Everybody was very helpful and definitely my choice for next time again! :)
13/07/2013
The customer service was excellent.
29/06/2013
Overal the service & vehicle was very good & I would use them again.
21/05/2013
Very nice service for pick up and drop off of the vehicle. We were able to pick up as soon we arrived at the rental office and were cleared for departure quickly after receiving full oral presentation of the vehicle by road bear agent. It was simple, quick and clear. We definitively enjoyed these vacations.
06/05/2013
We really enjoyed our trip, and even though we racked up 2,000 miles in 12 days, felt we had made the best of our time and had good value from the vehicle and the rental. The Cruise America staff at Fremont CA were great too.
04/05/2013
The price difference between you and cruise america direct was vast in your favour. The holiday was the best we have ever had and we will be doing it again if the prices are similar to what we just paid. Cant begin to explain how great an rv holiday is and would recommend it to anyone thinking. Have already passed your details on to 2 friends who are looking at booking with your company at present. Again thanks for all your time and effort. Steve Hudd - England
21/01/2013
Very easy to rent from them simple and easy nothing extra that was not talked about I would do it again
06/01/2013
The RV was a great experience. The RV was great! We travelled with a little 7 month infant, and the little quickly saw the RV as its home.
04/11/2012
The van was great! Clean and easy to drive.
02/11/2012
A fantastic holiday - would definitely do it again.
10/10/2012
We were not sure if we could manage everything after the Video demonstration and had a run through with a member of staff. We did manage everything fine. We will definatly be booking again in a coupe of years time.
10/10/2012
vehicle was great and catered for all our needs, easy to drive, and maintained to top condition.
16/08/2012
It was awesome!!!
08/07/2012
I would definately recommend your company to others wanting to experience the freedom that an RV holiday provides. Jim & Deborah McCallum NSW, Australia
07/07/2012
The staff were very helpful and efficient.
09/06/2012
Escape were excellent to work with and I found them supportive in person and via email. All round it was a positive experience and would highly recommend this mode of holiday, and the company, to anyone.
29/05/2012
It seems illogical that El Monte Orlando provide transport to/from hotel accommodation but do not to/from the airport. This service is provided by El Monte Las Vegas. The service and responiveness from Jurnii was good.
12/05/2012
We thoroughly enjoyed the freedom of the camper, we mixed up paying for full hook ups and non hook up camping. Would do it again in a flash.
28/04/2012
We really enjoyed our RV vacation. Thanks for your help & support.
21/04/2012
The booking process was straight-forward, the film useful and the assistants in Denver were very helpful
21/04/2012
It was great the experience.
17/04/2012
Everything from the booking to the pick up and drop off went very well, helped by your very friendly and well organised staff, Thank you all.
26/03/2012
Booking process was relatively easy and everyone who I contacted at Jurnii during the process was very professional and helpful. The staff at Camping World in Mesa, AZ was very professional and made the check in/check out process very easy. We camped at Phoenix International Raceway for the NASCAR Race weekend and had a great time. Thanks for providing an enjoyable experience for this phase of our vacation.
06/12/2011
I am extremely impressed with your service and info on your website - thanks Ereda
06/12/2011
Thank you so much for doing all the work you did for us, it is very much appreciated, and I am so pleased about the GPS, Ta. The connections you sent for the RV parks are very good and I have had a great day (time permitting) to have a look around them. Good luck to you girls, keep up the good work.
18/10/2011
Booking process all spot on. Thankyou.
15/10/2011
booking process was easy - helpful/friendly staff - would use again perhaps with a higher spec vehicle
02/10/2011
Clean and comfortable had everything we needed.
29/09/2011
service from staff at either end of journey first rate friendly and informative would recommend motorhome trip to anyone
30/08/2011
The team at jurnii were excellent and helped with all our queries before the holiday began. They were a superb rental outfit and I would recommend them unreservedly.
28/08/2011
we had a wonderful time exploring the USA :)
20/08/2011
very good customer service from jurnii and road bear
16/08/2011
Friendly and efficient staff. Thank you very much
02/08/2011
The folks at our location were great. Everyone is very customer oriented. Great experience. We will definitely use your services again!!!!
30/07/2011
Everything went smoothly with our booking and we could not have asked for a more wonderful holiday. We travelled for 14 weeks throughout the USA and what a fantastic way it was to see this marvelous country in an RV. We passed through fiordlands, canyons, seasides, mountains, prairies, and deserts and met some wonderful people along the way. We loved our RV holiday. Thank you. Col
28/07/2011
exc new condition, good layout, great for family
24/07/2011
My first RV experience - totally sold on this style of travel. So easy to travel and food ready in a minute or longer if making scones.
20/07/2011
Your staff were very helpful in ringing up campsites etc when we given an alternative vehicle and we could not fault them.
08/07/2011
We found the RV to be very comfortable. It had everything that we needed to make our holiday enjoyable. I would definitely recommend Jurnii for anyones RV rental. The pick up and drop off process were extremely easy. The people were friendly and went out of their way to make this a pleasant experience. Cant wait to rent again!
05/07/2011
THe booking process was very easy and the personal was very friendly. We liked being able to talk to a person over the phone instead of a automated system.
03/07/2011
Our experience with jurnii was top notch. The person who checked us in and out was very pleasant, helpful and friendly. We would certainly use your services again.
02/07/2011
We had great service from where we picked it up in Vegas. We had a problem with the heater now working, which we needed as we were heading to yellowstone, so we got it repaired, and there was no problem with reimbursement. Also the tV didnt go, but once we rang the depot, Peter(office?) arranged for someone to come and replace it, so the service was great. Only downside was picking the van up, we had a wait, as there were so many people there doing the same. He was there on his own for most of the time. Otherwise, a great experience.
26/06/2011
Jurnii staff were great. Definitely would use their service again. Very prompt replies to emailed issues from Las Vegas operator.
25/06/2011
We had a great vacation. Vehicle was well prepared and the staff in Las Vegas was very good.
18/06/2011
The process of getting the RV was smooth and effortless. This was my first time so I was unsure what to expect but it was all explained to me clearly and was not a problem. Overall I was very pleased with my experience and the friendly people at Jurnii were friendly and helpful.
11/06/2011
I was impressed with the use of space in a normal size vehicle. Very versatile and great to use during our week trip. 14 miles per gallon not bad. I would certainly rent again.
06/06/2011
Trip went well and we will rent again from you.
27/05/2011
Would defiantly recommend and reuse Jurnii RV Rentals. Service and standard of vehicle were fantastic.
14/05/2011
Perfect for two people traveling around the southwestern United States.
14/05/2011
Everything was awesome. Thanks.
10/05/2011
Great customer service,very impressed
30/04/2011
Rental Team very friendly and helpful!
16/04/2011
The service we received at your office in Las Vegas was exceptional. Give him our regards and Thank You. Eleanor Hodges & Tom Armstrong
09/04/2011
The car had new tires and the staff at Vegas and LA was fantastic.Thank you.
19/03/2011
We have already put a deposit on next year with Peter in Las Vegas who was also a pleasure to work with.The whole rental experience could not have been better. Looking forward to many years ahead of RV ing with Jurnii.
17/02/2011
Vacation was great! Price was fair.
12/12/2010
My experience with jurnii RV RENTALS, and its staff could not have gone any smoother, everyone was very professional and provided excellence in customer service, which seems to be a hard find these days, VERY REFRESHING! I hope to do business again with the aforementioned, and will recommend to all Family & Friends for a stellar experience. Thank you.
13/08/2010
The booking process was fantastic. Great people to deal with and very esy setting everything up. I would definitely use jurnii again.