What's News?
Keeping up to date with the RV industry can be challenging. Why not keep yourself in the loop right here and discover What's New in vehicle design, products on offer, tourist information and much, much more.
If you would like to read more including special offers sign up for our free newsletter?
---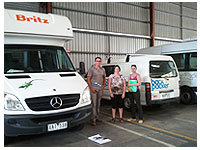 Brisbane Depot Visits
Our staff are kept up to date with the latest vehicle designs by experiencing them first hand.
Last Thursday I escorted our newest team members, Maria & Fiona, to the innovative Maui, Britz & Mighty depot to see the extensive range of 2, 4, 5 & 6 Berth vehicles. Their vehicles range from new to over 6 years old so any traveler can find a vehicle that suits their needs and budget. The air conditioned depot is located conveniently close to the airport and has toilets, free internet, a play area for children & speedy self check in service.
We ventured onto the Kea depot only a short drive away to view the range of luxury 2, 4 & 6 berth vehicles. If you are looking for quality, comfort and safety, this is definitely the range to go for. The fittings are of the highest quality, including high grade macro suede fabric seat covers, central locking systems, safety deposit boxes, security screens and solar panels.
The next stop is the funky Jucy depot located a bit closer to the city and about 10 minutes further from the airport. The depot cannot be missed with the emphatic signage in purple and green. The Jucy vehicles are more suited to the budget minded traveler who wants the convenience of a home on wheels but not break the budget, especially for those longer hires. A stand out inclusion is the flat screen DVD players (and you can even borrow DVDs from the depot for your journey!).
March 2012
---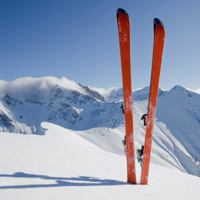 Snow Holidays in New Zealand
Winter is fast approaching and the cooler weather will bring back those awesome, fun-filled slopes covered in snow. Now is the perfect time, for those who love or have always dreamed about a ski & snowboard holiday, to start thinking and planning!
An ideal way to get to and from the slopes, include sightseeing and sleeping arrangements is to hire a fully equipped motorhome (after all, it is your home on wheels!).
Jucy have joined in on the fun by providing 1 free adult all lifts day pass to Treble Cone Ski field in Wanaka for each day the vehicle is hired. Travel dates for the pass is between July and September 2012.
March 2012
---
Holiday & Travel Show 2012 - Brisbane
Looking for some great holiday advice?
In April this year, over the weekend of the 14th & 15th, Discovery Rentals will be an exhibitor at the Holiday & Travel Show (formerly the Travel XPO) in Brisbane.
Come to meet us and speak to the experts when it comes to Campervan, Motorhome and Caravan holidays in Australia, New Zealand and the United States.
Entry to the show is free and is conveniently located at the Brisbane Convention & Exhibition Building in South Bank. For more information about the show visit the Holiday & Travel Show website.
We look forward to seeing you there!
February 2012
---

Hop into a Campervan for Easter
Picture a relaxing Easter weekend at your favourite campground without the hassle of packing camping gear, preparing eskies and pitching tents for your entire family. Opt for your own "house on wheels" making a campervan holiday an easy alternative.
Choose from a wide range of vehicles including 4WD campervans to suit your needs.
Discover 9 eggs-cellent reasons why you should book now for Easter.
December 2011
---

New Zealand - Britz Releases the Venturer
Britz announced that the Venturer is available for hire in New Zealand from April 2012.
Featuring an external barbeque, four bedding configurations and extra large storage space for your skis, fishing rods or golf clubs would make this 2 Berth toilet & shower motorhome a favourite amongst couples or mates.
December 2011
---
Welcome Aboard Travellers Auto Barn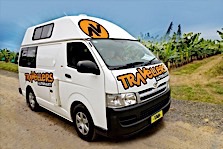 Discovery Campervans Australia is pleased to welcome onboard Travellers Auto Barn to their range of Aussie campervan suppliers.
Travellers Auto Barn specialise in providing a range of vehicles for those wishing to enjoy their Australian adventure at a reasonable cost. We welcome 3 new campervans to our range: the Chubby Campervan, the Deluxe Campervan and the HiTop Campervan.
Get your first Travellers Auto Barn Quote today!
November 2011
---
RVs Dominate the Rugby World Cup
The streets of New Zealand have not only come to life with the world's best rugby players and their adoring and wild fans... They have also become dominated with New Zealand motorhomes.
It seems motorhome hire was a popular accommodation option for Rugby World Cup visitors. Over 70,000 travellers in total are set to grace the shores of New Zealand throughout the event...which is the biggest the country has ever seen.
Campervan hire has proved to be a preferred option as it has given fans the chance to follow their team around the country, while also being able to soak up the incredible countryside and sights.
New Zealand cities that have seen a influx of motorhome hire travellers include Napier, New Plymouth, Auckland, Wellington, Dunedin and Christchurch.
The Rugby World Cup will (sadly) draw to a close on October 23...just in time for motorhome companies to recover before the Christmas rush period.
October 2011
---
Say Hello to Tourism Radio in NZ
Ever wished you could take a self-drive holiday, but still enjoy the advantages of having your own personal tour guide?
Several New Zealand Motorhome Hire companies have taken on a new initiative to include Tourism Radio with their campervan rentals. Tourism Radio's smart GPS technology reads your location as you are driving, with a tour guide commentator keeping you up to date with where you are and pointing out surrounding highlights. They will even suggest interesting places to visit nearby.
So go on, be sure to include Tourism Radio with your next motorhome hire in NZ.
September 2011
---
Welcome to the Jurnii Family, Cruise America
Jurnii RV Rentals are thrilled to welcome Cruise America to our
growing range of RV suppliers in the U.S.
Cruise America is easily one of America's most recognizable RV rental companies, having been in the business for almost 40 years. Offering safe, sturdy and easy-to-operate vehicles at 24 locations across the United States, Cruise America know how to make your RV vacation safe, fun and affordable.
Get your first Cruise America Quote today and see for yourself why we are so stoked to have them onboard!
August 2011
---
US Road Trip for Jurnii RV Staff
Lori and Melanie of our Reservations Team were lucky enough to have a 7 day Road Trip in an RV last month and had a fantastic time.
Their hands-on experience will be perfect for those looking for nitty-gritty details about the different vehicle types, camping overnight, where to stay, things to bring or to leave at home.
If you are looking for the right advice when hiring an RV for your next US Road Trip, please do not hesitate to contact us. We are more than happy to help.
July 2011
---
Cycling & Bike Hire
A fantastic way to see the countryside while on holidays is on a bicycle. Not only is it an activity that everyone can enjoy, it gives the freedom to experience the great outdoors at a relaxed pace.
For your next adventure, ensure to include bike and bike rack hire for:
June 2011
---
New Travel Guides for the US
Take the family or a group of your best friends to one of the many Theme Parks spread nationwide for a day full of fun and laughter. Have the ride of your life!
By the time winter comes around it will be time to dust off your skis and snowboards and get moving to the ski slopes. Use the US Guide to Skiing to choose the perfect mountain for your winter getaway.
There are many, many more interesting Travel Guides to suit every traveler type.
May 2011
---

Moturis RV - RV Rental in the US
RV rental in the US has become very popular for tourists and locals alike.
Moturis RV have over 25 years of rental experience and pride themselves on providing enjoyable, safe and hassle free vacations. There is not a single vehicle unit that is older than 24 months old and therefore have the youngest fleet in the industry. All vehicles are equipped with TV/DVD, sleep number mattresses and extra large storage rooms.
Bicycle hire is available from all 22 locations and also for one way rentals.
May 2011
---
Aratere gets a Revamp!
Preparations are underway for the cut and extension of New Zealand's busiest Interislander ferry. Passenger capacity will increase from 360 to over 600, with a capacity increase of 30% for vehicles.
Inside, spacious new lounges will include a new purpose built Aratere Plus Premium Lounge, quiet lounge, a new family lounge with play area, and a new shop and upgraded food court. Existing passenger areas will also be completely remodelled.
Other improvements include a completely new bow, new propellers, and extra engine capacity which together will provide better sailing performance with less wash in the Marlborough Sounds.
Learn more about the Interislander ferries...
May 2011
---


Welcome Aboard - United Vehicle Rentals
Discovery Motorhomes is pleased to announce it's partnership with United Vehicle Rentals for travel throughout New Zealand.
United Vehicle Rentals consists of two fleets, Alpha Campervans & United Campervans and have grown to a total of over 600 vehicles. It is New Zealand's only major rental company still owned and operated by its original New Zealand family. Naturally, family values are important and this extends onto the many travellers who hire their motorhomes.
United take their responsibility seriously to ensure that your motorhome experience in New Zealand is one that you definitely won't forget.
May 2011
---
Music Festival - Woodford, QLD Australia
Tickets for 'Splendour in the Grass' go on sale Thursday 5th May, so now is the time to get your friends together and think about where you should stay and lay your head at night.
Enjoy the live bands even more knowing that you have a lockable campervan with comfy beds, a fridge and food in the cupboard to keep you going all weekend.
For information on prices & how to book, please visit our Splendour in the Grass page.
April 2011
---
Discovery Rentals - Discount Voucher Booklet

As a token of appreciation, our clients who book Car Campervan Hire in Australia are given an Australia wide discount voucher booklet. The booklet is emailed instantly with the confirmation voucher.
We have over 40 different vouchers to suit any taste or budget including extreme sports, attractions, fun parks and much much more.
Do you belong to a company who may be interested in becoming part of our voucher booklet? Please contact our Marketing Department today.
April 2011
---
Rugby World Cup - New Zealand 2011
Feel the excitement rising for Rugby fans wanting to watch the clash between their favourite team and the rivals!
Accommodation over this period is very expensive and booking out fast, so why not think about hiring a motorhome over the Rugby World Cup period? After all, it is accommodation and transport all in one - the perfect combination.
Book now to avoid disappointment!
April 2011
---

Vehicle Release - Britz Navigator
The Britz Navigator in New Zealand will be the newest vehicle on fleet. This motorhome is built on a Fiat base offering plenty of space inside making this vehicle perfect for friends or family to travel and explore. Fitted with two decent sized double beds, LCD TV and DVD player, kitchen equipment, toilet & shower, this 6 speed turbo diesel vehicle will be comfortable and easy to drive to ensure your holiday is one you will never forget!
The Britz Navigator is available from 15th August 2011.
April 2011
---
Free Travel Guides
Looking for some interesting reading, travel ideas or reasons to visit the US?
The Jurnii Travel Guides is your online library to some very interesting attractions and special interest topics. Whether you are a sports enthusiast, nature lover, photo fanatic or adventure seeker there is definitely something for everyone.
March 2011
---
Follow Us on Facebook

Become a fan of our Facebook page and share stories and comments with like-minded people from all around the world.
Receive up-to-date news, fantastic specials, our latest travel guides and resources for Australia, New Zealand, the US & the UK.
We look forward to seeing you soon.
March 2011
---
Jurnii Blog
Want to know what's happening in the RV world without the hassle of trawling through endless websites?
The Jurnii Blog offers a variety of up-to-date news including travel guides, destination tips, travel resources and guidance on how to choose the best RV to suit your needs.
Check out our latest blog on America's Oddest Festivals. We welcome any comments.
February 2011
---
Traveller's Tales
Read about past experiences from other travellers whilst on their campervan adventure. Their advice, recommendations and opinions could be just what you need when making your own travel plans.
Find out more about what to expect, the places travelled, people they met, towns they saw and where they parked overnight.
Travellers Tales - Australia
Travellers Tales - New Zealand
Remember to email us with your story and photos after your vacation.
February 2011
---
The Interislander Ferry
The Interislander Ferry, 'one of the most beautiful ferry journeys in the world' (Wine Spectator Magazine) is now able to be booked online from our Discovery Motorhomes website.
Interislander offers daily ferry services across Cook Straight link New Zealand's north and south islands. The cruise is a spectacular 3 hour journey.
All vessels have modern technology, comfortable lounges, food areas and observatory decks onboard and carry passengers and vehicles.
So why take a domestic flight in New Zealand when you can view the amazing waterways and surrounds of Marlborough Sounds that are not accessible by land?
January 2011
---
Caravan & Camper Trailers
Discovery Campervans is now offering caravan & camper trailer packages with or without 4WDs which is an innovative solution for those seeking a unique self-drive holiday.
The self contained vans are the perfect way to give you and your family the flexibility and enjoyment of touring and camping at your favourite holiday destinations.
Available from Brisbane, Cairns, Sydney & Melbourne.
January 2011
---
Early Bird Discounts
Be rewarded by making your travel plans early and receiving an Early Bird Discount for rentals in Australia, New Zealand or US.
Traditionally in Australia & New Zealand the Early Bird Discount is 5% off the standard daily hire rate when you book at least 120 days in advance. US bookings can be up to as much as 15%.
So if you are the organised type and never leave things to the last minute this is something to be really happy about.
January 2011
---

Vehicle Release - Britz Renegade
The Britz Renegade, released late 2010 in Australia, is a unique vehicle offering a comfortable and roomy dual cab while driving. The living area has 3 double beds or 2 double beds and 2 singles which would suit families or friends who require a little extra personal space.
For the travelling family there is no need to move car seats to make up the beds or finding storage room when you are not on the road.
Enjoy the benefits of a large awning for staying out of the sun during the day and entertaining at night.
Other features include TV/DVD, radio & CD player, fridge & freezer, air-conditioning, automatic transmission, shower & toilet with the convenience and power of a turbo diesel engine.
This vehicle is recommended for four adults and two children.
December 2010
---

Jucy Grande Launch Party
To welcome the new Jucy Grande to Australia and New Zealand and a launch party was held at the bright and funky Brisbane depot on Friday 19th November.
It was a great opportunity to view the Grande vehicle inside and out. The highlighted features include automatic transmission, two DVD players (one for downstairs, one for upstairs), seating inside or outside, tonnes of leg room, stylish interior & exterior.
The Grande is well appointed vehicle for up to four travellers on a shoe-string budget looking to travel with a touch of style.
The DJ had people dancing and the delicious finger food was in high demand. It was a very enjoyable evening to meet new people who share an interest of travelling and new adventures.
December 2010
---
Take your first RV Jurnii
Looking for an affordable holiday overseas? Make the most of your hard earned annual leave and travel overseas due to the strength of the Australian dollar. It is a great time to visit the US while flights are competitively priced.
Have you considered taking a RV to have the freedom and luxury to travel to those places you have only ever dreamt about? Jurnii RV Rentals are committed to helping you choose the right motorhome to make your journey the most memorable and enjoyable.
Popular locations include Las Vegas, Los Angeles, New York and San Francisco.
November 2010
---
US National Parks Guide
The Grand Canyon and Yosemite National Park are considered as two of the most beautiful places in the world to visit, so you will have to go see for yourself.
It is said that up to 5 million people a year visit the Grand Canyon itself, but you can choose to discover it by staying in the campground at either the top or the floor of the canyon.
Yosemite National Park would have to be the nations most famous park with hundreds of miles of walking trails and camp ground facilities.
Take advantage of our free eBook US National Parks Guide for all the great ideas on where to park your RV and camp overnight.
November 2010
---
Easter Break 2011
As all Australians know, the very popular choice of family holiday around the Easter break is camping. Who is tired of putting up tents for your family and their friends? I have an idea!
This Easter break do something extraordinary & less stressful where you spend more time reading that book or fishing instead of putting up those tents.
I think you should hire a campervan. Go on...you know you want to!
November 2010
---
National Park Stays - New Zealand
Did you know that more one third of New Zealand's land area is a park or a reserve? No wonder New Zealand is considered to have some of the worlds best scenery.
Overnight stays in National Parks can be cost effective, relaxing and getting the entire family away from the cities and towns and back to nature. If you consider yourself to be a bit of an adventure traveller, why not try it?
Our 101 National Parks Stays is a free eBook available to you and all of your friends.
November 2010
---

Jucy Welcomes the Condo
Jucy is fast becoming popular in Australia and New Zealand for travellers who choose not to break the budget. All of their vehicles are custom built aiming to provide the best deal on wheels.
The affordable and comfortable Condo vehicle is now available in New Zealand from any Jucy location including Auckland, Auckland City, Christchurch or Queenstown.
The Condo features automatic transmission, two double beds, portable DVD player and anchor points for child seats (if required) making this vehicle perfect for a group of friends or family wanting to see the best New Zealand has to offer.
October 2010
---
Maui Releases New Platinum Product

If you are the type of traveller that likes a touch of luxury or the comforts of your own home, then this is definitely the right choice for you and your family.
Maui is now offering a Platinum Product featuring real leather upholstery, electric awnings, automatic transmission, reading spotlights, LCD screen & DVD player...need I go on? These vehicles really are a home away from home, except packed with tonnes of fun.
The Platinum product is now available in Australia and New Zealand choosing either the Platinum Beach, Platinum Lake, Platinum River or Platinum Forest.
Its also worth remembering that Maui also offers an early bird discount for those bookings placed well in advance.
October 2010
---

Welcome Aboard Cruisin Tasmania
Discovery Campervans would like to introduce Cruisin Tasmania who pride themselves on giving travel seekers the opportunity to tour Tasmania in a comfortable, affordable and hassle-free manner.
The clean, well appointed fleet ranges from 2 to 6 berth vehicles and depots are located Tasmania-wide at Devonport, Launceston or Hobart.
September 2010
---
Scenic Drives of New Zealand
This free eBook outlining 51 Scenic Drives is the helpful guide to ensure you capture the natural beauty of New Zealand on your self-drive holiday.
Start your adventure from either Auckland, Christchurch, Queenstown or Wellington.
August 2010
---
Free Attractions Guide - Australia
Are you travelling to an Australian city that you have not been to before?
Our no cost guide will be a great holiday starter for all types of travellers on any budget. A little bit of fun and a great experience for everyone!
Visit our Free Attractions Guide today and remember to tell all of your friends.
July 2010
---
Want to hear more? Sign up for our free newsletter today.