Los Angeles - 14 Days Itinerary (661 Miles)
An RV adventure in California is guaranteed to be one to remember! Packed full of exciting things to see and do, the West Coast of California truly is one of America's best vacation destinations.
Begin your adventure by picking up your RV rental in Los Angeles and then head straight to Anaheim; home to Disneyland. Spend a few days embracing your inner child before spending some time relaxing at Long Beach. Continue this relaxation in Santa Barbara before you spend some time marveling at the breathtaking coastal scenery of Big Sur.
Your adventure will draw to a close in the city of angels, Los Angeles. Explore the creativity and culture of this amazing city before returning your RV on the 14th day.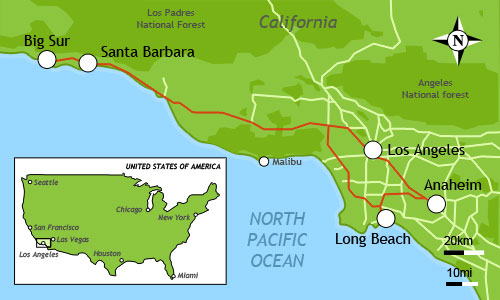 Days 1 - 4
Anaheim, Disneyland (26 miles, 34 minutes)
Start your adventure by picking up your RV in Los Angeles and then head just half an hour south-east to the lovely town of Orange County. While most people come here to pay a visit to Disneyland, they may actually be surprised to find that there is actually so much more on offer here.
Offering attractions and theme parks, stunning beaches, an immense array of arts and culture and unforgettable shopping experiences, Anaheim, Orange County is the ideal place to vacation.
Disneyland is the ultimate kids' destination and the Disneyland Resort is the perfect destination for a fun filled family holiday. At least two, if not more, days should be spent exploring everything this fantasy world has to offer. With fun for the whole family, Disneyland is a place that can be enjoyed by both those young and old.
Where to Stay:
Anaheim Resort RV Park
Positioned in an extremely convenient location, the Anaheim Resort RV Park offers first class facilities and a close proximity to all of the area's major attractions. The park offers a heated swimming pool, hot water spa and ample RV supplies, making it the perfect spot to set up your RV for a few nights.
All 150 RV sites feature full hook ups, including fee based Wi-Fi and Cable TV. Several pull through sites are also available, but these will need to be reserved well in advance.
What to Do:
Arts and culture abound in Orange County: a city that is at the centre stage of Southern California. Offering a vivacious art scene, full of fascinating festivals, museums and performing arts venues, Orange County is a Mecca for tourists who love to experience the best of the American lifestyle.
Family fun is something Orange County does well, and this doesn't just extend to the fun that can be experienced at Disneyland. Take the kids bowling and to the Aquarium of the Pacific, or why not check out one of the local zoos. The Discovery Science Centre is also extremely popular as children can have a blast with the interactive exhibits and not even realize they are learning about science.
Don't Miss:
Disneyland
Immerse yourself in a magical land of shows, parades and attractions that celebrate Disney's storied past and exciting future. Some of the must see's here include Toy Story Mania, Mickey's Fun Wheel, and Disney's Aladdin - The Musical Spectacular.
From the big thrills to family amusements and fun for the little ones, Disneyland is where the fun is made and dreams can come true.
Disneyland is located on Harbor Boulevard in Anaheim, which can be found just off the Santa Ana Freeway.
Days 4 - 5
Long Beach (26.4 miles, 32 minutes)
Situated just 27 miles south-west of Anaheim and only 20 miles south of downtown Los Angeles, the city of Long Beach is a must while on this RV adventure. Long Beach is one of the biggest cities in California and is where the action begins and the fun never ends.
Culture is thriving in Long Beach, with world-class Broadway shows, countless live music venues and hundreds of exclusive dining destinations scattered throughout the centre of the city. The beach lifestyle is also a prominent part of life in these parts, with its position right on the waterfront and undeniable draw card for the city.
Boasting nearly 345 days of sunshine per year, Long Beach is the perfect place to escape to all year round for a sun filled holiday.
Where to Stay:
Golden Shore RV Resort
Conveniently located on the waterfront in Downtown Long Beach, the Golden Shore RV Resort is the perfect place to stay while visiting this sunshine city. The park offers 80 sites with full hook-ups and a 30/50 amp service, while visitors will also be able to relax in the BBQ and pool areas at their leisure.
The park is easy to find and is situated at the end of the 710 Freeway in Downtown Long Beach.
What to Do:
A visit to Long Beach simply wouldn't be complete without a visit to The Pike at Rainbow Harbour. This lovely section of the city is packed to the brim with shops and restaurants, with the highlight of course being the Giant Ferris Wheel, which provides spectacular views of Rainbow Harbour.
The festival atmosphere down here makes for the perfect afternoon or night out, ideal for either couples or families, depending on what you are in the mood for.
Don't Miss:
Aquarium of the Pacific
The Aquarium of the Pacific in Long Beach allows visitors to take a journey of discovery through the world's largest ocean; The Pacific Ocean. Discover the colorful reefs of the Tropical Pacific and the creatures of the waters of the North Pacific.
Take a behind-the-scenes tour or a Harbor Cruise and explore a whole new world of dazzling colors, intriguing creatures and fascinating facts.
Days 5 - 7
Santa Barbara (116 Miles, 2 hrs, 15 minutes)
Travel north-west along the coastal route on the Pacific Coast Highway for 115 miles and you will be exposed to dramatic stretches of coastline and some of California's most beautiful beaches. You will eventually reach the city of Santa Barbara; a city resting between glorious mountains and stunning coastal settings.
Santa Barbara is often referred to as the "American Riviera" and is an extremely popular tourist destination. Behind the city visitors will find the Ynez Mountains, which are located in the Los Padres National Forest. There are several remote wilderness areas within this forest, ensuring an escape right into the heart of nature.
The city itself boasts a colorful culture and is a great destination for the entire family. The city is just minutes away from pristine wine country, while beaches abound to the west. Whether you enjoy hiking, fine-dining, water sports, the beach lifestyle, culture or a great nightlife, Santa Barbara is sure to have something for you.
Where to Stay:
Sunrise RV Park
Situated in a convenient position to downtown Santa Barbara, the Sunrise RV Park is the perfect place to stay while in town. 33 full hook-up sights are available, with 10 pull throughs on offer. The park is located just half a mile from the beach, the zoo and the pier, which is a comfortable walking distance once you have set up your RV.
The park can be accessed from the 101N and the 101S.
What to Do:
Santa Barbara is a year-round tourist destination, renowned for its idyllic weather, fantastic beaches and gorgeous Spanish architecture. Some of the area's most notable attractions include Mission Santa Barbara, the Barbara County Courthouse and the Presidio of Santa Barbara are all worthy of a visit.
The annual fiesta is another of the area's draw cards. This celebration of the city's Spanish history offers an exciting experience that is jam packed with color, music, dance and culture.
Don't Miss:
The Waterfront
The Santa Barbara waterfront is an area of the city you will not want to miss when visiting. The waterfront spans from Leadbetter Beach, past the harbor, to West Beach and Stearns Wharf, extending to Chase Palm Park, the Zoological Gardens and East Beach.
Stearns Wharf is where all the action happens and is brimming with fun and excitement. The structure itself is over 130 years old and has now been transforming into an inspiring tourist attraction.
Days 7 - 10
Big Sur (Highway 1) (199 miles, 3 hours, 52 minutes)
The journey from Santa Barbara to Big Sur, will take you around 4 to 5 hours in your RV; only if you can resist stopping along the way at some of the many wonderful attractions. Highway 1 is the best route to take to Big Sur, as it offers spectacular views of the coastline and has been described as one of the country's most scenic drives.
If you have the time, be sure to stop at Pismo Beach and Morro Bay, which are both fantastic beach communities.
Big Sur is a gorgeous region of the central California coast where the Santa Lucia Mountains rise abruptly from the Pacific Ocean. The terrain here offers spectacular coastal views and this is essentially what draws the crowds of tourists in. Spanning approximately 90 miles of coastline, this is one section of California you will not want to miss.
Where to Stay:
Big Sur Riverside Campgrounds and Cabins
The best way to experience the beautiful coastline of Big Sur is by setting up camp at the Riverside campgrounds. A total of 45 sites are on offer for RVs and there are surrounded by magical Redwoods.
Boasting easy, 10 minute access to the beach and several hiking trails, this park is the perfect base for those wishing to get out in nature. Another popular past time is swimming and inner-tubing down the river, which is especially popular with the kids.
What to Do:
Most people visit Big Sur, purely for the spectacular scenery that is on offer here. Cliffs, rocks, redwoods and effervescent surf create an epic backdrop for recreation, romance and relaxed exploration.
Hiking is by far the most popular past time in these parts. The Los Padres National Forest, Julia Pfeiffer Burns State Park, Pfeiffer State Park, Garrapata State Park and Andre Molera State Park are all world-renowned for their stunning scenery and excellent hiking trails.
Don't Miss:
Old Coast Road
The Old Coast Road is the perfect option for fit travelers, who want to experience this part of the country in a more hands-on manner. Hire a bicycle and embark on the 10.5 mile journey along the Old Coast Road. On the way you will experience beautiful mountain scenery, coastal redwoods and spectacular coastal views.
The track is dirt and a lot of it is uphill, so this track should only be attempted by those more experienced cyclists.
Days 10 - 14
Los Angeles (293 miles, 6 hours, 40 minutes)
Your motorhome rental adventure will sadly draw to a close when you return your vehicle to the fabulous city of Los Angeles. However, leaving aside a few extra days for exploration of this remarkable city will reward you with a wealth of exciting and exhilarating things to see and do.
Los Angeles is the largest city in California and the second largest in the United States. It is commonly referred to as L.A. or the "City of Angels" and is home to some of America's most recognizable attractions.
LA enjoys a subtropical climate, with an average of 320 hours of sunshine per year. It is also a city that boasts a remarkable creativity, and is regarded as the "Creative Capital of the World". The area itself is also home to 841 museums and art galleries, which is more than any other city (per capita) in the world.
Where to Stay:
Huntington by the Sea RV Park
This RV Park offers everything an RV traveler could possibly need. Experience the beach lifestyle and the best of Southern California weather as you set up camp on one of the 91 sites that all offer full hook ups. Located within walking distance of Huntington Beach, this is the idea place to stay if you want to watch a magnificent beach sunset.
What to Do:
What isn't there to do and see in LA? Tourists flock here to experience the glitz and glamour of Hollywood and once here, find a wealth of other exciting and create things to see and do. Set aside some time to visit the Hollywood sign, Walt Disney Concert Hall, Los Angeles Zoo, Hollywood Wax Museum, Griffith Observatory and the Venice Beach Boardwalk.
Opt to take a tour or simply take your time and visit the attractions at your own leisure.
Don't Miss:
There are too many to simply narrow it down to one! If you have set aside several days to spend in Los Angeles try and check out Mulholland Drive, some of the Movie Star homes, the Walk of Fame, Beverley Hills, Rodeo Drive, Sunset Strip and the Santa Monica Pier.
Return your RV on the 14th day and start putting together the photo albums and scrapbooks.