Florida Plus - 10 days Itinerary (1,494 miles)
If you're up for a short one-way trip, this itinerary is the perfect option. Not only does it allow you to explore the magnificent natural wonders of some of America's most incredible National Parks, it also lets you soak up the excitement and atmosphere of the entertainment capital of the world. Plus, there is always the option of extending your trip. But here are a few destination tips to get you started.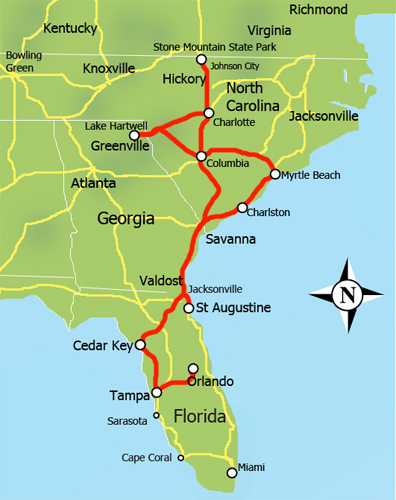 Day 1
St Augustine (125 miles)
Founded in 1565 by a Spanish explorer, St Augustine is the oldest continuously occupied European-established city in the continental United States.
Known as the "Ancient City", St Augustine is situated between North East and Central East Florida, making it convenient to Jacksonville, Orlando and Daytona airports.
This delightful, historic district boasts beautiful cobblestone streets, charming cafes and bars and fabulous shopping facilities. It is the perfect destination to experience the old-world-charm of the US.
Where to Stay:
North Beach Camp Resort
Regarded as St Augustine's finest campground, this RV resort is positioned on 30-heavily wooded acres on a barrier between the saltwater North River and the Atlantic Ocean. Enjoy great facilities and a prime waterfront position, soaking up the sun with the family on the beautiful stretches of beach before you.
What to Do:
St Augustine Pirate and Treasure Museum
A visit to this museum will take you on the ultimate pirate adventure. Take a journey back in time through 300 years of high seas adventure as you discover a rare collection of pirate artifacts and exhibits.
The museum is open daily from 9am until 8pm.
Don't Miss:
Daytona Beach
Famous for its beaches and motorsports, Daytona Beach is a must-see area for people of all ages. Why not check out Daytona International Speedway or head to the Ponce de Leon Lighthouse? Alternatively, spend a day relaxing on "The World's Most Famous Beach" where you can enjoy the 23 miles of pure white sand and calm blue waters.
Day 2
Savannah (165 miles)
Regarded as one of the Top 10 City Destinations in the US, Savannah is rich in history, architecture and culture and provides an endless array of discovery and beauty.
Explore the historic district, where you will find beautiful old hotels, inns and B&B's. In the downtown district you will find 22 park like squares, the Savannah Victorian Historic District and the Savannah Historic District, which all combine to make one of the largest National Historic Landmark Districts in the US.
Where to Stay:
Bellaire Woods Campground
Located close to downtown Savannah, this beautiful campground is nestled on 24 acres of land that is home to magnificent oaks draped with Spanish moss, sitting on the banks of the Ogeechee River. Facilities include full hook-ups, wireless Internet, shady trees and ample pull-thru sites.
What to Do:
Sixth Sense Savannah Ghost Tours
Walk the historic districts of Savannah at night on a Sixth Sense Ghost tour. Take advantage of the knowledge and intriguing story telling abilities of your tour guide and uncover a side to Savannah that even some of the locals don't know.
Don't Miss:
The Pirate's House
Since 1753, the Pirate's House has been welcoming visitors to Savannah, alluring them with its delicious food and drink and guaranteed good times. Easily Savannah's most intriguing restaurant, this is where the locals come to get a good meal.
Day 3
Charleston (112 miles)
Continue on your RV journey into the state of South Carolina and you will eventually reach the charming city of Charleston. Known as "The Holy City", Charlestown's low-rise cityscape is spotted with beautiful old churches, which give the city a richly historic feel.
In the inner city and surrounds you will find famous golf courses, top-rated tennis courts, pristine beaches, monumental battleships and beautifully preserved architecture. Combine this with a mild climate all year round and you have yourself the ultimate vacation destination.
Where to Stay:
Lake Aire RV Park and Campground
Positioned on 32 acres of well-kept grounds, this RV Park offers easy access to some of Charlestown's best attractions. Facilities include large RV sites, a private lake with catch-and-release fishing and a swimming pool with sunning deck.
What to Do:
South Carolina Aquarium
Visit a place where fun, wonder and education all come together. The South Carolina Aquarium is home to interactive exhibits and programs, and animals that include the loggerhead turtle, stingrays, sharks, otters, moray eels and much more.
Don't Miss:
Fort Sumter
This National Monument represents the decades of growing strife between the North and South before the Civil War erupted in 1861. The monument itself now encompasses three sites in Charleston: the original Fort Sumter, the Fort Sumter Visitor Education Center and Fort Moultrie on Sullivan's Island. All are worthy of some exploration.
Day 4
Myrtle Beach (109 miles)
Situated along the beautiful South Carolina coastline, Myrtle Beach is the ultimate family destination to visit while RVing around the US.
As part of the Grand Strand, Myrtle Beach is part of sixty miles of sandy white beaches and attracts millions of visitors each and every year. People come here to take part in the wealth of attractions and activities on offer that may see you taking part in thrilling action or spending a quality day with the kids at one of the city's water parks.
Where to Stay:
Myrtle Beach Travel Park
Camp right on the oceanfront when you stay at Myrtle Beach Travel Park. Enjoy tranquil surroundings as you park in a shaded RV site or on a bluff overlooking the scenic freshwater lake. Facilities include and outdoor swimming pool with sun deck, basketball court, horseshoe pits, a playground, open air pavilion and full hook-ups for your RV.
What to Do:
The Plantations
This part of the country is home to many longstanding plantations and each are worthy of some exploration to experience the thriving past of South Carolina.
Boone Hall is a must visit as it is America's most photographed plantation and symbolizes southern heritage at its best. Growing crops for over 320 years, it was once known for cotton and pecans and is still actively producing strawberries, tomatoes and pumpkins, as well as many other fruits and vvegetables for visitors to enjoy.
Don't Miss:
Brookgreen Gardens
Ever changing and simply amazing, the Brookgreen Gardens are a must-visit for anyone interested in the outdoors. Preserving North Carolina's flora and fauna in a natural setting, these gardens are a National Historic Landmark and are also home to the most significant collection of figurative sculpture in an outdoor setting.
Day 5
Lake Hartwell (286 miles)
On the fifth day of your RV adventure, continue your drive and you will uncover stunning countryside and lovely country towns.
Your destination for the day is the resort area of Lake Hartwell. Located in the Northeast Georgia Mountains and Upcountry South Carolina, Lake Hartwell is one of the most accessible lakes in the nation.
With a shoreline spanning an impressive 962 miles and covering 56,000 acres, it is home to 80 public boat launch, recreation and park areas with some of the best boating, water-skiing, and fishing in Georgia or South Carolina.
Where to Stay:
Lake Hartwell KOA
Located among lovely southern loblolly pines and resting at the foothills of the Blue Ridge Mountains, this campground is a fantastic place to stay in your RV while visiting Lake Hartwell. Facilities include full hook-ups, Wi-Fi, Cable TV, Mini golf, pool, bike rentals and a pavilion.
What to Do:
Pendleton
Steeped with a rich history, the town of Pendleton is well-worth a visit while traveling to Lake Hartwell. The Pendleton Historic District is on the National Register of Historic Places and is home to some truly beautiful historic buildings. Be sure to take your camera along to Farmer's Hall and Hunter's Store.
Don't Miss:
The Waterfalls
The Lake Hartwell region is quite literally surrounded by beautiful waterfalls, with a total of 12 attracting outdoor enthusiasts and locals alike.
Toccoa Falls is one of the highest free-falling waterfalls east of the Mississippi, at 186 feet. Brasstown Falls are actually 4 separate falls and are known for their unsurpassed beauty and easy access. Those interested in doing some hiking should check out Lick Log Falls, which consists of 2 separate waterfalls that take around an hour-round-trip to get to.
Day 6
Stone Mountain State Park (106 miles)
Today you will begin to head towards Atlanta where on the way you can spend a night at the stunning Stone Mountain State Park. As the name suggests, the centerpiece for this park is Stone Mountain, a dome of exposed granite, rising an impressive 600 feet. Known for its barren sides and distinctive brown-gray color, it can be seem from afar for miles.
Boasting the best rock climbing in North Carolina along with excellent brook trout fishing, this park is a must-visit for all outdoor enthusiasts.
Where to Stay:
The park is home to several campgrounds, with one suitable for RV camping. With 41 drive-to campsites on offer, with electric and water hook-ups, each site offers a picnic table and fire ring and can accommodate up to six people per site. Drinking water and a washhouse with hot showers are available, while a dump station can also be found onsite. Reservations are recommended.
What to Do:
Exhibits and Historic Sites
Uncover the natural and cultural history of the park and check out the old-time still, loom and other historical artifacts in the Mountain Culture Exhibit in the park office building. These exhibits tell the story of how the independent mountain settlers provided shelter, food and clothing for their families.
Another interesting place to visit is the Garden Creek Baptist Church. Located on the East Prong of Roaring River, this building is one of the few remaining original churches in the county. Visitors are welcome to walk through the grounds when the church is closed.
Don't Miss:
Fishing
More than 20 miles of streams in the park are dedicated trout waters, making this is a fisherman's paradise. Rainbow and brown trout dominate the lower parts of the streams, while brook trout inhabit the higher stretches of water.
Day 7
Cedar Key (385 miles)
A long drive awaits you on the 7th day of your Florida road trip as you head back to the state you originally started in, to Cedar Key. The Cedar Keys are a cluster of islands, close to the mainland, and are named after the Eastern Red Cedar, which once grew abundantly in this area.
If shopping and dining are your favorite things, this is the place for you. The waterfront area plays host to a variety of seafood restaurants and quaint shops that are sure to attract your fancy. You will also come across boat docks and boat rentals that can take you out for excursions into the Gulf of Mexico and a small public beach on the waterfront.
Where to Stay:
Sunset Isle RV Park
Regarded as the finest and friendliest RV Park in the area, Sunset Isle offers a great location and top facilities. Camp right on the waterfront and fish off your own private dock. There really isn't anything quite like it!
What to Do:
Cedar Key State Museum State Park
This fascinating museum contains exhibits that depict Cedar Key's colourful history during the 19th Century. In the collection you will find sea shells and Indian artifacts that were collected by Saint Clair Whitman, who was the founder of the first museum in Florida Key. The park is also home to a short nature trail, which gives visitors the opportunity to see wildlife and birds, as well as native vegetation.
Don't Miss:
Lower Suwannee National Wildlife Refuge
As part of the United States National Wildlife Refuge System, this wildlife refuge is an important place to experience the natural side of Cedar Key.
The refuge was originally opened to protect the largest undeveloped river delta systems in the US and now includes 20 miles of the Suwannee River estuary and 20 miles of coastline. These systems support wildlife like kites, bald eagles, manatees, sturgeon, deer and turkeys.
Day 8
Tampa (126 miles)
Situated on the shores of Tampa Bay in Florida, Tampa is a mid sized city with a population of about 350,000 people. It provides the perfect combination of a rich and full history with a modern infrastructure, which has been endearing it to tourists for generations.
The economic center of Western Florida, Tampa experiences blustery hot summers and mild winters, meaning a holiday here is a good idea no matter what the time of year.
Where to Stay:
Bay Bayou RV Resort
Easily "Florida's Finest RV Resort", Bay Bayou is set in natural surroundings on Double Branch Creek and is consistently rated within America's top 2% of RV Parks.
Facilities at this top park include 274 full-sized lots, each with a patio, picnic table and full hook-ups, Wi-Fi, docks for fishing and viewing, kayaking options, a large heated pool and year-round activities including dancing, karaoke, bingo and dinner dances with live music.
What to Do:
Busch Gardens
This is the perfect venue for a day out, no matter what the age demographics of your family are! Busch Gardens is a combination of a theme park and a world class zoo, all themed around a 19th Century Africa concept.
A historical steam train will take you through aged landscapes from times when Africa was still very unexplored, providing a good overview of the zoo grounds. From there you can visit a Moroccan Palace, or take a python like roller coaster ride through the jungles of the Congo! In the zoo you can see giant gorillas, cheeky chimpanzees and energetic lemurs in habitats similar to their natural homes. Antelopes, zebras and hippos also add to the excitement!
Don't Miss:
Garsparilla Pirate Festival
The end of January is normally marked by this two day festival that is loved by kids and adults alike, so try to plan your vacation to coincide with it. It celebrates the legend of a pirate named Gasper who used to roam the waters of Tampa Bay.
The festival starts when Gasper shows up on his long pirate ship, accompanied by a large staff of raggedy looking crew! 400,000 annual attendees are enthralled by the numerous parades and floats that mark the festival, which include the Garsparilla Children Parade and the Garsparilla Air Invasion, which features vintage aircraft from all over the world.
Day 9
Lake Buena Vista (80 miles)
If there is one thing Lake Buena Vista is known for it is being home to Walt Disney World Resort. It is this factor that makes it such a popular destination to visit for families vacationing in Florida.
The body of water for which the city is named after can be found just east of the Buena Vista Golf Course, and was named after the street in California on which Disney's corporate offices and main studios are located.
Where to Stay:
Disney Fort Wilderness Resort and Campground
This themed campground is without a doubt the best place to stay in Florida to experience the world of Disney at its very best. Boasting a rustic theme, the park is nestled on 750 wooded acres of lush pine and cypress trees, giving it a natural setting that will make you feel like you are a million miles way from anything.
Facilities in the resort include babysitting and childcare services, electric cart rental, pet care and all sites come with full hook-ups, a picnic table and charcoal grill.
What to Do:
Magic Kingdom
Magic Kingdom theme park is one of 4 theme parks that make up Walt Disney World Resort. The hub of the park lies around Cinderella Castle, with the park itself spanning 107 acres of magical adventures and fun for all ages.
Don't Miss:
Animal Kingdom
Disney's Animal Kingdom Park is full of attractions, adventures and entertainment that reflect Walt Disney's dedication to nature and conservation.
The park is home to more than 1,700 animals, from 250 species, sprawling across 500 acres of lush landscape. This makes it the largest animal themed park in the world and a must for all ages.
Day 10
Return
Return your RV to the respective RV depot in Kissimmee or Orlando.