Northwest USA - 13 days Itinerary (2,368 miles)
Traverse the magnificent countryside of America's northwest on a fabulous 13 day RV vacation covering Washington State, Idaho and Oregon. An RV rental truly is the best way to see the highlights of this spectacular part of the country and seeing them all in less than 2 weeks is guaranteed to be an unforgettable adventure.
Explore stunning natural wonderlands like North Cascades National Park, Yellowstone National Park, Grand Teton National Park and Mount Rainier National Forest. Uncover hidden treasures like American Falls, Idaho Falls and the Snake River and stay in some of America's best RV parks.
Discover the Northwest in a whole new light by hiring an RV and discover the freedom and flexibility self drive travel can provide.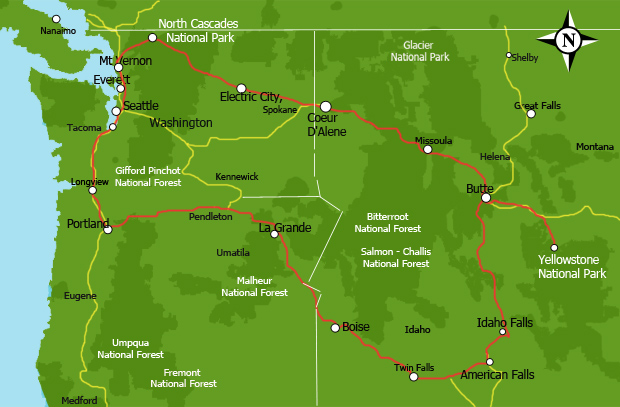 Day 1
Mount Vernon (41.5 miles)
Begin your RV adventure of the Northwest by picking up an RV rental in either Seattle or Everett and head north to the charming city of Mount Vernon.
Mount Vernon is known for its annual Tulip Festival Street Fair, which is part of the Skagit Valley Tulip Festival. Held throughout the month of April each year, this festival brings the city to life boasting incredible colors and attracting over 1 million people.
Where to Stay:
When it comes to RV accommodation in Mount Vernon there really is nowhere better than the Mount Vernon RV Park. This campground is open all year round, boasts 90 sites and has full hookups available for your RV
What to Do:
Soak up some of the town's history and take a walk through its streets, making sure you pay particular attention to the historic Lincoln Theatre. This theatre was originally built in 1926 as a vaudeville and silent movie house and is now one of only 98 theaters in the US that still possesses its original Wurlitzer theatre organ.
Don't Miss:
Big Lake
Located quite literally just up the road from Mount Vernon you will find the picturesque and charming town of Big Lake. Soak up the small-town atmosphere or take a dip in the clear blue waters of the lake.
Day 2
North Cascades National Park (65 miles)
The second day of your Northwest USA adventure will take you to the gorgeous mountains of Cascades National Park. On your way you will follow the glorious Skagit River and pass through quaint townships like Lyman, Hamilton, Rockport, Marblemount and Concrete. If you are going to stop in just one of these, make sure its Concrete, which is also known as "Cement City", as the history here will astound you.
Where to Stay:
The Newhalem Campground is without a doubt the best place to camp in your RV in North Cascades National Park. The facilities here are incredible with bike riding, bird watching, canoeing, fishing, kayaking and wildlife viewing just some of the things you can do from here.
Boasting an impressive 111 RV sites, this park can accommodate large vehicles with reservations based on a first come, first served basis.
What to Do:
Explore the Park
Characterized by jagged peaks, deep valleys, cascading waterfalls and over 300 magnificent glaciers, North Cascades National Park is a true treasure of the Northwest.
In terms of outdoor activities here there isn't much you can't do! Embark on a hiking adventure in the park, spend an afternoon fishing in one of the many lakes, embrace horse riding or sign up to an interpretive or educational program.
Don't Miss:
Ross Lake
The Ross Lake National Recreation Area is a great place to take the family while RVing in North Cascades National Park. Spend a day on the water boating, canoeing or kayaking or exploring the dramatic wilderness surrounding the lake.
Day 3
Electric City (174 miles)
Leaving the beauty of North Cascades National Park behind may prove to be a challenge, but the many fantastic things that lie ahead will encourage you to travel forward.
On your way towards the fascinating Electric City you will pass through the Okanogan National Forest. This large and diverse area falls over 4-million acres over the eastern slopes of the Cascade Range to the untouched wilderness of Mt Rainier, and is a fantastic place to go hiking and exploring.
Eventually you will reach Electric City, where your mind will be blown away by the sheer immensity of the Grand Coulee Dam.
Where to Stay:
Situated on beautiful Banks Lake, Coulee Playland Resort is the best place to stay in your RV while in the area. Featuring 65 sites with full hook-ups, 20/30/50 Amp service, modern restrooms and a free guest boat launch, this park has it all.
Enjoy fishing boats, paddle boats, fishing and swimming in the lake or simply relax with a good book on the shores.
What to Do:
Grand Coulee Dam
This is the largest electricity production facility in the USA and the fifth largest in the world. It is also the largest concrete structure as well, with enough concrete in it to build a 60 foot wide road, 4 inches thick, from Los Angeles to New York City. That's an incredible 3,000 miles!
Don't Miss:
Grand Coulee Visitors centre
The visitors centre by the Grand Coulee dam boasts some really fascinating exhibits including "The Power of Water", "Our Stories: The Tribal Viewpoint" and "Memorable Moments Scrapbook".
The Laser Light Show is another absolute must-see, lasts 36 minutes and is absolutely free. See this monolithic structure light up in a brilliant array of colors; the perfect experience for the whole family.
Day 4
Coeur D'Alene (120 miles)
Traverse across the remaining leg of your Washington State adventure, passing through the charming towns that can be found sprinkled along the way.
Just before you reach Coeur D'Alene you will come across the city of Spokane, which is located right on the Washington-Idaho border. Spokane offers a wealth of things to see and do, but perhaps none more intriguing than the incredible wineries that can be found surrounding the city.
More than 20 wineries can be found here, with each producing a diverse blend of Washington wines that range from rich reds to crisp whites and scrumptious brands of bubbly. Even those who aren't wine connoisseurs will enjoy it here.
Continue just another 30 miles until you reach Coeur D'Alene in Idaho. Surrounded by dozens of magical lakes, this unique city offers a wealth of outdoor and family activities, excellent shopping and dining options and fantastic entertainment venues and shows.
Where to Stay:
Blackwell Island RV Park
This conveniently located RV Park rests right on the water, just 500 feet from a swimming beach. Offering 182 sites with full hook-ups, laundry, showers, propane, mini-store and rally room, this park is just minutes from the city itself, golfing, dining, shopping, hiking and boating.
What to Do:
Crystal Gold Mine
Located in Kellogg, just outside of Coeur D'Alene, Crystal Gold Mine is the only authentic 1880's underground gold mine tour in the Northwest. Don a hard hat and venture underground to discover the fascinating past of gold mining. Free RV parking is available on site.
Row Adventure Center
Regarded as the region's leader in outdoor adventure, a day out with the team at the Row Adventure Center is guaranteed to be one to remember. Offering whitewater rafting, kayaking, fishing, biking and hiking, outdoor enthusiasts can enjoy white water rafting on the Lochsa River and Spokane River, or day or sunset kayaking.
Don't Miss:
Cataldo Mission
Known as the oldest standing building in Idaho, the Cataldo Mission is a must-see for several reasons. Not only is the building itself visually beautiful and awe inspiring, it also tells an intriguing tale of the past when it acted as a sacred place to protect the native Indians and served as a way station for travelers.
Day 5
Butte (275 miles)
Explore the remaining sliver of Idaho on day 5 of your RV adventure, passing through the towns of Osburn, Wallace and Mullan, before crossing the border into the state of Montana.
Once over the border you will pass through the Lolo National Forest, which encompasses 2 million acres and is a great place for hiking and exploration. Continue on through the "Big Sky Country" and you will eventually come across the Rocky Mountains. Set up camp near the historic cities of Anaconda and Butte and you can enjoy beautiful forest surroundings and fantastic wilderness experiences.
Where to Stay:
Butte KOA
Set up camp at the Butte KOA and enjoy facilities that include sites with hook-ups, a pool, snack bar, firewood, propane gas and Wi-Fi. Enjoy surrounding activities like golf, fishing and rock hounding.
What to Do:
Fort Missoula
A drive to Missoula will definitely be worth it as Fort Missoula is a fantastic place to spand a day exploring. Visit the museum and take a step back in time to uncover Missoula's fascinating history. Visit the many exhibits that depict what life was like back in wartime and visit the gift shop to take a slice of the memorabilia home with you.
Rocky Mountains
Regarded as one of the world's most famous mountain ranges, the Rocky Mountains are an unforgettable place to visit and a must on your Northwest USA RV vacation. Home to elk, mule, deer, moose, bighorn sheep, black bears, coyotes, cougars, eagles, hawks and hundreds of other smaller animals, this is natural treasure, where activities like camping, hiking and fishing are just like second nature.
Don't Miss:
The Berkeley Pit
This 1,700 foot deep hole in the ground measures almost 3 miles around the outside and was created over a 30 year period, beginning with block caving of come of the underground mines after WWII. The pit acts like a lake and is a popular attraction for visitors to Butte.
Day 6
Yellowstone National Park (177 miles)
Your next amazing destination is the world-famous Yellowstone National Park. Home to incredible geysers, unique wildlife and remarkable natural scenery, this National Park simply must be visited at lease once in a lifetime. On your way here you will pass through places like Whitehall, Three Forks, Belgrade and Livingstone. Pick and choose where you wish to stop and plan ahead on what you will do in Yellowstone. Where to Stay: An impressive array of campgrounds are on offer in Yellowstone National Park, and most offer sites for RVs. Campsites can be found at Bridge Bay, Grant Village, Indian Creek, Lewis Lake, Madison, Mammoth, Norris, Pebble Creek, Slough Creek and Tower Fall.
What to Do:
Grand Canyon of Yellowstone
Not to the mistaken with THE Grand Canyon, the Grand Canyon of the Yellowstone is the first large canyon on the Yellowstone River. The canyon stretches 900 feet deep and half a mile wide and is a popular hotspot with hikers and photographers.
Don't Miss:
Mammoth Hot Springs
This large complex of hot springs was created thousands of years ago and is Yellowstone's most geothermal area by far. Thermal activity here is extensive over both time and distance, and truly spectacular sights can be seen here.
Day 7
Idaho Falls (215 miles)
As you leave the world's oldest National Park behind, you will almost instantly enter another park that is just as beautiful and stunning. Grand Teton National Park is located in northwestern Wyoming and is home to spectacular landscapes of majestic mountains, glistening lakes and incredible natural wildlife. Spend some time exploring the hidden treasures this park has to offer. Eventually you will reach Idaho Falls; a city that is home to great outdoor, dining, shopping and entertainment opportunities.
Where to Stay:
There are plenty of great places to stay in your RV while visiting Idaho Falls. Great RV parks include Snake River RV Park, Sunnyside Aces and Targhee Inn and RV, which all offer hook-ups and facilities to make your RV stay more comfortable.
What to Do:
Tautphaus Park Zoo
Get up close to some of the world's most incredible wildlife at the Tautphaus Zoo. See creatures like the threatened African Penguins, friendly wallabies, laughing kookaburras and playful tigers, which are all part of Idaho's largest collection of zoo animals.
Don't Miss:
Idaho Falls Enjoy a picnic by the fast falling rapids on the Snake River and soak up the attractive surrounds, with the Idaho Falls Idaho Temple resting in the background.
Day 8
American Falls (53 miles)
Your exploration of American towns named after waterfalls will continue on day 8 of your RV adventure when you make your way towards American Falls.
As you drive south on Highway 15 you will pass the Fort Hall Indian Reservations, which are a great place to stop to soak up some of this fascinating history.
Turn off on Highway 86 towards American Falls; a town that is home to a landmark waterfall on the Snake River. Here, spend some time exploring the Massacre Rocks State Park where you will find over 1,000 acres of unique pioneering history.
Where to Stay:
Spend the night in the Massacre Rocks State Park, where the campground provides amenities like water, electricity, central showers and restroom facilities. Reservations for the Upper Loop campsites are available all year round, while the Lower Loop campsites are available from May 2 to October 15.
What to Do:
Outdoor Activities American Falls boasts more than 1,000 miles of groomed trails, perfect for activities like hiking, backpacking and horse riding. Keen water sports enthusiasts can head out on the lakes for waterskiing, jet skiing and pleasure boating, while those who would simply prefer a round of golf can enjoy one of the 12 beautiful and challenging gold courses speckled throughout the area.
Don't Miss:
Lava Hot Springs
Break up the drive between Idaho Falls and American Falls with a visit to the Lava Hot Springs world famous mineral pools. Bubbling out of natural underground springs, the water here is not laden with sulphur and reaches temperatures of 102 to 112 degrees. Spend some time just relaxing in the pools or wandering through the sunken gardens just nearby. This is sure to be a treat!
Day 9
Boise (209 miles)
Leave the calm and serenity of American Falls behind and make the journey towards the state's capital city of Boise. This endeavor will take you along the Snake River, which provides numerous stop-off points where you will be able to soak up the wonder and majesty of it.
Boise is the most populous city in the state of Idaho and offers a unique blend of traditional and non-traditional sights and attractions. Its position at the foothills of the Rocky Mountains and on the banks of the Boise River makes it a great destination for a variety of recreational activities, with something to see and do for all ages.
Where to Stay:
Mountain View RV Park
Considered the most convenient RV Park in Boise, Mountain View RV Park is the only one of its kind within the city limits. Offering 63 pull-thru full hook-up sites, complete with 50 amp service, asphalt pads, grass yards and plenty of tress, this is the best place to set up for your visit in Boise.
What to Do:
Zoo Boise
Located in beautiful Julia Davis Park, right in the heart of downtown Boise, this zoo is a place where the animals truly come to life. Over 200 animals from 83 various species call this zoo home and can be seen and interacted with every day. See exhibits like "Butterflies in Bloom" and "Animals of the Pampas" and visit the Zoo Farm or the Perkins Coie Giraffe Encounters.
Don't Miss:
Boise Art Museum
As the only accredited art museum in the state of Idaho, the Boise Art Museum is a must for any art lover. The permanent collection here boasts more than 3,000 works of art that focuses on 20th century American art, with a longstanding emphasis on artists of the Northwest, American Realism and ceramics. The museum sees many exhibits pass through its doors, exciting art and culture lovers alike.
Day 10
La Grande (158 miles)
One the 10th day of your RV adventure in America's Northwest it is time to head west towards the Pacific Ocean. However, before you reach the coast there will be several great places to stop along the way.
One such place is the lovely town of Le Grande; a beautiful area named by a French settler who was breath-taken by its natural beauty. Le Grande is positioned just east of the Blue Mountains and southeast of the city of Pendleton.
The area is also surrounded by the Wallowa-Whitman National Forest, which sprawls over 2.3 million acres of varied and interesting landscapes. Home to the Blue Mountains, the Wallowa Mountains, the Hells Canyon National Recreation Area and the Eagle Cap Wilderness Area, the possibilities for recreation in this area are endless.
Where to Stay:
RV Park at the River
Set on the banks of Wallowa Lake, this RV Park offers 48 full hook-up sites, with facilities including showers, a Laundromat, pool, spa and cable TV. Enjoy peace and quiet and a tranquil setting as you set up camp with other like-minded RV travelers surrounding you.
What to Do:
Mount Emily Recreation Area
Escape to the woods and pay a visit to the Mount Emily Recreation Area. Perfect for all-terrain vehicle riders, mountain bikers, archers, hunters, horseback riders, sightseers and photographers, this area is an outdoors lovers paradise and can easily be accessed from Fox Hill Road.
Don't Miss:
Baker City
On your way to La Grande you will pass through Baker City, which is the primary visitor centre for those embarking on the historic Oregon Trail. Baker City offers the premier rural living experience in the Pacific Northwest and is a community steeped with tradition and history. Rich with the flavor of the 1890's, visitors can enjoy the many festivals that held here and spend some time exploring the historic buildings and museums.
Day 11
Portland (158 miles)
The drive to Portland on day 11 of your RV adventure will take you alongside the mighty Columbia River, which separates Oregon from the state of Washington.
Along the way, make a stop in Pendleton to have a look at some of the fine local woolen goods, or take a break in Fort Dallas; a community that was once a US Army outpost on the Oregon Trail.
Once you reach Portland you will discover a vibrant blend of gardens, museums, culture and fine dining options.
Where to Stay:
Portland Fairview RV Park
Regarded as one of the state's best RV parks, the Portland Fairview RV Park offers spacious concrete RV sites with full hook-ups, access to an exercise room, clubhouse with full kitchen, a large swimming pool and hot tub to relax in. Explore the surrounding tall evergreens and babbling brooks and unwind and relax with like-minded travelers around you.
What to Do:
Oregon Museum of Science and Industry
The Oregon Museum of Science and Industry seeks to inspire wonder in people of all ages, by creating clever ways to show how scientific methods and principles are alive all around us.
Visit the museum's Planetarium, Submarine and Exhibit Halls where you will find fascinating displays that will keep you entertained for hours.
Portland Japanese Garden
Proclaimed "The most authentic Japanese Garden outside of Japan", the Portland Japanese Garden is the perfect place to enjoy peace, tranquility and an escape from the hustle and bustle of the city.
Nestled on five and a half beautifully maintained grounds, this garden features stunning areas and hosts events and festivals throughout the year.
Don't Miss:
The Portland Rose Festival
If you happen to be in Portland in the month of June, make sure you check out the annual Portland Rose Festival. Hosting 3 separate parades and a whole bunch of other exciting activities, it is the ideal event for all garden lovers.
Day 12
Rainier National Park (181 miles)
Escape the city once again and head north towards the beautiful Mount Rainier National Park. Spend 70 miles on the freeway before turning off onto Route 12 towards the park.
Your attention will immediately be caught by Mount St Helens. If you have some spare time up your sleeve, why not take the turn and visit the Mount St Helens National Volcanic Monument
The park itself is comprised of 7 designated areas, which all lie around the extinct volcano of Mt Ranier. Highlights include the beautiful old growth forest and stunning wildflower meadows.
Where to Stay:
RV camping is permitted in three of the National Park's campgrounds. Set up camp at Cougar Rock, Ohanapecosh or White River campgrounds. All three have ample space for RVs and excellent facilities.
What to Do:
Hiking
Hiking is easily the most popular past time in Rainier National Park. Many of the park's trails will lead you past crystal clean mountain lakes, majestic waterfalls, babbling brooks and gorgeous sub-alpine meadows of beautiful wildflowers.
Don't Miss:
The Wonderland Trail
If you are planning on staying within Rainier National Park for several days, why not put your hiking boots to good use and embark on the multi-day journey along the famous Wonderland Trail. Spanning 93 miles, this track will expose you to some of the park's most untouched and stunning scenery.
Day 13
Everett (108 miles)
The final day of your exploration of Northwest USA will see you return your RV to the depot in Everett. This journey spans around 108 miles and if you take your time will be a lovely and relaxing way to finish your vacation.