The Three State Triangle - 10 days Itinerary (1,374 miles)
From California to Nevada to Arizona - this RV adventure is sure to leave you hanging for more. Experience man-made wonders and the incredible natural treasures that make America what it is.
Spanning less than 1500 miles, this RV trip will take you to the entertainment capital of Las Vegas, to the extremes of the Grand Canyon, to the thriving city of Phoenix and to the celebrity playground of Palm Desert.
The choices are endless and the possibilities for an amazing time are practically set in stone!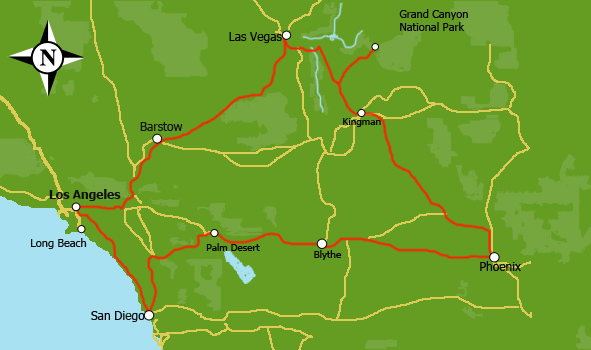 Day 1
Barstow (132 miles)
Collect your RV in Los Angeles and prepare to set off on your RV adventure of the Three State Triangle.
Your first stop will be just 132 miles up the road in Barstow. Located midway between Los Angeles and Las Vegas, it is the perfect stop-off point between these two well-visited areas.
Surrounded by incredible natural attractions, Barstow dwells in a rich history, which is evident through the many historical attractions scattered throughout the town. Be sure to pay a visit to Calico Ghost Town, Harvey House and to take a stroll past the Main Street Murals.
Where to Stay:
Barstow Calico KOA
This refreshing oasis in California's high desert is focused on providing travelers with a pleasant and restful change from the open road. Facilities include 70-foot pull-through sites with dividing hedges, free wireless Internet, cable TV, a convenience store and a shuttle bus to the famous nearby Calico Ghost Town.
What to Do:
Calico
Calico is an old West mining town, dating back to 1881 during the largest silver strike in California. Home to 500 mines, visitors come here to share in the rich history abundant here and the stunning natural beauty of the surrounding desert environment.
Don't Miss:
Mojave National Preserve
Resting on 1.6 million acres of pristine desert land, the Mojave National Preserve is one National Park not to miss, located just60 miles east of Barstow. The park is characterized by its majestic sand dunes, volcanic cinder cones, untouched Joshua tree forests and spectacular sheets of wildflowers.
A visit to the park will also introduce you to an impressive array of canyons and mountains that add to the solitude of the spectacular place. Spend some time exploring the mesas that are home to long abandoned mines, homesteads and old military outposts, being sure to take your camera along.
Day 2
Las Vegas (139 miles)
Las Vegas will certainly offer a change if pace. Regarded as the "Entertainment Capital of the World", Las Vegas is where it all happens. Located in the state of Nevada, Vegas is an internationally renowned resort for gambling, shopping and fine dining. It is where people come to experience nightlife at its best.
Where to Stay:
Oasis Las Vegas RV Resort
Easily Vegas' most luxurious RV Park, the Oasis Las Vegas RV Resort is a fantastic place to stay in your RV. The tropical "Casablanca" theme is sure to delight, while the stunning resort pools will provide the perfect way to cool off and relax.
The park offers a well-stocked convenience store, restaurant, fitness centre, arcade, banquet facilities and an adult pool and spa. These luxuries are the ideal way to spend your time before the city lights allure you when the sun goes to bed and making you never want to leave.
What to Do:
The Pirate Battle at Treasure Island
This is one of the best free shows Vegas has to offer. Held every night in front of the Treasure Island Hotel in Sirens Cover, the Pirate Battle is a delightful show of dance, vibrant colors and loud music. While it may not be a family activity, it's a great night out for couples!
Don't Miss:
The Las Vegas Strip is the undeniable centre of this amazing city. It is where all the action happens, making it a must-visit while in town. The strip is an approximately 3.8 mile stretch of Las Vegas Boulevard South and is home to city's largest hotel, casino and resort properties in the world.
Points of interest you simply cannot pass up include The Mirage, the Flamingo and Caesar's Palace.
Day 3
Kingman (118 miles)
Travel 118 miles down the road and you will eventually come to the town of Kingman. Regarded as the "heart of historic Route 66" and one of Arizona's best kept treasures, it is the perfect starting point for an exploration of one of America's most famous stretches of road.
Offering everything from scenic hiking and historic charm, to the allure of fabulous restaurants and cafes, Kingman offers something for everyone.
Where to Stay:
Kingman KOA
Set in the high desert and surrounded by mountains, this campground is in a quiet and peaceful environment and offers great weather year-round. Facilities include free mini golf, Wi-Fi, seasonal heated pool and Cable TV.
What to Do:
Camp Beale Springs
Steeped in a rich history, Camp Beale Springs has become an important water resource for the rapidly developing city of Kingman. It is also a great spot for a picnic, with many taking advantage of the quiet atmosphere and hiking opportunities.
Don't Miss:
Desert Diamond Distillery
This family owned and operated working distillery is one of America's only distilleries open to the public. Offering public tours, a retail outlet and a tasting bar, it is a must-visit for lovers of rum and vodka.
Day 4
Grand Canyon (150 miles)
The Grand Canyon is a place that everyone should visit at least once in a lifetime. Regarded as one of the most spectacular natural wonders of the world, this powerful and inspiring landscape overwhelms the senses through its immense size and beauty.
The Grand Canyon National Park is one of America's oldest National Parks and is world famous, purely for the spectacular Grand Canyon. The canyon itself is a gorge of the Colorado River and measures 277 miles one and ranges in width from 4 to 18 miles, while attaining a depth of over a mile. The canyon is know for its overwhelming size and its intricate and colorful landscape, while it is geologically significant because of the thick sequence of ancient rocks that are beautifully preserved and exposed in the walls of the canyon.
Where to Stay:
The National Park offers two campgrounds: the Mather Campground on the South Rim and the North Rim Campground. Most of the campgrounds in the park are suitable for RVs; however they do not offer hook-ups.
Due to the park's popularity the sites fill up fast so be sure to reserve a site in order to avoid disappointment.
What to Do:
The most obvious way to spend your time in the Grand Canyon National Park is by exploring it. Hiking is the most popular past time here, with many guided tours on offer. These will open your eyes to the magic and wonder of the park and you may actually learn something along the way.
Sunrise and sunset are unforgettable moments in the park, with the sun casting shadows on the canyon and bringing out the remarkable glowing colors the canyon has become so famous for.
Don't Miss:
Toroweap/ Tuweep Area
If you think the view from the southern or northern rims of the canyon are spectacular, be sure to check out the view from the Toroweap Overlook. Rising 3000 vertical feet above the Colorado River, this breathtaking sheer drop boasts incredible volcanic features and views that are undoubtedly sure to take your breath away.
The overlook boasts stunning views of the renowned Lava Falls Rapid, while offering a completely unique perspective of the canyon as whole.
The area can be reached from Arizona Highway 389 near Fredonia, with all roads in the area secondary county roads.
Day 5 & 6
Phoenix (270 miles)
Phoenix is the largest and most populous city in the state of Arizona, earning its title of state capital. It is located on the bank of the Salt River, whose waters flow through the very heart of the city itself.
Phoenix is completely surrounded by mountains, with the McDowell Mountains to the north-east, the White Tank Mountains to the west, Superstition Mountains in the far-east and the Sierra Estrella in the south-west. These are ideal to explore while spending 2 days of your RV adventure here.
Where to Stay:
Desert Shadows RV Park
This beautifully manicured park is located in North Phoenix and offers everything an RV traveler could ever want. The resort itself offers a tranquil and peaceful setting and facilities include large RV spaces, full hook-ups, spacious clubhouses, full laundry facilities, an indoor heated pool and a jacuzzi.
What to Do:
Phoenix Zoo
The famous Phoenix Zoo is situated on 125 acres of land and features over 2.5 miles of walking trails. The zoo is home to over 1,200 animals, including species from the mammal, fish, invertebrate, bird and reptile families. All of the animals here are from diverse regions, ranging from the Arizona Desert to the lush tropics of Columbia and Indonesia.
The zoo prides itself on its development from its humble beginnings to now one of the most thriving zoos in the U.S. Highlights for visitors include the Safari Cart Tour, the camel rides and the Endangered Species Carousel. Phoenix Zoo is a great day out for the entire family and there really is no excuse not to pay a visit.
Don't Miss:
South Mountain Scenic Drive
Take a drive through the world's largest park: South Mountain Park. Covering a total of 16,500 acres, this amazing park is home to a multitude of lookouts and is the perfect place to spend an afternoon of driving. The park offers fantastic views of Phoenix and the surrounding valley, with the Summit Lookout highlighting the enormity of this sprawling desert area.
Be sure to take some time to visit the Interpretive Center, where you will discover the heritage of the area, along with interesting information on the city's mining and botanical features. Enjoy a bite to eat at one of the many beautiful picnic areas or simply take in the stunning views from the comfort of your RV.
Day 7
Blythe (167 miles)
Blythe is a city in Riverside County in the "Palo Verde Valley" of the Lower Colorado River Valley region. Enjoying a comfortable California desert climate, it is the perfect resting point between Phoenix and Palm Desert.
Where to Stay:
Hidden Beaches River Resort
Nestled on the banks of the Colorado River, this lovely RV resort is the perfect place for weary travelers to rest while passing through Blythe. Wake up to the sound of 250 different bird species and take advantage of facilities that include pull-though sites, boat dock and ramp, horseshoe pits and WiFi.
What to Do:
Bythe Giant Figures
Also known as "Intaglios", the Blythe Giant Figures are located 15 miles north of Blythe and truly are a sight not to be missed. The largest figure is of a man over 165 feet long, who is thought to have been a giant hunter. Although the figures are at their most spectacular when viewed from the air, it is also rather awe-inspiring to witness the history from the ground.
Don't Miss:
Cibola National Wildlife Refuge
This refuge is located along the lower Colorado River, just 20 miles south of Blythe. Nestled on 16,627 acres, it was established in 1964 to mitigate the loss of the fish and wildlife habitat in the local area.
Today, visitors can take part in an array of wildlife oriented activities or simply enjoy the scenic beauty of this oasis in the desert.
Day 8
Palm Desert (153 miles)
Palm Desert is a true oasis in the heart of Southern California's famous Coachella Valley. This is a place where relaxation and recreation is expected, with the options for both seemingly endless.
Having evolved into a vibrant city that is today the educational, retail and cultural hub of the Valley, this is the place where Americans come to spend a weekend or a lifetime. Head outside to take part in hiking, biking and horseback trails or stay indoors and enjoy a massage or day spa.
Where to Stay:
Emerald Desert RV Resort
Enjoy luxury living at its best when you stay at the Emerald Desert RV Park. Boasting beautiful grounds with stunning lakes, a blue lagoon swimming pool, excellent Barbeque facilities and a well-equipped fitness centre, this really is the best place to stay while in Palm Desert.
What to Do:
Hot Air Balloon Rides
Get some perspective of Palm Desert from a whole new light take a hot air balloon ride. Choose to take a sunrise ride and watch the sun set over the mountains of the desert. Guaranteed to be romantic!
Don't Miss:
Palm Desert Golfing
Offering an incredible 100+ private, semi-private and public golf courses, Coachella Valley is any golfer's paradise. If you are after luxury golfing in Palm Desert, visit the award-winning Desert Willow Golf Resort, which is regarded as one of the "Best Places to Play" by Golf Digest. Full of undulating greens, challenging bunkers and stunning water features, it will offer a golf experience like no other.
Day 9
San Diego (135 miles)
When it comes to seaside cities, no state does it better than California. San Diego is just one of these cities; the second largest to be exact. Bordered by Mexico, the Pacific Ocean, the Anza Borrego Desert and the Laguna Mountains, San Diego is home to miles of sandy beaches, enjoying a mild, Mediterranean climate all year round.
Where to Stay:
Campland Resort
Regarded as San Diego's premier campground, Campland is set right on the edge of a beautiful sandy beach and is the ultimate RV camping destination for families. Enjoy one of the dozens of activities on offer and take advantage of full hook-ups for RVs and luxury amenities.
What to Do:
SeaWorld San Diego
For the ultimate water world experience, SeaWorld San Diego is just the place to go. Venture beyond the ocean's floor and discover one of the world's premier marine adventure parks. The park is situated on 200-acres and is home to world-class shows, thrilling rides and unforgettable animal encounters.
Don't Miss:
Balboa Park
Balboa Park is the nation's largest urban, cultural park. Home to over 15 major museums, renowned performing arts venues, beautiful gardens and the San Diego, there is sure to be something here for the whole family. The beautiful and timeless settings create a pleasant atmosphere that will invite you with open arms.
Day 10
Los Angeles (110 miles)
Your RV adventure will sadly draw to a close when you return your vehicle to the fabulous city of Los Angeles. However, leaving aside a few extra days for exploration of this remarkable city will reward you with a wealth of exciting and exhilarating things to see and do.
Los Angeles is the largest city in California and the second largest in the United States. It is commonly referred to as L.A. or the "City of Angels" and is home to some of America's most recognizable attractions.
LA enjoys a subtropical climate, with an average of 320 hours of sunshine per year. It is also a city that boasts a remarkable creativity, and is regarded as the "Creative Capital of the World".
The area itself is also home to 841 museums and art galleries, which is more than any other city (per capita) in the world.
When you have spent the last few remaining hours of your adventure exploring Los Angeles, return your RV to the respective depot and start planning out your photo albums!