RV Rental Phoenix - Camper Rentals Phoenix
Jurnii RV Rentals offers expert, honest, and friendly advice on booking your RV rental in Phoenix.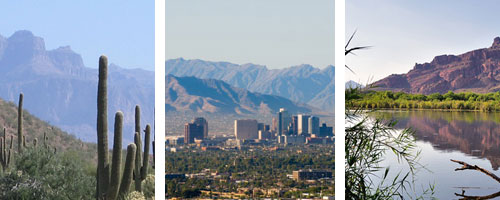 Phoenix is the largest and most populous city in the state of Arizona, earning its title of state capital.
It is located on the bank of the Salt River, whose waters flow through the very heart of the city itself.
Phoenix is the perfect location to enjoy an RV rental vacation and the Jurnii RV Guide will tell you everything you need to know before you start planning.
Phoenix is completely surrounded by mountains, with the McDowell Mountains to the north-east, the White Tank Mountains to the west, Superstition Mountains in the far-east and the Sierra Estrella in the south-west. These are ideal to explore in a campervan rental.
So book your RV rental today and start discovering the beautiful city of Phoenix.