Biking Around Yosemite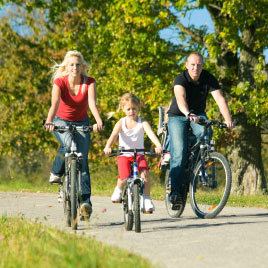 An RV vacation in California simply wouldn't be complete without visiting the extremely popular, Yosemite National Park.
Yosemite is internationally recognized for its spectacular granite cliffs, waterfalls, clear streams, giant Sequoia groves and impressive biological diversity.
Yosemite is situated in Central California's Sierra Nevada Mountain Range and spans for an impressive 1,170 square miles. However most of the 3.7 million annuals visitors flock to the Yosemite Valley area of the park.
This glacial valley is carved out by the Merced River and boasts spectacular natural attractions like the Half Dome, El Capitan and the gorgeous Yosemite Falls.
The majestic sights of Yosemite have been attracting visitors for generations. With so much natural scenic beauty, it is no wonder it is one of the country's most visited natural attractions.
Why Bike?
Cycling is a fantastic way to see the Yosemite Valley as it allows you to explore parts of it that simply aren't accessible with an RV rental.
Over 12 miles of paved bike paths make their way through the valley, while cyclists can also ride on the regular roads if they obey the traffic laws.
Unfortunately, cycling is not permitted off the trail, meaning mountain biking it not an option. However, the paths will take you past some stunning scenery so you won't miss out on the good bits.
The terrain is relatively flat ensuring all levels of cyclists can enjoy easy cruising, while soaking up the idyllic surrounds.
Bikes can be rented from early Spring to late Fall, and are available at Yosemite Lodge at the Falls and Curry Village recreation area.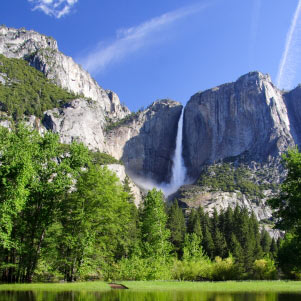 Operating Hours and Seasons
The park is open 24 hours per day, 365 days per year, with no reservations required to visit. The Hetch Hetchy Entrance Station is only open during daylight hours, with some roads closed due to snow around November through May or June.
What to expect in...
Summer
Summer is a fantastic time to visit Yosemite as it is easily accessible and the climate is warm to hot. Since most of the water flowing here comes from snowmelt, the waterfalls tend to dry up this time of year, however the wildflowers tend to be in full bloom.
Fall
The park generally remains open through the months of fall, unless it snows heavy enough to cause a closure. The climate varies from hot to cold and water levels tend to remain very low.
Winter
During the winter months, the snow falls heavily in Yosemite, creating a place of peace and solitude. During this time, the Tioga Road is closed, with restrictions also placed on the roads between Crane Flat and Tioga Pass, and Glacier Point. Most of the park is covered in snow and water levels are low until the ice begins to melt.
Spring
The waterfalls are at their best during the months of Spring, making this the perfect time to visit Yosemite. Togra and Glacier Point roads can remain closed until late May, and tire chains are still recommended. Exploring the rushing creeks, majestic cascades and pumping waterfalls can be enjoyed in warm weather, with winter storms making an appearance only occasionally.