Cooking Ideas While RV Camping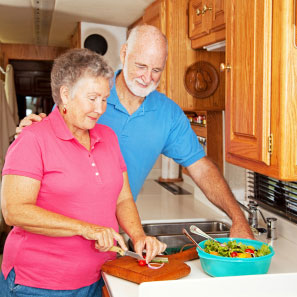 Cooking in your RV rental can be a fun, though at times, challenging experience. Learning to make the best use of the space available is a skill that can take a long time to develop.
When it comes down to it, simple is the best. Meals that require the least amount of ingredients and minimal preparation are definitely the way to go. However, this doesn't mean that you should just put the microwave to good use and live on frozen meals.
There are lots of quick, easy and tasty meals you can make that won't be too hard to accomplish in your small kitchen and also won't break the budget too much.
Breakfast is Served!
The best thing to do at breakfast in a campervan rental is to keep it simple. Cereal or fruit are simple to prepare and definitely won't break the budget. However, plan in advance for things like milk and fresh fruit, because if you are camping off the beaten track, they will be hard to come by and you will not find them to be very cheap.
If you feel like something a little fancier, buy some pre-mixed pancake mix, add some milk and make some stacks. If you are efficient, this should only require 1 frying pan, and therefore not too much mess.
You can of course attempt your traditional bacon and eggs, omletes or breakfast burritos, but these will require several cooking utensils and will make quite a mess for you to clean up.
So keep it simple and stick to something nutritious but yummy! It is after all, the most important meal of the day.
What's for lunch?
When the hunger pangs begin to appear in the middle of the day, you know it's just about time for lunch. If you are travelling in your motorhome rental it is easy to pull into a fast food joint and grab a quick bite to eat, but if you want the cheaper option, you will find a rest stop and cook your own lunch.
Lunch is a great time to enjoy the best of RV living, because you will be able to set the table and chairs up outside and enjoy a nice, home-made meal in the sunshine.
It is so easy to prepare a tasty but nutritious lunch, and just like breakfast, the mess won't be too big to quickly clean up. Some great ideas include burgers, salad sandwiches, microwave grilled cheese or Mexican roll ups. These are all easy and tasty options, that won't hurt the bank account or the kitchen sink.
It's Teatime
Dinner is by far the messiest meal to make, even when it comes to cooking it in your kitchen at home. So you can only imagine the mess it has the potential to make in your RV kitchen. Making use of all the utensils available to you will ensure you have a decent meal that the whole family can sit down to and enjoy.
You can't go wrong with steak and veggies/chips/salad. It's a pretty simple meal to cook and tastes great. Grilled or crumbed fish is a great idea if you are on a camping trip because there is nothing better than fresh fish, caught that day. If you happen to be camping in grounds with BBQ's available, you won't be able to pass up this option. Barbies are a great way to bond with the family and the memories that will come out of this experience can be remembered forever.
Cooking in your RV will be experience that you will most likely remember for a very long time. Food preparation in a confined space can get dangerous, but if you stick to the basics, you will be able to enjoy some great family meals, without causing any harm to your credit card bill.