Driving Your RV for the First Time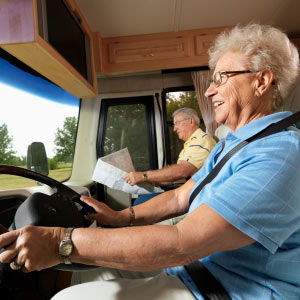 Hiring an RV rental for the first time can be a nerve-racking, yet exciting experience. Finding your way around your recreational vehicle may seem a little daunting at first, but once you learn the ropes it is as easy as riding a push bike.
The first thing you will probably notice as you jump on board is that the motorhome rental will be a lot longer, larger, higher and heavier than most vehicles you would be used to driving. However, you will quickly find that they are almost just as easy to handle and drive beautifully.
When you go to pick up your vehicle from the rental depot, you will be given a clear set of instructions of which you should follow with extreme care. You should also take care when loading up your RV. Overloading is one of the most common causes of RV accidents and if the weight distribution is not even throughout the vehicle, it can seriously affect steering and braking. It can also result in sudden blowouts and breakdowns.
Once you are all packed and ready to go, it's time to head out on the open road. Similar to when you are driving any other vehicle, you must stay alert at all times. Planning ahead and driving defensively are essential if you want to stay in control of your RV. And since you are driving such a big vehicle, if you do not pay attention to your surrounds, it will not just be you that gets hurt; it will also be all the other motorists around you.
Approaching traffic, parking and braking requires a vast amount of patience when driving your RV. Be particularly cautious when you are in the middle of traffic, especially of your blind spots. While everyone can see you, you may not always be able to see them. While parking, allow someone to get out and guide you into the park. This will make things a lot easier and will prevent endless attempts of trying to get between the lines. You should also keep in mind that braking in an RV takes a lot longer than in a regular car so be prepared at any time.
The wind can also become somewhat of a problem when you are driving your motorhome. The degree of influence it has on how your RV handles will depend on your rig's aerodynamics, height, width, accessories, and towing situation. Be sure to always keep both hands firmly on the steering wheel to prevent any unwanted swaying and if it is particularly windy, slow down!
Keeping in mind these few tips and suggestions should ensure that your first campervan rental driving experience runs smoothly, therefore allowing you to enjoy what is guaranteed to be one of the best vacations of your life.