Guide to Music Festivals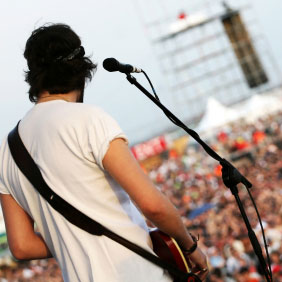 The United States are home to some of the world's best and most famous music festivals. Many of these are situated on the West Coast and draw crowds of thousands, every year without fail.
Rocking out to your favourite bands, soaking up the dance vibe atmosphere, and enjoying a beer or two with a group of mates, form some of the most memorable moments of your youth. And there is no better way to top this experience off then by turning it into the RV rental roadtrip of a lifetime.
Music festivals are usually great fun and turn out even better if you plan a few things ahead of time. Keeping the following simple tips in mind will ensure your music festival experience is one you can remember for a lifetime.
Above all, remember to drink plenty of water. This will keep your fluids up and prevent you from, more than likely, passing out in the heat and crowds.
If you are going to be spending an entire day out in the sun, be sure to put plenty of sunscreen on.
Be sure to book your accommodation early. Every form of local accommodation tends to book out the minute tickets go on sale, so make sure you plan ahead and get in first.
If you are going to drink alcohol at the festival and you do not have a designated driver, make sure you have some form of transport lined up to get home.
Take snacks along with you. Festival food is extremely dear and is often not too appealing to the eye or the stomach.
If you are taking a bad, be sure to pack the bare necessities, because by the end of the day you are pretty much guaranteed to be wishing you had never brought it along.
While those music festival junkies out there probably know every single worthwhile music festival to attend, those more new to the scene may find it difficult to decide which ones they can fit into their budget. So here is the lowdown on the West Coast's best music festivals:
Bumbershoot
This annual international music and arts festival is held in the city of Seattle, in the state of Washington. This is one of the country's largest festivals and falls on the Labor day weekend at the Seattle Center. The range in music talent that graces this festival's presence is so wide, nobody will be left disappointed, no matter what their style.
The Coachella Valley Music and Arts Festival
This annual music festival spans 3 days and is held within the stunning Coachella Valley. Featuring everything from alternative rock and hip hop, to electronic music and some fantastic displays of large sculptural art. The festival has seen such greats as Pearl Jam, Tool, Rage Against the Machine and Oasis, so it is safe to say that it caters for a wide ranging audience.
Decibel Festival
Decibel is another of Seattle's most popular music festivals, as it is perfect for those die hard music fans that just can't get enough music. The festival is spread over four days and is primarily dedicated to live electronic music, visual art and new media.
Electric Daisy Carnival
Purely focused on electronic music, this annual festival is held over two days on the last weekend of June, in Los Angeles. Highly regarded as the biggest electronic dance festival outside Europe, this festival is a must for those who just want to dance, dance, dance!