Making Your RV Homely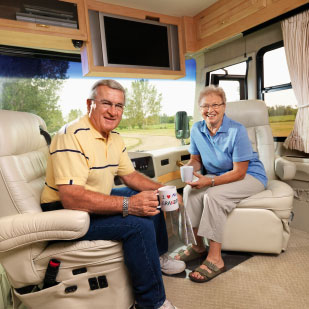 Ever wanted to get away from it all, but don't want to stay in a motel that just doesn't feel like home? If you answered yes, than an RV will be the way to go for you. RV's are the best way to travel if you want to enjoy the creature comforts of home, on wheels.
Most RVs are pretty basic when it comes to decor and comfort. They feature the necessities, and comfort and color is left to the owner/buyer. Now, those renting won't want to make any updates to the RV, but there are a few things you can take along which will make the RV rental feel a little more like home.
Bringing your own blankets is a great place to start. Having your own snuggle doona and pillows on your trip will make it seem like your are sleeping in your own bed. They should also add some color to the inside of your campervan rental. It may seem a bit much to pack them in, along with the rest of your luggage, but you will be glad you did because the comfort will be well worth it.
Ensure your RV is equipped with air conditioning. There is nothing worse than being stuck in your RV on a hot summer's night or day and have no way to cool off. If bringing a portable fan along is convenient, this is a great option to save on power. However, if you are used to air conditioning at home, this will probably be a must.
On the other hand, if you are travelling during winter, a heater will be a must. While snuggling into your blankets will keep you warm to a certain extent, it won't cut it in the extreme winter conditions that some places in the US are known for.
Bringing some of your own kitchen utensils will also help to make things more like home. There is nothing worse than being in the middle of cooking a meal when you realize you don't have the equipment you need to complete it. Packing those few extras will help you cook the home-made meals you would normally enjoy at home.
Remind yourself of the scents of home and bring a vase for flowers, buy an air freshener or purchase some incense. These will make your motorhome rental smell fresh and new and will hopefully smell a little like home.
While they are few, these tips offer some good ideas to give your RV a homely feeling. Travelling on the road can be a pleasant experience and making your vehicle more like home will make it even more enjoyable.