Money Saving Tips for your RV Vacation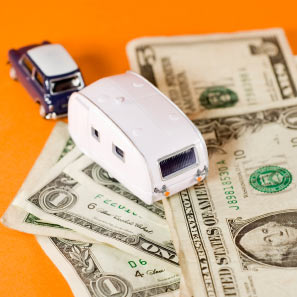 It's no secret that RV rental holidays are an expensive investment; however there are many ways to avoid unnecessary expenses and still have a fantastic time.
By keeping these few simple money saving tips in mind you are sure to have a little extra little money to put towards the activities that will make your campervan rental holiday one to remember.
1. Minimize eating out
Eating out a fast food joints and restaurants can be extremely expensive, especially if you are paying for a meal for a family.
The easiest way to save money is to shop at a supermarket for all your cooking needs. Most RVs are equipped with a well stocked kitchen, ensuring you can make meals with ease and still eat in comfort.
2. Take Advantage of free stays
One of the great advantages of hiring an RV is that you are guaranteed to always have a roof over your head. The hardest part in this is finding a suitable, though affordable place to park for the night.
There are hundreds of free (and almost free) campgrounds and RV parks spread across the country that are suitable to park an RV for the night. While some of these will not have hook-ups, they do offer other useful amenities and usually boast a positive and happy atmosphere.
3. Boondock for some of the way
Boondocking refers to RV camping without hookups. This option is ideal for those who like to escape it all, get back to nature and camp out in the wild.
It is not advisable (or physically possible for your RV) to do this the whole way, as your RV will eventually need to be re-charged and supplied with water and fuel. However, if you spread it out across your journey and plan well in advance, this will end up saving you a lot of money.
4. Don't Pay for Hookups you don't need
If your RV still has enough power to get through another day of travel, simply pay for an unpowered site instead of paying full price for a site with hook ups. This should save you a few extra dollars and will leave the powered sites to those that really need it.
5. Bring your own snacks
Since you are not eating out, you may be tempted here and there to make a few stops along the way for snacks. This is most likely to occur on a back road, at an almost deserted gas station in which the prices will be marked up and you may end up paying double than what the item is worth. Avoid this at all costs and stock up on snack food at a major supermarket in order to avoid needlessly wasting money.
6. Buy necessities before you depart
Necessities like sunscreen and insect repellant should be purchased before you head off to avoid over-priced items on the kind in roadside gas stations.
7. Keep your tires properly inflated
Keeping the tires on your RV properly inflated will not only make driving easier, but will also save you on petrol money as properly inflated tires drive better and consume less fuel.
8. Don't buy any special equipment for the trip
While you may think you are going to need special equipment for your RV journey, chances are that you will not in fact actually need them. Most of the equipment you will need for your trip will actually come with your RV rental so it is not necessary to purchase any (especially if this is simply a one-time RV trip).
9. Don't buy new clothes for the trip
This is another thing that tempts some people before they go on holidays, however most of the time it is completely unneccessary. Taking old clothes on vacation is a great idea because it will save your new clothes from wear and tear and will also prevent them from getting dirty or wrecked.
10. Travel in off-peak seasons
Finally, one of the most basic money saving tips out there; avoid traveling in the high season and plan your holiday around the off-peak season.
This will not only save you money on campgrounds but will also allow you to avoid the holiday crowds.