10 Good Reasons to take an RV Vacation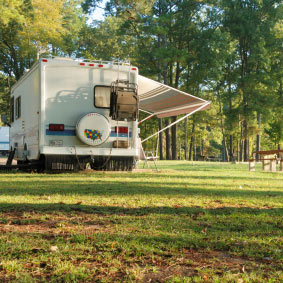 An RV vacation is a great option for many reasons, but we've narrowed it down to 10 to show just how great they can be!
1. Discovering Nature
An RV rental allows you to travel to places in the US that you may have never dreamed possible. Discover off-beaten tracks and explore some of the country's unchartered territory and you may be surprised at what you find.
2. Travel with the comforts of home
An RV to many, becomes a home away from home and even when simply hiring an RV, this almost always becomes the case. Enjoy the creature comforts of home in an RV, including a comfortable bed, air conditioning and in some vehicles, even a TV and DVD player.
3. Spend some quality time with the family
An RV holiday is the perfect opportunity to spend some quality time with the family. While close confines may at first appear to be a bad thing, you will eventually discover that they do in fact offer the perfect chance to get to know your loved ones better and on a greater level.
4. Affordability
If you hire at the right time and usually in advance, you can get a really great deal when it comes to RV rentals. An RV vacation is also the most affordable option if your are traveling in a large group as it will save you on costs for multiple hotel rooms, while still ensuring everyone has a comfortable place to sleep.
5. Perfect chance to test out the RV lifestyle
Thinking about retiring and buying an RV to see out the wonder years? There is no better way to test whether this is the right option for you unless you try before you buy and the best way to do this is to hire a motorhome rental. Take a short or extended trip in an RV to get a feel for it and to try and decide whether it is a suitable future possibility.
6. Not restricted by weather conditions
The great thing about RVs is that they always provide you with a roof over your head. They are also adjustable to summer and winter conditions, ensuring travel at any time of year is a possibility.
7. Stay in remote areas
This is when boondocking comes into play. Boondocking refers to camping without hookups, and this generally takes place in remote areas. An RV can sometimes last up to 3 days without any power, which essentially means that you can go off road and discover these remote areas for 3 days at a time.
8. Freedom of the open road
Hiring an RV gives you the freedom to go wherever you please. Whether it is a road trip across the state or you simply set up camp in the same spot for a week, the road is yours.
9. Independence
The freedom an RV gives you is unsurpassed. You decide where you wish to go, when you want to go there and what you want to do there. An RV allows you to stay in a wide range of accommodation options, in a variety of different locations, giving you the freedom to do your own thing at your own pace.
10. Room to move
In comparison to a tent, an RV offers an incredible amount of room to comfortably live in. In particular, the Class A RVs are like a home on wheels and offer a living space that some apartment's would look small in comparison to. Having the freedom to move in an RV will ensure your vacation is a comfortable and memorable one.