Running Into Trouble In An RV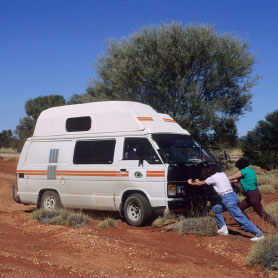 So you're driving along in your RV rental and you notice one of your dashboard lights start to flash. The engine is making a weird clanging noise and you can smell something burning. Chances are that there is something wrong with your RV.
For those out there who have rented an RV and it was smooth sailing for the entire journey; you are very lucky! But there are undoubtedly a large handful of renters out there that experienced some trouble with their campervan rental, being it their fault or no-one's fault at all.
Accidents happen all the time on US roads, so if it happens to you, there is no need to feel like you are the only one. However, it is a completely different story if something goes wrong with your RV and it is no fault of your own.
When a motorhome rental starts malfunctioning, it is usually the result of poor maintenance and a failure to thoroughly check the vehicle before it was hired out. If this is the case, the damage that has occurred to your vehicle is the fault of the rental company.
The first thing you should do if you feel something is wrong with your RV rental is to pull over, hop out and take a look at the vehicle. It could be a matter of a flat tire, but if it's something engine related, wait a while until it cools down before you pop the hood. Once you are under there, unless something is immediately visibly wrong, you will probably have no idea what you are doing.
From this point, the best thing (and only thing) you should do is ring up the roadside assistance number your rental company provided you with, or ring the company directly. They will either send someone out to try and fix the vehicle or replace the vehicle.
If the RV is damaged from an accident you were involved in, you will be covered by insurance, and the degree of coverage will depend on the option you decided to take out on the rental agreement. Remember to take before and after photos of the vehicle, just in case an accident occurs. There are actually a lot of ways to accomplish hassle-free insurance claims.
Above all, DON'T PANIC. The worst thing you can do when something goes wrong, is blow it out of proportion and mistake it for a bigger problem than it actually is. Take a deep breath, establish what is wrong, and then take the necessary steps to fixing the problem.