RV Camping Etiquette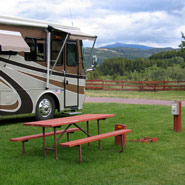 Camping in your RV is often a fun and exciting experience. Discovering new campgrounds and setting up your rv rental become tasks you look forward to and contribute greatly to how you enjoy your holiday.
Although there are no rules generally set in stone when it comes to campground etiquette, there are a few things you should keep in mind when it comes to the correct practices of an RV campground.
By following these few simple tips/ guidelines, you will be able to avoid fights with the neighbours and campground owner, which will essentially make your stay in your campervan rental just that little bit more pleasant.
Never ever walk through somebody else's camp site. While staying in a camp ground, this essentially becomes their "property" and interference may be seen as rude and intrusive.
When using the pay phones in the campground, try to limit your calls to a maximum of 10 minutes, especially if someone is waiting. This is somewhat of an unwritten rule and is practiced out of pure courtesy.
If you bring a pet along, make sure you keep it on its leash outside, and under absolute control. Be sure to always pick up after your pet and dispose of the waste in a sanitary manner.
Keep TV and radio speakers low, for the comfort of your neighbors.
Before you park and set up your motorhome rental take notice of the angle the other RVs are parked at around you, and park in the same manner. This will also become obvious through the way the cement parking pads and patio slabs are positioned.
Never leave your outside lights on all night.
Follow the rules of the park, which you will be given when you register. These guidelines are generally inclusive of the park's speed restrictions.
If you are arriving late, after normal quiet hours, try to keep the noise to a minimum. You should apply this same rule if you are leaving very early in the morning as well.
Make sure you connect your sewer connection correctly and make them extremely secure.
When you are leaving, make sure you leave the campsite exactly as you found it, being sure to take all litter with you.
Only wash your RV if the campground specifies you can.
Only light a campfire if it is permitted.
Be tidy and don't litter. If you do, pick up after yourself.