Staying the night in your Camper Rental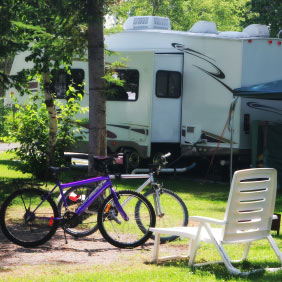 Cheap RV rentals are a great way to see the beautiful towns, cities and countryside of the US. While you are traveling in your campervan rental you will come across many wonderful places to stay that will capture your hearts, minds and imaginations.
Choosing a place to stay the night in your cheap camper rental can be a hard choice, as there are so many options available to you.
Staying the Night
Each night you are traveling in your camper rental, you will need to decide on a place to park it and stay for the night. With cheap RV rentals, the range of options available to you is wide. With the option of spending the night in an RV park, in a rest area or in a National Park, on the cards, you are sure to never be without a place to stay.
RV Parks
RV parks for cheap camper rentals are spread out right across the country, with locations in every state. While RV parks do cost money, the facilities they offer will make your RV rental holiday just that little bit more comfortable, cheaper and enjoyable.
The term "RV park' differs from your traditional holiday or caravan park. An RV park specializes in accommodating RVs, offering all the necessary hook-ups to keep your camper rental running. This includes access to electricity and water, along with stations for dumping of waste. It will also provide you with luxuries such as laundry and BBQ facilities.
Due to the vast number of RV parks throughout the states, you can easily get away without booking ahead. However, if you are hoping to stay in one of the more popular parks it is advised to book well in advance to ensure you have a spot to park your camper rental for the night.
Camping in Rest Areas
For those seeking a cheaper (in most cases free) option opposed to rv parks, a rest stop is probably your best bet when it comes to camping in your camper rental.
People with cheap RV rentals are increasingly using truck stops, travel plazas and rest areas across the country to park for the night. Rest areas generally provide restrooms, pet areas, drinking waters, maps, refuelling facilities and telephone usage. They are a great option if you are traveling on a budget and want to save money.
Camping in National Parks
Many National and State Parks across the US allow you and your camper rental to camp in them. Camping in a National Park is a great experience as it allows you to get back in touch with nature and discover some of the country's most beautiful and fascinating natural treasures.
Most US National Parks are maintained and operated by the National Park Service. Many of these campgrounds typically offer picnic tables, public bathrooms and individual parking spaces. Some, though few, offer electrical and water hook-ups, along with dump stations and showers.
National park campgrounds are generally operated on first-in, first-served basis. Essentially this means that you and your camper rental will need to arrive early, in order to secure a spot. This is even more important to keep in mind if you are planning on staying in parks such as Yellowstone, Sequoia or Glacier, which are among the country's most popular natural destinations.
Camping your cheap RV rental in a national park for the night offers a camping experience like no other. Exploring the hidden treasures of nature is a fantastic way to spend a holiday and will make your camper rental experience one that you can remember for many years to come.