America's Best Theme Parks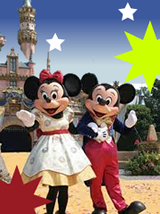 Adventure is something America does well, and this is clearly evident through the many theme parks that speckle this country's geography.
With fun for all ages and tastes on offer, America's theme parks are sure to delight and excite both those young and young at heart.
Visiting these theme parks is a great excuse to take an RV rental vacation with the family, as travelling this way will give you the freedom to pick and choose which theme parks take your fancy.
So start discovering the fun today and visit some of America's most loved theme parks.
1. Disneyland, California
Undoubtedly the most recognizable theme park in the world, California's Disneyland offers the very best of Disney and much more.
Explore eight fantastic lands of nostalgia, color and delight, with everything from Mickey Mouse to Michael Jackson.
With something for all, and not just the kids, you will find this park hard to pass up.
2. Universal's Islands of Adventure, Florida
Prepare for an epic adventure like none other when you visit Universal's Island of Adventure.
Home to The Amazing Adventure of Spider-Man, the Jurassic Park River Adventure and the Wizarding World of Harry Potter, plus many more, this theme park takes the best of your favorite movies and turns them into a sensational experience that is sure to bring out your adventurous spirit.
3. Busch Gardens, Williamsburg
This action-packed European-themed adventure park boasts 17th Century and 21st Century charm all rolled into one.
Offering a whopping 50 rides and attractions, there is guaranteed to be something here for all.
From roller coasters to Roman Rapids, the excitement here is just waiting to be experienced.
4. Cedar Point, Ohio
Perhaps most famous for its 17 roller coasters, Cedar Point is the top destination for thrill rides, carousels, children's rides and tranquil rides.
Nicknamed "America's Roller Coast", the most obvious draw card of the park is its roller coasters. Home to the top 10 steel roller coasters in the world, Cedar Point sure won't disappoint when it comes to thrills, spills, twists and turns that are sure to make you hurl.
5. Six Flags Magic Mountain, California
Nestled on top of a mountain, Six Flags sure is a magical place, boasting adrenaline rising rides sure to please the whole family.
With too many rides to name, a decent two days could be spent exploring the realms of this magical wonderland, and even then you may not even see it all.
Highly regarded as the "Thrill Capital of the World", this park is sure to go down in the history books as one of the best there ever was.
6. Sea World, Florida
Experience the ultimate in marine life and entertainment with a visit to the fabulous Sea World in Orlando, Florida.
Featuring nearly every marine animal imaginable, Sea World will be a hit with the whole family, offering thrills, chills and an unforgettable experience.
Marvel at the dolphins and whales, be amuse but the sea lions and seals and cool off one one of the many thrill rides that are sure to give your lungs and vocal chords a bit of a workout.
7. Legoland, California
The genius and creativity of Lego comes to life at California's Legoland; a place where everyone is a hero.
Nestled on 128 acres of interactive land, this theme park boasts 50 super rides, shows and attractions, which all highlight the flexibility of and enjoyment that Lego can bring.
Explore the Lost Kingdom or take a trip to Cargo Ace, Land of Adventure. No matter what you do you are sure to enjoy yourself.