US Road Rules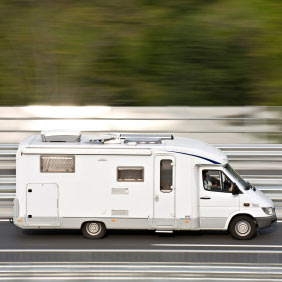 Driving in the US is different from driving in any other country in the world. Different rules and laws apply to the road so being aware of these before you drive on them is a good idea.
Each state has a different set of road rules
The US is a big place and is home to a whopping 50 states. Each state has its own set of driving rules and laws and knowing how these differ from state to state is highly important. Many of the rules remain the same, but some of them do vary a bit so you should check when you pick up your RV rental for these variations.
Speed Restrictions
The maximum highway speed in most states is 65 miles per hour, unless otherwise indicated. These speed limits are strictly enforced by radar in most states.
Minimum Age
As a general rule, the minimum age for driving in most states is 16, yet some states restrict driving until drivers are 18 years of age. Some campervan rental companies charge additional fees for drivers under the age of 25.
Seat Belts
Nearly every state in America has laws that make it illegal to drive without a seat belt on. Seat belts must be worn by the driver and all passengers, and some states even require special child restraint seats for all young children.
Child Seats
In USA each State has its own laws with regards to child restraints. For the safety of your children we recommend that any child under the age of 8 must wear an approved, properly fastened and adjusted child restraint.
Radar Detectors
For all of those out there who have radar detectors built into their GPS units, be careful in which states you use this function. While some states allow you to use them, others do not and you may be fined if you are using one illegally.
Strict Enforcement
In some areas, the police are more particular on enforcing the law, especially in school areas, in which is the speed limit is 15 miles per hour, and also around school buses, especially when their lights are flashing. Police will also come down heavy on your for drink driving, which is strictly prohibited in all states.
US Highway System
The highways in the US are often referred to as "interstate highways" or state maintained roads. While some of them do have tolls, most are free, allowing for smooth sailing all the way along them. Major interstate highways running from north to south are ordered from I-5 to I-95, and east to west interstates are order from I-8 to I-10.
---
Read more about Driving Safety Tips with Road Bear RV.