Guide to the Best Places to Ski in the US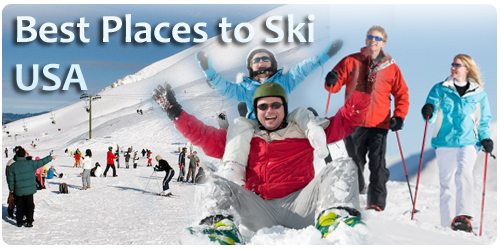 Easily everybody's favorite recreational activity in winter, skiing is an essential part of the American sporting culture and is a must do for RV rental travelers touring in the winter months.
A white blanket of snow falls on many parts of the US throughout the colder months, creating a wonderland for outdoor enthusiasts and sporting fanatics. Skiing, snowboarding, snowmobiling and bobsledding become a daily occurrence in these parts, with many traveling here from across the nation to experience some of the best slopes in the world.
This informative guide will show you the best places to travel to in your campervan rental to experience the thrills and spills that ski resorts can offer. From Washington to Vermont, this guide has it covered!
Cloudmont
An ideal destination for traveling families, Cloudmont features fun for all ages, with a wealth of activities on offer for the younger ones.
Boasting two one-thousand foot, beginner-intermediate slopes and two "pony lifts", this ski resort is perfect for beginners and those too small to tackle more challenging ski areas.
Where: Mentone, AL


Phone: 256-634-4344


Website: www.cloudmont.com/
---
Heavenly
Positioned above the clear blue waters of beautiful Lake Tahoe, Heavenly Mountain Resort is without a doubt one of the most unique destinations in the world.
Skiers and snowboarders will instantly fall in love with the unique terrain of the California-Nevada border, with rolling glades, terrain parks and challenging technical steeps ensuring plenty of variety for all levels of skiers.
Where: South Lake Tahoe, CA


Phone: 775-586-7000


Website: www.skiheavenly.com/
---
Kirkwood Mountain Resort
Known for its high annual snowfall, Kirkwood Mountain Resort offers a broad selection of advanced skiing terrain, making it an ideal destination for intermediate and advanced skiers.
Contained within the Eldorado National Forest and just a short drive from South Lake Tahoe, this ski resort is a must-see while in the area.
Where: Kirkwood, CA


Phone: 209-258-6000


Website: www.kirkwood.com/site/
---
Mammoth Mountain
Located at the "Top of California", Mammoth Mountain offers adventures all year round.
Nestled on 3,500 acres of impressive terrain, the numerous activities on offer here include cross country skiing, snowmobiling, Snowcat tours, snowboarding and a scenic gondola.
Boasting over 150 trails, with 3,100 feet of vertical, this is the place to come to experience the extremes of skiing.
Where: Mammoth Lakes, CA


Phone: 800-626-6684

Website: www.mammothmountain.com
---
Squaw Valley
Squaw Valley is the perfect resort for skiers, snowboarders and those who simply love to surround themselves with mountain scenery.
When taking a break from skiing the slopes, why not have some fun on the cable car rides, snowtubing, ice skating or on the sky jump. The kids are guaranteed to have a ball, with plenty to see and do for all ages.
Where: Squaw Valley, CA


Phone: 800-403-0206


Website: www.squaw.com
---
Arapahoe Basin
Offering some of the state's most challenging runs, Arapahoe Basin has the longest ski and ride season in North America and is ideal for motorhome rental travelers.
With over 100 trails to test your skiing legs out on, along with runs up to 1.5 miles, this ski resort is perfect for beginners, intermediates and experts.
Where: Dillon, CO


Phone: 970-513-5700


Website: www.arapahoebasin.com
---
Aspen
The city of Aspen in Colorado is in its entirety a ski resort and upscale tourist center. While not suitable for beginners, it is the perfect destination for intermediate, advanced and expert skiers.
Comprised of four skiing/snowboarding areas on four adjacent mountains, this area makes up one of the most famous ski destinations in the world, and is visited by celebrities from the world over.
Where: Aspen, CO


Phone: 800-308-6935


Website: www.aspensnowmass.com
---
Breckenridge
Offering 155 trails, sprawled across 2350 acres of terrain, with multiple lifts servicing 37,880 people per hour, Breckenridge will have all your skiing needs and desires covered.
Home to the International Snow Sculpture Championships, visitors are guaranteed so much more then skiing, with a wealth of amazing activities offered all year round.
Where: Breckenridge, CO


Phone: 970-453-5000


Website: www.breckenridge.com
---
Creste Butte
Regarded as the "last great Colorado ski town", Crested Butte is a hot destination for skiing, mountain biking and a various array of outdoor activities. The town comes alive in winter, with skiing and snowboarding obvious items on the agenda for the thousands of visitors that come to explore.
Almost half of the terrain is dedicated to double black runs, making this the ultimate destination for experienced skiers.
Where: Crested Butte, CO


Phone: 970-349-2222


Website: www.skicb.com
---
Loveland
Experiencing 400 inches deep of snow annually, Loveland is a place you will instantly fall in love with. Located just 53 miles from Denver, visitors can experience over 200 days of skiing and riding each year in what is undoubtedly one of America's best loved ski resorts.
Where: Georgetown, CO


Phone: 303-569-3203


Website: www.skiloveland.com
---
Steamboat
As one of the biggest ski resorts in North America, Steamboat boasts 165 trails, 3,668 foot vertical and almost 3,000 acres of terrain. There is also an impressive array of hiking and bike trails to keep visitors entertained during the summer months.
---
Telluride
This world-class ski resort is combined with a spectacular golf club and spa, making it the ideal destination for a pampered and luxurious getaway. Enjoy a full line-up of social events, explore the surrounding historic buildings, and make use of Telluride's free gondola to transport you to the many wonderful attractions on offer here.
Where: San Juan Mountains, Telluride, CO


Phone: 800-778-8581


Website: www.tellurideskiresort.com
---
Vail
Described as "epic", Vail boasts three unique mountain areas that each offer intriguing features and fortes. Explore over 5,000 acres of free-ride terrain, with three terrain parks and seven bowls scattered throughout the mountain terrain. In fact, the area is so large, on any typical day there are only two skiers per acre, giving you plenty of elbow room.
Where: Vail, CO


Phone: 800-805-2457


Website: www.vail.com
---
Winter Park
Enjoy winter activities including ice skating, snow cycle excursions, scenic chairlift rides, scenic snowcat tours, snowshow tours and of course skiing when you visit Winter Park Resort in Colorado. With over 143 designated trails carefully positioned on over 3,000 acres of mountain terrain, you are guaranteed a grand time when you visit.
Where: Winter Park, CO


Phone: 970-726-1564


Website: www.winterparkresort.com
---
Sun Valley
Experience the thrills and excitement of a traditional sleigh ride when you visit the beautiful Sun Valley in Idaho during the winter months. Take the kids to the Snow Tubing Park where they can tube from 100 feet of vertical, or embark on the skiing adventure of a lifetime with a heli-ski, while gaining a view of the park from a whole new perspective.
Where: Sun Valley, ID


Phone: 1-800-786-8259


Website: www.sunvalley.com
---
Bridger Bowl
A hot spot for students of Montana State University, Bridger Bowl offers affordable skiing on impressive terrain, with an outstanding snowfall.
It is most notable for its expert terrain, known as "The Ridge", which boasts striking runs that are sure to please even the most avid skiers.
Where: Bozeman, MT


Phone: 800-223-9609


Website: www.bridgerbowl.com
---
Taos Ski Valley
The tiny village of Taos Ski Valley is accompanied with an alpine ski resort, with an atmosphere that resembles a charming Swiss village.
The village itself only has a population of 56 people, while the ski school is the highest rated of its kind in North America.
Where: Taos Ski Valley, NM


Phone: 866-968-7386


Website: www.skitaos.org
---
Lake Placid
An undeniable paradise for outdoors enthusiasts, Lake Placid boasts the highest vertical drop in the East. The stunning Adirondack Mountains provide visually stunning surroundings while you cross-country skiing, ice climbing, snowmobiling and snowboarding.
With a vibrant and fun atmosphere in the air guaranteed to keep you having fun all day and night long.
Where: Lake Placid, NY


Phone: 518-523-2445


Website: www.lakeplacid.com
---
Mount Bachelor
Home to the highest skiable elevation in all of Oregon and Washington, Mt Bachelor is one ski resort not to miss while in the area. Ski the 3,000 acres of lift accessible terrain with the whole family, with trails to suit all levels of experience. The ski season here is one of longest in the Northwest and lasts well into May.
Where: Bend, OR


Phone: 800-829-2442


Website: www.mtbachelor.com
---
Alta
Alta is one of the few remaining ski areas where the true feeling of lodge life remains. Here, romance and history rule, with superb snow conditions complimenting one of the world's most incredible ski resorts. Offering trails to suit all abilities, the terrain here is varied and unique, making it perfect for skiers from all walks of life.
Where: Alta, UT


Phone: 801-359-1078


Website: www.alta.com
---
Deer Valley
Voted the number one resort in North America by readers of Ski magazine, four years in a row, Deer Valley never falls short when it comes to impressing. Regarded as a great place for expert skiers and beginners alike, the mountains of this resort will keep you enthralled for weeks on end.
Where: Park City, Utah


Phone: 1-435-649-1000


Website: www.deervalley.com
---
Park City
Stay in world-class lodging when you visit the spectacular Park City ski resort; a place that revolves all around snow during the winter months. Located just 34 miles east of Salt Lake City, Park City contains several training courses for the US Ski Team and also played host to the snowboarding events of the 2002 Winter Olympics.
Where: Park City, UT


Phone: 1-800-222-7275


Website: www.parkcitymountain.com/summer
---
Snowbird
Located in the heart of the Wasatch-Cache National Forest in Little Cottonwood Canyon, Snowbird Ski Resort spans 2,500 spectacular acres, boasts 85 runs and has trails suitable for beginner, intermediate and advanced skiers. Finish off a day full of skiing with a hearty meal at one of the 15 restaurants that are scattered throughout the resort, or enjoy a quiet drink or two at one of the five local bars.
Where: Snowbird, UT


Phone: 800-232-9542


Website: www.snowbird.com
---
Smugglers' Notch
Known as the "Grandaddy of all family resorts", Smugglers' Notch is the ultimate destination for a family winter escape. Offering some of the best skiing and snowboarding in the East, visitors can choose from 78 trails, ranging from gentle cruisers for beginners to the East's only triple black-diamond trail.
Where: Smugglers' Notch, VT


Phone: 1-800-419-4615


Website: www.smuggs.com
---
Stowe
Comprised of two separate mountains, Stowe Mountain Resort offers some of the best skiing terrain around. A recent upgrade has seen the addition of a new lodge that boasts a spa and wellness center, a heated outdoor pool and an 18-hole golf course. The trails aren't too bad either.
Where: Stowe, VT


Phone: 802-253-3000


Website: www.stowe.com
---
Mount Baker
Mount Baker is an active glaciated andesitic stratovolcano in the Cascade Volcanic Arc and North Cascades of Washington.
The ski area is home to the world's greatest recorded snowfall in one season, with 1, 140 inches falling. It is also known for its numerous challenging inbounds routes and is an ideal destination for intermediate and expert skiers.
Where: Bellingham, WA


Phone: 360-734-6771


Website: www.mtbaker.us/1011/
---
Grand Targhee
Consistently called "the best snow in North America", the 500 inches of snow that blankets the mountains at Grand Targhee each year are without a doubt some of the purest you will ever see.
Spread across 3,000 acres of terrain, the trails here will keep you skiing for days on end, while the snowboard school is guaranteed to please both the kids and adults.
Where: Alta, WY


Phone: 307-353-2300


Website: www.grandtarghee.com
---
Jackson Hole
Spread across the two mountains of Apres Vous and Rendezvous, the terrain here equals a total of 2,500 acres, with an impressive vertical drop of 4,139 feet.
A total of 116 named trails can be found on this terrain, with 90% of these suitable for intermediate and expert skiers.
Where: Teton Village, WY




Phone: 307-733-2292




Website: www.jacksonhole.com
---
Whistler
Located in the Coast Mountain range of British Columbia, Whistler is known for its consistent snow conditions and high average annual snowfall.
Spanning a whopping 8, 171 acres and nestled above beautiful Whistler Village, the whole area is a hub of activity all year round, offering a wealth of activities and attractions suitable for the whole family.
Where: British Columbia, Canada




Phone: 1-800-944-7853




Website: www.whistler.com
---