Who Are RV Holidays For?
Friends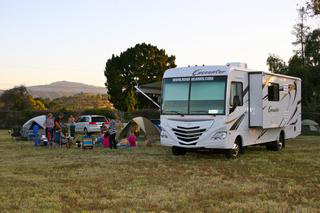 There is no better way to spend time with friends than on an RV rental road trip. Not only will itprovide the chance to bond and form a better friendship that will last a lifetime, but it will also allow you to visit places and experience things with like-minded people.
Traveling with friends also gives you the great opportunity to take advantage of your youth, as it will encourage you to take part in activities and visit places you may not have dreamt doing with anyone else.
Backpackers
Backpackers in the US are quickly cluing into the idea of hiring a campervan rental to explore the vast and wonderful countryside.
An RV is a great way to see the United States, and with so many affordable vehicles on the market, it can end up being the most cost effective option.
One of the best things about backpacking is the freedom it gives you to get up and go to wherever your heart desires and an RV gives you the freedom to do this in comfort, style and at your own desirable pace.
Over 55's
Nearing retirement and don't know how to spend the rest of your years in style? An RV is the best option if you simply want to take a step back and start appreciating the big wide world out there.
RVs are hugely popular with over 55's as they give a certain freedom that motels simply can't. Enjoy spending time relaxing with those that matter most, as you revisit the many memories you have already accumulated over a lifetime.
Travel to places you love, places you never thought you would see again and places you only dreamed you would one day make it to. An RV is definitely the way to go!
Couples
There is no better way to get to know your better half than to take an RV vacation with them. Whether it's for a romantic getaway or the adventure of a lifetime, sharing these precious moments with the one you love will make all the worries of life disappear.
With so many vehicles on the market, perfect for couples, it's a wonder more aren't joining in and becoming part of the RV craze.
Families
Family holidays are always a fun experience and an RV is sure to add to this enjoyment. Not only is an RV holiday the cost effective option (especially for those with large families) but it also allows families to bond and get to know each other a little better.
There are some truly fantastic attractions and cities to visit in the US and experiencing this with your family will make them exciting and memorable holiday experiences.