RV Rental Yosemite National Park
Jurnii RV Rentals offers expert, honest, and friendly advice on booking your RV rental in Yosemite National Park.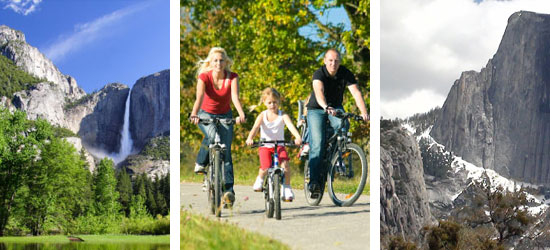 Yosemite National Park is situated in the West Coast state of California and is visited by 3.7 million people each year. It is internationally recognized for its spectacular granite cliffs, waterfalls, giant Sequoia groves and unique biological diversity.
View our National Park Guide to see why Yosemite National Park is one of the country's most visited natural attractions.
An RV rental is the perfect option for exploring Yosemite. An RV will give you the freedom to explore the stunning scenery at your own pace and leisure. An campervan rental vacation in Yosemite will give you the option to travel here all year round, while also giving you the independence to explore the park's most remote areas.
Discover more great reasons for taking an RV rental vacation in Yosemite by taking a look at our RV Guide.
So book your RV rental today and start discovering Yosemite National Park.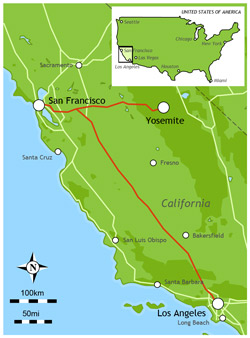 Distances from Cities (miles)
| | |
| --- | --- |
| San Francisco | 191 |
| Los Angeles | 312 |
| Las Vegas | 484 |
| Salt Lake City | 753 |
Best Time to Visit
Yosemite is Open 24 hours a day, 365 days a year, except Hetch Hetchy Entrance Station, this is open only during daylight hours. Some roads going to Yosemite can also be closed due to snowfall.
Things to See and Do
Auto touring, Photography, Hiking, Biking, Birdwatching, Fishing, Horse riding, Rock climbing, Water activities, Winter activities
Campgrounds
| | |
| --- | --- |
| Crane Flat | (209) 379-2123 |
| Hodgdon Meadow | (209) 372-0200 |
| Lower Pines | (209) 372-8502 |
| North Pines | (209)372-8502 |
| Tuolumne Meadows | (209)372-4025 |
| Upper Pines | (209)372-8502 |
| Wawona Campground | (209)375-9535 |