US Attractions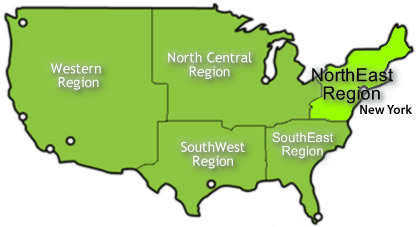 Maine
Children's Discovery Museum

The interactive environment of this museum is great for kids, allowing them to discover a whole new world and a lot about themselves.
The hands-on experiences here are fantastic and will provide fun for the entire family.
Address: 171 Capitol Street, Suite 2, Augusta, ME 04330

Phone: 207-622-2209

Cost: Children: $4, Adults: $5

Website: childrensdiscoverymuseum.org/

Lat/Long: 44.3097463, -69.7919629
Maine State Museum
Boasting a wide range of permanent and travelling exhibitions, the Maine State Museum is a fantastic destination to learn about the history and culture of the state of Maine.
Address: 230 State Street, Augusta, ME 04330

Phone: 207-287-2301

Cost: Children: $1, Adults: $2

Website: www.mainestatemuseum.org/

Lat/Long: 44.3055871, -69.7812981

---
Vermont

Wilson Castle
A symbol of the past, Wilson Castle has housed 5 generations and is a visually stunning, architecture masterpiece. The inside of the castle is just as beautiful, with antique furnishings and charming museum pieces.
Address: West Proctor Road, Center Rutland, VT 05736

Phone: 802-773-3284

Cost: Children: $5.50, Adults: $9.50

Website: www.wilsoncastle.com/

Lat/Long: 43.6029265, -73.0224086
Ben & Jerry's Factory Tour
Ben & Jerry make some of the best ice-cream around so a tour around where it all happens is a must for any fans. Nestled in the Green Mountains just north of Waterbury, this factory offers some fantastic tours with sampling mandatory.
Address: 1281 Waterbury-Stowe Road, Waterbury, VT 05676

Phone: 802-882-1240

Cost: $3 for Adults

Website: www.benjerry.com/

Lat/Long: 44.34480401000178, -72.74709284305573
Vermont History Museum
Referred to as the "best place to time-travel", the Vermont History Museum represents Vermont's history from 1600 to the present, and is a great attraction for historical and cultural enthusiasts.
Address: Route 4, just 1/4 mile west of Quechee Gorge, Quechee, VT 05059

Phone: 802-359-5000

Cost: Children: $3, Adults: $5.

Website: www.vermonthistory.org/

Lat/long: 44.2594328, -72.5923285

---
New Hampshire

Museum of New Hampshire History
If you are in search of a timeline of New Hampshire and Concord's history, look no further than this museum. This institution preserves the last two centuries of the state and tells the rich history of each past generation.
Address: 6 Eagle Square, Concord, NH 03301

Phone: 603-228-6688

Cost: Children: $3, Adults: $5.50

Website: www.nhhistory.org/museum.html

Lat/long: 43.206958, -71.535471
Christa McAuliffe Planetarium
Experience one of America's clearest skies at the Christa McAuliffe Plantetarium in Concord, where visitors can expect to enjoy the stars in the night sky and a show with generated effects, video slides and accompanying music.
Address: 2 Institute Drive, Concord, NH 03301

Phone: 603-271-7827

Cost: Children; $9. Adults: $12

Website: www.starhop.com/

Lat/Long: 43.224553, -71.533147
---

New York

Statue of Liberty
A ferry runs regularly to the Liberty Island on which it stands, and there you can visit the museum in the statues pedestal. Unfortunately it is no longer possible to climb higher into the statue.
Address: Brooklyn, New York, NY 11231

Phone: 212-561-4500

Cost: Children: $5, Adults: $12

Website: www.nps.gov/stli/index.htm

Lat/long: 40.6894, -74.0447
Brooklyn Bridge
The bridge itself is great for photo opportunities, whether you are on it or below it, and the walk across it from one suburb to the other does not take more than half an hour. Built in the 19th Century, the bridge is a historical part of New York that you shouldn't miss experiencing.
Address: Between Lower Manhattan & Brooklyn Heights, 11201

Cost: Free

Website: www.nycroads.com/crossings/brooklyn/

Lat/long: 40.7055371, -73.9962659
New York Aquarium
Home to sharks, sea turtles, jellyfish, sea otters and walruses, you will find over 10,000 species of unique marine animals that will leave you fascinated and tickled.
Address: 602 Surf Avenue, NY 11224

Phone: 718-265-3474

Cost: Children: $9, Adults: $15

Website: www.nyaquarium.com/

Lat/long: 40.5748941, -73.9744508
New York State Museum
If local and state history is what you are after, you really can't go wrong with the New York State Museum. The museum is highly regarded as an educational and research institution that conducts systematic investigations into the geology, biology, anthropology and history of New York.
Address: 222 Madison Avenue, Albany, NY 12230

Phone: 518-474-5877

Cost: Free

Website: www.nysm.nysed.gov/

Lat/long: 42.6480762, -73.7600407

---
Maryland



National Aquarium: Baltimore
Start your adventure here by exploring the sample of marine life from the local waters and gradually make your way to the monsters of the deep, the sharks, rays and other large creatures.
Address: 501 East Pratt Street, Baltimore, MD 21202

Phone: 410-576-3800

Cost: Children: $24.95, Adults: $29.95

Website: www.aqua.org/

Lat/long: 39.2854979, -76.608331
Baltimore Inner Harbor
Known as the "crown jewel" of Baltimore, the scenic and waterfront district of Inner Harbor is the must-see hot spot of the region. Home to dozens of retail stores, restaurants, cafes, bars and attractions, you are sure to be entertained from the moment you get here in your RV rental.
Address: 401 Light Street, Baltimore, MD 21202

Phone: 1-877-BALTIMORE

Cost: Free

Website: www.baltimore.org/about-baltimore/inner-harbor

Lat/long: 39.283911, -76.6122758
Boordy Vineyards
Boordy Vineyards is the oldest family-run winery in all of Maryland. Nestled on 230 acres in the Baltimore countryside, it offers award-winning wines and beautiful scenery.
Address: 12820 Long Green Pike, Hydes, Maryland 21082

Phone: 410-592-5015

Cost: $5 for wine tasting

Website: www.boordy.com/

Lat/long: 39.475436, -76.488061

---
Rhode Island



Providence Children's Museum
The Providence Children's Museum is Rhode Island's only hands-on museum for both the kids, as well as the adults. This children's museum inspires learning through active play and exploration and is ideal for a fun filled family day out
Address: 100 South Street, Providence, RI 02903-4749

Phone: 401-273-5437

Cost: $8.50/person

Website: www.childrenmuseum.org/

Lat/long: 41.8166359, -71.4095182

---
Connecticut

Lighthouse Point Park and Carousel
The New Haven Lighthouse at Lighthouse Point is located at the eastern point of the New Haven Harbor. The park attracts thousands of tourists, thanks to the public beach that allows visitors to enjoy the beauty of the Long Island Sound.
Address: 2 Lighthouse Point Road, New Haven, CT 06512

Phone: 203-946-8327

Cost: 50 cents, parking is $10

Website: Cityofnewhaven

Lat/long: 41.2529891, -72.8920754
Connecticut Children's Museum
The museum is housed in an historic and recently renovated building within the cultural corridor of the city's downtown district. The exhibits were inspired by educators, artists, scientists and parents, so you can be sure that they will be interesting and on some levels, educational.
Address: 950 Trout Brook Drive, West Hartford, CT 06119

Phone: 860-523-7449

Cost: $11/person

Website: www.thechildrensmuseumct.org/

Lat/long: 41.7619576, -72.7379435
Mark Twain House and Museum
The house is an inspired and sophisticated expression of modernity and is appreciated as a landmark of modern American art in the fullest sense. A visit here will paint a portrait of American history and contemporary life and will allow you to gain a strong appreciation of Twain's life.
Address: 351 Farmington Avenue, Hartford, CT 06105-4401

Phone: 860-247-0998

Cost: Children: $9, Adults: $15

Website: www.marktwainhouse.org/

Lat/long: 41.7675189, -72.7011473

---
New Jersey



The Borgata
Regarded as the most elegant casino in New Jersey, The Borgata is a fabulous place to visit for a touch of indulgence, a try at gambling, and a holiday of fine dining and entertainment.
Address: One Borgata Way, Atlantic City, NJ 08401

Phone: 609-317-1000

Cost: Prices vary

Website: www.theborgata.com/

Lat/long: 39.376797, -74.435366
Cape May
Known as the oldest seashore resort in the US, Cape May offers a unique collection of authentic Victorian structures and is perfect for visitors wishing to enjoy a wide variety of shopping, a museum, a whale watching exhibition and relaxation on glorious beaches.
Address: Cape May Welcome and Information Center, 405 Lafayette Street, Cape May, NJ 08204

Phone: 609-884-9562

Cost: Free

Website: www.capemay.com/

Lat/long: 38.9335669, -74.923462

---
Delaware



Delaware History Museum
Located in a renovated art-deco Woolworth store, the Delaware History Museum houses some fascinating exhibits and collections that depict the history of Delaware and Wilmington to the highest degree.
Address: 504 Market Street, Wilmington, DE 19801

Phone: 302-656-0637

Cost: Youth: $4, Adults: $6

Website: www.hsd.org/dhm.htm

Lat/long: 39.7412909, -75.550352
Riverfront Wilmington
Wilmington's Riverfront is a fascinating place to visit and offers shopping, entertainment, dining, night life and an impressive artistic and cultural atmosphere.
Address: Wilmington, DE 19801

Phone: 302-425-4890

Cost: Free

Website: www.riverfrontwilm.com/

Lat/long: 39.731114, -75.563016

---
Massachusetts


Whale Watching in Cape Cod
Provincetown is probably the best place to organize a spot on one of the boats that takes you out to the whales - a highly recommended activity! A walk down the infamous commercial street to the wharf is a pleasant experience too. On the boat trip you are almost guaranteed whale sighting, and you're bound to see other creatures such as dolphins and of course lots of bird life.
Address: 269 Millway Road, Barnstable, MA 02601

Phone: 800-287-0374

Cost: Children: $26, Adults: $45

Website: www.whales.net/

Lat/long: 41.7067383, -70.2983649
Boston Children's Museum
The exhibits here focus on science, culture, environmental awareness, health and fitness and the arts. These are intertwined into the five areas for children, which include Creative Kids, Curious Kids, Global Kids and Healthy Kids.
Address: 308 Congress Street, Boston, MA 02210

Phone: 617-426-6500

Cost: $12/person

Website: www.bostonkids.org/

Lat/long: 42.3514182, -71.050086
Boston Duck Tour
Your adventure will begin by boarding your duck, which is a W.W.II style amphibious landing vehicle. This vehicle will allow you to cruise by all the landmarks that have made Boston the birthplace of freedom.
Address: 4 Copley Place, Suite 4155, Boston, Massachusetts 02116

Phone: 617-267-DUCK

Cost: Children: $21, Adults: $31

Website: www.bostonducktours.com/

Lat/long: 42.3472428, -71.0785493
Salem Witch Museum
The Salem Witch museum is the city's most visited museum as it gives a truly fascinating insight into this important aspect of Salem's history. The museum gives visitors the chance to go back to 1692 Salem, where you will be given a dramatic lesson that incorporates the use of stage sets, with life-size figures, lighting and a narration of the Witch Trials of 1692.
Address: 19 N Washington Square, Salem, MA 01970

Phone: 978-744-1692

Cost: Children: $5.50, Adults: $8.50

Website: www.salemwitchmuseum.com

Lat/long: 42.5237119, -70.890698

---
Pennsylvania



Pittsburgh Zoo and PPG Aquarium
Discover a world of wildlife and interact with them in their naturalistic habitats as you wander through the endless exhibits of your favorite animals. Visit the Arctic Fishing Village and you will come across some young and cuddly polar bears, curious sea otters, colorful schools of fish, monstrous sharks and playful penguins.
Address: 7340 Butler Street, Pittsburgh, PA 15206

Phone: 412-665-3640

Cost: Children: $11, Adults: $13

Website: www.pittsburghzoo.com/

Lat/long: 40.4858771, -79.9209392
Dorney Park and Wildwater Kingdom
Boasting a large handful of child-friendly rides and attractions, Dorney Park is a fantastic family destination. Avid thrill-seekers are also sure to find something to sink their teeth into here, with several extreme coasters on offer.
Address: 3830 Dorney Park Road, Allentown, PA 18104

Phone: 610-395-3724

Cost: $99 for season passes

Website: www.dorneypark.com

Lat/long: 40.580389, -75.535769

---