US Attractions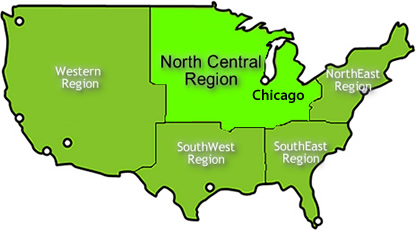 North Dakota
Theodore Roosevelt National Park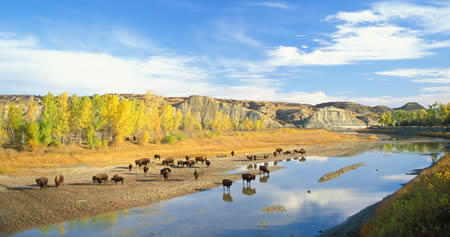 Characterized by its rugged badlands terrain and its unique diversity of wildlife, including bison, elk, prairie dogs, white-tail and mule deer and golden eagles, the Theodore National Park is a must-visit while in the state of North Dakota on an RV rental vacation.
Address: 315 2nd Avenue, Medora, ND 58645

Phone: 701-623-4466

Cost: Entrance Fee is $10 per vehicle.

Website: www.nps.gov/thro/index.htm

Lat/Long: 46.9157498, -103.5245016
North Dakota Cowboy Hall of Fame
The North Dakota Cowboy Hall of Fame is an interpretive center for uncovering the fascinating history of Native Americans, ranching, rodeo and the western lifestyle of this amazing state. Uncover the culture of the Great American West and experience the life of a true American cowboy.
Address: 250 Main St, Medora, ND 58645-0137

Phone: 701-623-2000

Cost: Children: $9, Adults: $16.

Website: www.northdakotacowboy.com/

Lat/Long: 46.9138046, -103.5260442

---
South Dakota
Mount Rushmore National Monument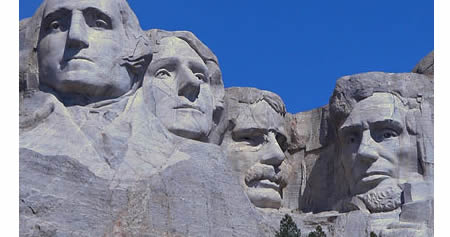 This National Monument is a sculpture carved into the cliff face of Mount Rushmore, of Presidents George Washington, Thomas Jefferson, Theodore Roosevelt and Abraham Lincoln. Representing the first 150 years of America's history, this monument is visited by 2 million, annually.
Address: 13000 SD Highway 244 # 81, Keystone, SD

Phone: 605-574-2515

Cost: Permits cost $10 per vehicle for an annual pass.

Website: www.nps.gov/moru/index.htm

Lat/Long: 43.875419, -103.4531437
Badlands National Park
The geological compositions of the Badlands National Park have been attracting visitors for years. Covering an impressive 244,000 acres this park is home to a unique array of wildlife, with popular past times including hiking and educational programs.
Address: 20695 Sd Highway 240, Interior, SD 57750

Phone: 605-433-5361

Cost: Entrance Fee is $15 per vehicle.

Website: www.nps.gov/badl/index.htm

Lat/Long: 43.7834306, -102.3692982

---
Nebraska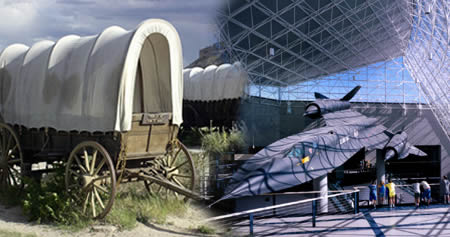 Ashland Strategic Air and Space Museum
This museum encompasses everything special about America's air and space history through interesting and interactive exhibits, unique events and activities and fun, educational activities. This attraction is perfect for the entire family.
Address: 28210 West Park Highway, Ashland, NE 68003
Phone: 402-944-3100
Cost: Children: $5, Adults: $10.

Website: www.strategicairandspace.com/

Lat/Long: 41.0153413, -96.3210015
Scotts Bluff National Monument
This iconic National Monument stretches 800-feet above the North Platte River and is nestled on 3,000 acres of land that is comprised of unusual and vivid land formations. Hiking is extremely popular here, while the Oregon Trail Museum and Visitor Center is another great way to spend an afternoon.
Address: Gering, NE 69341

Phone: 308-436-4340

Cost: Entrance fee is $5 per vehicle

Website: www.nps.gov/scbl/index.htm

Lat/Long: 41.8391547, -103.7115408
Omaha's Henry Doorly Zoo
This zoo is home to one of the world's most unique collections of animals and is an extremely popular family attraction in Nebraska. From the Giraffe Complex and Bear Canyon, to the Expedition Madagascar and Sea Lion Pavilion, this zoo has animals from across the world over.
Address: 3701 S 10th Street, Omaha, NE 68107

Phone: 402-733-8400

Cost: Children: $7.75, Adults: $11.50

Website: www.omahazoo.com/

Lat/Long: 41.2247062, -95.9294226

---
Kansas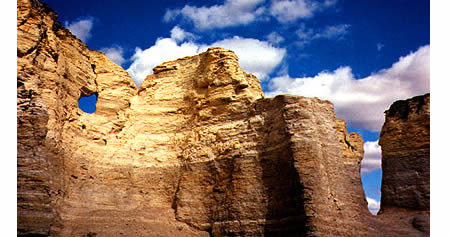 Sedgwick County Zoo
The Sedgwick County Zoo offers learning adventures for kids, adults and seniors, with all sure to love the giraffe feeding station and a journey through a misty, tropical jungle.
Address: 5555 Zoo Boulevard, Wichita, KS 67212-1698

Phone: 888-272-9424

Cost: Children: $7, Adults: $11.50

Website: www.scz.org/

Lat/Long: 37.7170699, -97.4084062
Old Cowtown Museum
Take a step back in time and experience what life was like in the 1870's with a visit to Wichita's Cowtown Museum. Go for a ride on a wagon, have an ice cold drink in the saloon and watch a magnificent display of gunfire erupting on the main street. This museum is a lot of fun and is sure to be enjoyed by the whole family.
Address: 1865 W. Museum Blvd, Wichita, KS 67203

Phone: 316-219-1871

Cost: Children: $5.50, Adults: $7.75

Website: www.oldcowtown.org/

Lat/Long: 37.6935235, -97.3571094
Museum of World Treasures
This museum houses treasures from across the world, and is one of the top-rated attractions in Kansas. Discover an incredible collection of fossils and dinosaurs, Egyptian mummies, America's presidents and an extensive collection of war memorabilia.
Address: 835 E 1st St N # 100, Wichita, KS 67202-2700

Phone: 316-263-1311

Cost: Children: $6.95, Adults: $8.95

Website: www.worldtreasures.org/

Lat/Long: 37.687089, -97.327885

---
Minnesota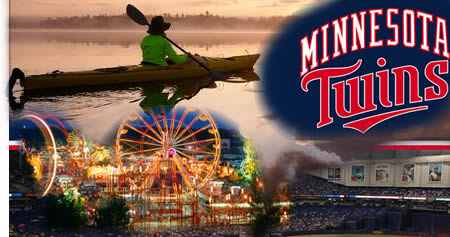 Bloomington Mall of America
The Mall of America is not only the largest shopping center in the US; it is the largest in the world. Boasting an impressive 400 shops, 50 restaurants and bars, along with the largest roofed theme park in the US, this place is any shopaholic's dream!
Address: 60 East Broadway, Bloomington, MN 55425

Phone: 952-883-8800

Cost: Free

Website: www.mallofamerica.com

Lat/Long: 44.8547423, -93.241885
Voyageurs National Park
Voyageurs National Park is a water-based park that is comprised almost entirely of stunning lake systems. Forests cover the land, which is home to creatures like the white-tailed deer and black bears. Boating and fishing are popular past times here.
Address: International Falls, MN 56649

Phone: 218-374-3221

Cost: Free

Website: www.nps.gov/voya/index.htm

Lat/Long: 48.4840955, -92.8270873

---
Iowa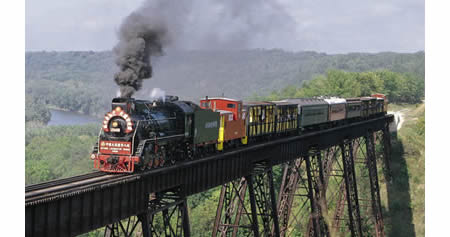 Adventureland
Adventureland is almost as quintessential to any American experience as Disneyland is. Home to over 100 rides, shows and attractions, this theme park is suitable for the entire family and is a guaranteed fun day out.
Address: 3200 Adventureland Drive, Altoon, IA 50009

Phone: 515-265-7321

Cost: $35

Website: www.adventureland-usa.com/

Lat/Long: 41.8780025, -93.097702
Reiman Gardens
As the largest public garden in Iowa, Reiman Gardens rarely fail to disappoint. Situated on 14 pristine acres, the highlight of the gardens is without a doubt the huge indoor butterfly wing that houses one of the country's most impressive collections of butterflies.
Address: Iowa State University, 1407 Elwood Drive, Ames, IA 0011-0001

Phone: 515-294-2710

Cost: Free

Website: www.reimangardens.com/

Lat/Long: 42.0116769, -93.6386501
Science Station
Offering hands-on exhibits and interactive exhibits, the Science Station in Cedar Rapids is the perfect attraction for children. Focusing on science, technology, engineering and math, the facilities here are excellent and well worth the entrance fee.
Address: 427 1st Street SE, Cedar Rapids, IA

Phone: 319-363-4629

Cost: $10 per family

Website: www.sciencestation.org/

Lat/Long: 41.974604, -91.667038

---
Missouri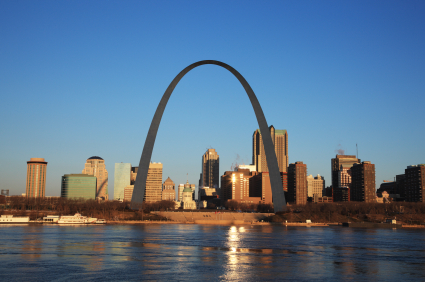 Gateway Arch
The Gateway Arch is like no other attraction, standing 625 feet high and symbolizing St Louis' role as the "Gateway to the West". The observation platform to the top can be reached via elevator or tram, and offers stunning views over the entirety of St Louis.
Address: Gateway Arch, 707 North First Street, St Louis, MO 63102-2552

Phone: 314-655-1700

Cost: $10

Website: http://www.gatewayarch.com/experience/the-gateway-arch

Lat/Long: 38.6299845, -90.1833377
Anheuser-Busch Brewery
Regarded as one of the moat famous brewing companies in the world, Anheuser-Busch is home to historical buildings and horse stables, with a tour allowing visitors to sample some of the beers on offer here.
Address: 12th and Lynch Streets, St. Louis, MO 63118

Phone: 314-577-2626

Cost: Free

Website: www.budweisertours.com/home.htm

Lat/Long: 38.6003054, -90.2135201
The Titanic Museum
Indulge in the true Titanic experience when you visit the Titanic Museum and Branson. Time stands still in this impressive replica of this famous ship which houses everything and anything related to the world's most famous shipwreck. Fortunately, everyone will get out alive.
Address: 3235 76 Country Boulevard, Branson, MO

Phone: 800-381-7670

Cost: Children: $9.99, Adults: $18.82 (plus tax)

Website: www.titanicbranson.com/

Lat/Long: 36.6379425, -93.2799185

---
Illinois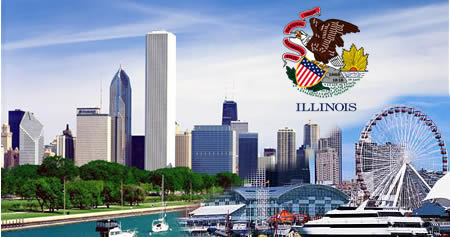 Willis Tower Skydeck
The iconic Willis Tower is the tallest building in the Western Hemisphere and boasts a skydeck with a glass viewing platform, and The Ledge, which attracts 1.3 million visitors each year. Visitors can enjoy unsurpassed views of the city of Chicago from the top.
Address: 233 S. Wacker Dr. (entrance on Jackson Blvd.), Chicago, IL 60606

Phone: 312-875-9696

Cost: Youth: $11, Adults: $15.95

Website: www.theskydeck.com/

Lat/Long: 41.8780854, -87.6366624
Art Institute of Chicago
Home to an impressive collection of art from across the world, the Art Institute of Chicago has exhibitions that focus on architecture and design, European decorative arts, Indian Art of the Americas and ancient art, among many others.
Address: 111 South Michigan Avenue, Chicago, IL 60603

Phone: 312-443-3600

Cost: Children: $12 (under 14 free), Adults: $18

Website: www.artic.edu/

Lat/Long: 41.8795743, -87.6239953
Brookfield Zoo
See a whole range of worlds combined into one at the Brookfield Zoo. Explore Australia House, the Fragile Desert, the Seven Seas and Stingray Bay to uncover a world of unique animals. The Children's Zoo is a great spot to take the kids to, while the gift shop is sure to please the adults.
Address: 31st St. First Avenue, Brookfield, IL 60513

Phone: 708-485-0263

Cost: Children: $19, Adults: $25

Website: www.czs.org/czs/Brookfield/Zoo-Home.aspx

Lat/Long: 41.8194155, -87.8328652

---
Wisconsin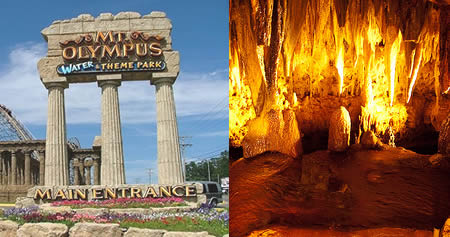 Mid-Continent Railway Museum
This outdoor living museum demonstrates how times were in the "Golden Age of Railroading". The museum exhibits operating trains, educations displays and collections of restored rolling stock, and is perfect for anyone interested in the history of American trains.
Address: E8948 Diamond Hill Road, North Freedom, WI 53951

Phone: 608-522-4261

Cost: Children: $9, Adults: $15

Website: www.mcrwy.com/

Lat/Long: 43.4596879, -89.8749228
Cave of the Mounds
The Cave of the Mounds is a National Natural Landmark that is a great place to discover the science of caves and the unique geological features of them. A tour of the cave will take around an hour and is a great way to spend an afternoon with the family.
Address: 2975 Cave of the Mounds Road, Blue Mounds, WI 53517-0148

Phone: 608-437-3038

Cost: Children: $7.50, Adults: $15

Website: www.caveofthemounds.com/

Lat/Long: 43.0174271, -89.8139833
Mt Olympus Water and Theme Park
No matter what time of year you visit, a visit to the Mt Olympus is sure to always please. Boasting four thrilling lands, the water park offers a great way to cool off, while the indoor them park is great to enjoy rides like indoor coaster, bumper cards and extensive games arcades.
Address: 1881 Wisconsin Dells Parkway, Wisconsin Dells, WI 53965

Phone: 608-254-2490

Cost: Prices vary

Website: www.mtolympuspark.com/

Lat/Long: 43.614117, -89.7885724

---
Indiana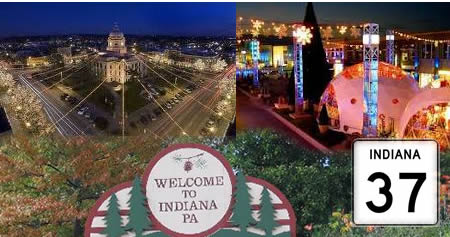 Indianapolis Zoo
Located in the White River State Park in downtown Indianapolis, this zoo offers world-class facilities that host millions of visitors each and every year.
Address: 1200 West Washington Street, Indianapolis, IN 46222

Phone: 317-630-2001

Cost: Youth: $6.50, Adults: $8.50

Website: www.indianapoliszoo.com/SitePages/home.aspx

Lat/Long: 39.767014, -86.180183
Indiana Dunes State Park and National Foreshore
This park is a great place to visit if you want to experience the spectacle of being by the seaside. Positioned on 2,182 acres of primitive, beautiful and historic landscapes, this park is a great place for swimming, picnicking and hiking.
Address: 1600 North 25 East, Chesterton, IN 46304

Phone: 219-926-1952

Cost: $6 per vehicle, per day

Website: www.nps.gov/indu/index.htm

Lat/Long: 40.5512165, -85.6023643

---
Michigan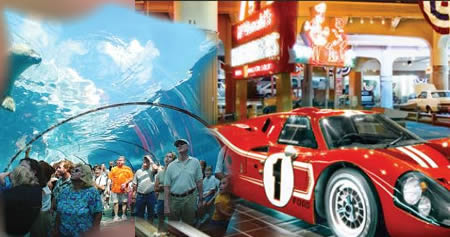 Detroit Zoo
A trip to the Detroit Zoo allows visitors to explore the Arctic Ring of Life, African Grasslands, African Forest, American Grasslands, Australian Outback, a Penguinarium and Amphibiville. There are also some great rides of on offer here, with most suitable for the entire family.
Address: 8450 West 10 Mile Road, Royal Oak, MI 48067

Phone: 248-398-0900

Cost: Children: $7, Adults: $11

Website: www.detroitzoo.org/

Lat/Long: 42.4757623, -83.1495078
The Henry Ford
The Henry Ford is home to the finest collection of America's greatest attractions and is an absolute must-visit while in the state of Michigan. It is the largest indoor-outdoor history museum in the US and houses some of the world's finest historical collections.
Address: 20900 Oakwood Boulevard, Dearborn, MI 48124-4088

Phone: 313-982-6001

Cost: Youth: $11, Adults: $15

Website: www.thehenryford.org/

Lat/Long: 42.3031087, -83.2331085

---
Ohio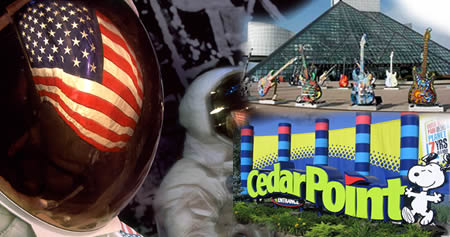 Cedar Point Amusement Park
Impressively boasting 17 roller coasters, Cedar Point is a coaster lover's dream. Offering thrill rides, kid's rides and family rides, this park is the perfect destination for the entire family.
Address: 1 Cedar Point Drive, Sandusky, OH 44870

Phone: 419-627-2350

Cost: Children: $21, Adults: $46.99

Website: www.cedarpoint.com/
Lat/Long: 41.4777696, -82.6790623
Rock and Roll Hall of Fame Museum
The 150,000 square foot Rock and Roll Hall of Fame Museum features 7 floors, 5 theaters for films, special events and ever-changing exhibits. Educating visitors on the world of music, this museum boasts everything from U2 to Elvis, this museum covers it all.
Address: 1100 Rock and Roll Blvd. Cleveland, OH 44114

Phone: 216-781-7625

Cost: Children: $13, Adults: $22

Website: www.rockhall.com/

Lat/Long: 41.508529, -81.69543
Armstrong Air and Space Museum
Named in honor of Neil Armstrong, the first man to walk on the moon, this museum pays tribute to the fascinating air and space history of Ohio. The museum features many one-of-a-kind artifacts from the Apollo trips and is even home to two full-size aircrafts,
Address: 500 Apollo Drive, Wapakoneta, Ohio 45895

Phone: 419-738-8811

Cost: Children: $4, Adults: $8

Website: www.armstrongmuseum.org/

Lat/Long: 40.564098, -84.172009

---
Kentucky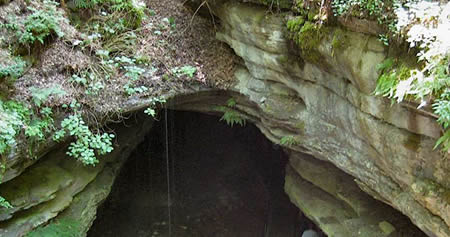 Mammoth Cave National Park
This National Park preserves a unique cave system and part of the Green River Valley, making it a natural masterpiece of the state of Kentucky. This is the world's longest known cave system, with 390 miles of it just begging to be explored.
Address: 1 Mammoth Cave Parkway, Mammoth Cave, KY 42259

Phone: 270-758-2180

Cost: Tour prices begin at $5 per person

Website: www.nps.gov/maca/index.htm

Lat/Long: 37.1959017, -86.1456954
Abraham Lincoln Birthplace National Historic Site
This was the first memorial built to honor Abraham Lincoln and protects his birthplace. The site offers a visitor center, information, exhibits, video and a bookstore, while the rest of the park focuses on Lincoln's life in Kentucky.
Address: 2995 Lincoln Farm Road, Hodgenville, KY 42748

Phone: 270-358-3137

Cost: Free

Website: www.nps.gov/abli/index.htm

Lat/Long: 37.535671, -85.7340637
---